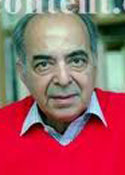 By S. Nihal Singh
Mar 23, 2013
Egyptian President Mohamed Morsi's visit to India has broken the mould of more than three decades of a minimal relationship that had relegated the warmth of the Nehru-Nasser intimacy to history together with the Non-Aligned Movement, itself a pale shadow of its former self.
His predecessor and long-term ruler, Hosni Mubarak, had administered New Delhi the ultimate snub by taking 18 years to collect a prize.
Relationships among countries change as circumstances and perspectives of self-interest change and Egypt, dependent upon American largesse after making peace with Israel, felt no need to cultivate its eastern neighbours, apart from emerging China. Trade between the two countries was minimal as were interactions at official and ministerial levels.
Despite his bucketful of domestic problems, President Morsi is signalling that by coming to India early in his term, he views his country's relations with New Delhi as well as China, which he has already visited, as important. Belonging as he has to the Muslim brotherhood for most of his life, the Egyptian President wishes to expand his country's options beyond the essential US link underpinning its cold peace with Israel.
The large business delegation President Morsi brought as well as the clutch of agreements his country has signed in fields ranging from information technology to space underline the desire for a more interactive relationship. But these indications are part of a larger picture denoting the turbulent time his country is passing through.
In a sense, President Morsi is under siege at home, with large sections of the population deeply unhappy over the unfolding of the new regime's constitutional and electoral priorities and decisions. And the nearly two years of political upheavals following the advent of the Arab Spring have inevitably left the economy in tatters, with the long-standing International Monetary Fund bail-out still hanging in the air because the President is in no position to enact the required economic reforms that are a precondition.
Egypt is, therefore, reduced to living hand to mouth on the basis of American, Qatari and Saudi monetary assistance as the Egyptian administration devises desperate short-term remedies. Indeed, Cairo faces a Herculean task in negotiating its economic way out of a labyrinth of political thickets. Having long been a persecuted movement that has sometimes colluded with the Mubarak regime, President Morsi has still to learn the art of running an inclusive administration, the parent brotherhood permitting.
It is, therefore, interesting that President Morsi remains unfazed by the turmoil around him at home to set out a foreign policy quite distinct from that of his predecessor who was happy to coast along with the United States. For one thing, he has publicly expressed his interest in seeing the expansion of the Brics group, comprising Brazil, Russia, India, China and South Africa to include Egypt to become E-Brics, a prospect that does not seem imminent. But his interest underlines his theme of taking his country to the world of new emerging nations to strengthen his own political clout.
Earlier, President Morsi had taken an initiative to try to break the languishing, if not dead, Israeli-Palestinian peace process by bringing the two Palestinian factions together and forming an Arab committee to revive a comatose patient urgently in need of resuscitation. The inter-Palestinian reconciliation has proved to be short-lived and the reality of the sole international mediator, the US, being biased and subject to domestic pulls does not make for a promising prospect, despite President Barack Obama's first visit to Israel and the occupied Palestinian territories.
The Palestinian tragedy has been that is that it has fallen off the world map because President Obama's brave words early in his first term, eloquently articulated in Cairo, and his effort to freeze further illegal Israeli settlement activity were casualties of domestic US politics. He then abandoned the Palestinians to busy himself with other things following a policy of neglect while Israelis under Prime Minister Benjamin Netanyahu made merry by a building spree that has virtually closed a two-state solution. In the ultimate surrender, President Obama tried to enthuse a youth audience in Jerusalem on the virtues of a two-state solution while telling Palestinians in Ramallah to accept the Israeli version of no settlements freeze to revive peace talks.
President Morsi's attempt thus far is to spread his net in the world of emerging powers to gather the strength to tackle his own problems. Apart from the economic woes he is seeking to address by inviting new foreign investment and industries, he is trying to buttress his standing at home by charting a new course. In a bind as Egypt is in terms of its US compulsions, President Morsi is broadening his canvas to signify to his people and the world that Cairo is no longer a handmaiden of America in the region and the world.
The mantra of non-alignment is a faint echo of its glory days but the credo of nationalism is equally potent today. The point he is making to his countrymen, deeply divided as they are, is that the new government has a mind and policy of its own and seeks to plough its own furrow in world affairs. Nationalism, propagated the right way, can be a heady mixture for a people as traumatised as Egyptians against the backdrop of their long and glorious history being dismissed by the rest of the world as an American camp follower.
The weak link in President Morsi's grand strategy is that audacious as his venture into foreign waters is, there is no substitute for seeking reconciliation at home. Hardliners in his parent Muslim brotherhood are hell-bent on using their first-time ascent to power in 84 years to consolidate their hold.
This makes it all the more difficult for President Morsi to try to build an inclusive administration. But he cannot wish away Coptic Christians who constitute the 10 per cent of the population. Nor can he ignore the liberals and others.
President Obama can still play upon the leitmotif of Egyptian self-belief that they are the centre and fulcrum of the Arab world.
Source: http://www.asianage.com/columnists/morsi-looks-eastward-121
URL: http://www.newageislam.com/current-affairs/s-nihal-singh/egypt-president-mohamed-morsi-looks-eastward/d/10871