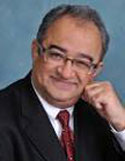 Tarek Fatah
By S M Hali
July 22, 2014
On the aspect of Sharia, Fatah takes an extreme position, stressing that, "The poison is not coming from the Quran but from the man-made Sharia laws of the eighth and ninth centuries"
Tarek Fatah is a Pakistani-born Canadian writer, broadcaster, secular, progressive, gay rights supporter and liberal activist, whose musings have sometimes led him into trouble with religious groups. Commencing his journalistic career as a reporter for the Karachi Sun in 1970, Tarek Fatah briefly served as an investigative journalist for Pakistani television before he settled in Saudi Arabia, later migrating to Canada where he started hosting weekly Toronto-based current affairs talk show called Muslim Chronicle, focusing on the Muslim community, from 1996 to 2006. Tarek has contributed op-ed pieces for various publications including Time magazine, The Toronto Star, The National Post, The Globe and Mail.
In February 2007, Fatah was included in Macleans magazine's list of 50 Canadians described as "Canada's most well known and respected personalities". In December 2008, Canada's largest circulating newspaper, The Toronto Star, suggested to Prime Minister Stephen Harper that he appoint Fatah to one of the vacant seats in the Canadian Senate. He currently hosts The Tarek Fatah Show every Sunday afternoon and appears as a commentator on other CFRB shows. He also writes a column for The Toronto Sun and appears on the Sun News Network as a frequent guest host and commentator.
Tarek authored Chasing a Mirage:
The Tragic Illusion of an Islamic State, which was shortlisted for the $ 35,000 Donner Prize for 2008-09. Chasing a Mirage challenges the notion that the establishment of an Islamic state is merely a mirage that Muslims have been made to chase for over a millennium. Fatah's second book, titled The Jew Is Not My Enemy: Unveiling the Myths that Fuel Muslim Anti-Semitism, was published in October 2010 and won the 2010 Annual Helen and Stan Vine Canadian Book Award in Politics and History.
Despite indulging in controversies, Tarek Fatah has done some good work too; taking a staunch stand on the Palestine issue, declaring that he believed in Israel's right to exist, but calling for an end to "illegal" and "immoral" Israeli occupation of Palestinian territories, and supporting a two-state solution. Fatah believes Israel's actions are fueling anti-Semitism, though anti-Semitism in itself, he believes, "violates Islam's essence". Fatah's observations have sometimes incensed Islamic scholars but he is categorical in his pronouncement that "it is not Islam that needs to be reformed, it is the need for Muslims to reconcile with modernity and the notion of the secular nation state...Unfortunately, whereas the religious right in Islam is well funded and well organised, the liberal secular Muslim is too busy leading a nine-to-five life, paying his mortgage and providing for his family, and thus has no time or resources to challenge the Islamist extremists."
On the aspect of Sharia, Fatah takes an extreme position, stressing that, "The poison is not coming from the Quran but from the man-made Sharia laws of the eighth and ninth centuries as well as the works of such 20th century scholars as Syed Qutb, Hassan Banna and Maudoodi," and that, "The swamp that needs to be drained is the swamp created by Saudi Arabia and Iran, and their call for imposition of Sharia."
Fatah admittedly suffers from the problem of an identity crisis, stating, "I write as a Muslim whose ancestors were Hindu. My religion, Islam, is rooted in Judaism while my Punjabi culture is tied to that of the Sikhs...I cannot be considered a true Muslim." Tarek Fatah supports the Baloch struggle. Fatah opines: "Jinnah was the root cause of South Asia's problems," Pakistan is looting Balochistan and that the Baloch must divorce Pakistan. In one of his op-ed pieces appearing in The Toronto Sun, titled 'Pakistan: the demon the west created', Fatah surmises that "From Khalid Sheikh Mohammad's 9/11 plans to the recent recruitment of jihadis in Burma; from the Toronto 18 to the London 7/7 bombings, fingerprints of Pakistan-based Jihadi groups and ideologies are ubiquitous. Conventional wisdom and traditional scholarship dictates, Pakistan came about as a result of Muslim grievances and fear of a Hindu-majority rule in post British India. Mohammad Ali Jinnah and the All India Muslim League are given credit for tapping into the sense of victimhood that still drives much of Islamist anger around the world."
For a person whose own parents migrated from India in 1947 and found freedom and prosperity in Pakistan, who commenced his career here, such vitriolic comments are one sided. Perhaps the erudite scholar needs to do some soul searching instead of playing to the gallery and present an objective picture rather than flow with the Pakistan-bashers' tide in his musings.
Source: http://www.dailytimes.com.pk/opinion/22-Jul-2014/tarek-fatah-s-musings
URL: http://newageislam.com/current-affairs/s-m-hali/tarek-fatah's-musings/d/98254