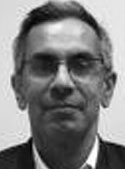 By S. Akbar Zaidi
August 14, 2017
ormer Pakistan Prime Minister Nawaz Sharif would never have imagined three weeks ago that he would be spending Pakistan's 70th anniversary of Independence today as yet another of the country's former Prime Ministers deposed by a verdict of the Supreme Court of Pakistan. He must have had very different plans for today, perhaps even to address the Pakistan public on national television, telling us how his government since 2013 had brought Pakistan closer to M.A. Jinnah's dreams and vision for a just, egalitarian and prosperous Pakistan. He must surely have prepared a speech, perhaps even to be delivered at the Minar-e-Pakistan in his hometown of Lahore, extolling the many achievements and virtues of his most recent tenure as Pakistan's 19th Prime Minister since 1947, not a single one of whom was able to complete his or her full term as appointed or elected head of government.
The Players in the Sphere
Even the cliché of his being 'third time lucky' when he was sworn in as Prime Minister in 2013 proved misplaced, and now Mr. Sharif has the ignoble honour of being the only Prime Minister of Pakistan who was elected three times to that office, and who was also thrice dismissed. But this dismissal is a long cry away from another cliché, that 'history repeats itself', whether as tragedy or farce, for other than being dismissed yet again, there is little of repetition of what has happened in Pakistan's political history this time round.
Pakistan's 70 years of Independence have had an almost equal tenure of military dictatorships intermingled with civilian appointed and elected leaders. In simple numerical terms of the actual years between military dictatorships and civilian interregnums, the non-military rule, by 2011, had nudged ahead. But one cannot deny the fact that Pakistan's military state and the establishment of the deep security state have dominated Pakistan's politics for considerably longer. The dominance of the military on political institutions has been marked for at least 50 of Pakistan's 70 years as an independent state.
However, over the last decade, there have been clear signs that other competing institutions, such as the judiciary and legislature with elected civilian elected representatives, to name just two, have emerged to contest and claim the hegemony over the political sphere. Rather than the undisputed supremacy of the military from 1958 to 2008, other institutions have emerged to challenge this hegemony.
This is not the first time that the supreme judiciary has played its part in the removal of an elected prime minister, but on almost all occasions it has played a supportive role to either the military or the President of Pakistan. The first dismissal of Mr. Sharif and his government (1993) were made under the provision of the Eighth Amendment to the Constitution of Pakistan, under Article 58 2(b), which allowed the President of Pakistan to dismiss Parliament. Both Benazir Bhutto (1991, 1996) and Mr. Sharif have been dismissed under this provision, and all three dismissals were during the tenure of President Ghulam Ishaq Khan. Mr. Sharif's removal in 1999 was after a military coup by General Parvez Musharraf, bringing in Pakistan's third military dictatorship. Pakistan's supreme judiciary, as in 1958, 1977 and 1999, supported the actions of the military often citing the 'doctrine of necessity' to give some constitutional and judicial cover to the military coups.
Emergence of the Judiciary
The judiciary, along with other institutions such as the media and pro-democracy forces, played a key role in marking the shift away from the military's hegemony, a process which could be dated to around 2007-2008 when what is known as the 'lawyers' movement' gave some credibility to the notion that the judiciary could actually be independent in asserting its own interests rather than being perceived to be a lackey of the military. It is this new, forceful entity which has been responsible for dismissing two of Pakistan's last three Prime Ministers. What is particularly pertinent is that following the new democratic turn in Pakistan's politics in 2008, it has been the judiciary, and not Pakistan's supposedly omnipotent military, which has dismissed the two longest serving Prime Ministers of Pakistan, Yousuf Raza Gilani of the Pakistan People's Party (PPP) in June 2012, and Mr. Sharif less than three weeks ago.
Not only is Mr. Sharif's third removal as Prime Minister very different from his earlier two, but given his political standing, it is also different from the judiciary's dismissal of Mr. Gilani. Mr. Gilani was a fill-in candidate following Benazir Bhutto's assassination, and was never the leader of the PPP, which has always been dominated by the Bhuttos, and now by Asif Zardari. Mr. Sharif, on the other hand, is the leader and main voice of the most popular political party in Pakistan, the Pakistan Muslim League-Nawaz, although following his dismissal, the Election Commission of Pakistan has asked him to be removed formally as the party's president.
In 1999, he was arrested after Gen. Musharraf's coup, and was humiliated on national television by the General. This time round, Mr. Sharif has taken to the streets and to the electorate, claiming to be a victim of his times, suggesting that the people's electoral mandate which brought him to power is far stronger than the judiciary's decision to dismiss him. Moreover, 1999 saw the end of democracy in Pakistan with the end of Parliament, while this time around, if anything, there has been a smooth transition in electing a replacement Prime Minister, with Parliament still very much in session, and Pakistan functioning with much semblance of its own particular democratic norms and procedures.
So while one could make the case that the democratic process continues in Pakistan, Nawaz Sharif's own future is certainly at stake. There has been much public debate, especially by lawyers, about the Supreme Court's decision to dismiss him as Prime Minister. While allegations of corruption against him still abound, he was dismissed for not declaring income which he received from a Dubai firm at the time he filed his nomination papers for the 2013 election. He has promised to challenge the decision and gathered some support among the legal community over the modus operandi of the superior judges. Still, claiming that he is innocent of any corruption, his conviction a la Al Capone, on grounds unrelated to the real allegations, does allow him to seek redress and attempt to make a comeback.
In 1999 after a General removed, then imprisoned and finally exiled, him, Mr. Sharif's political career surely seemed over. Whether he can make yet another comeback and make history repeat itself will be determined over the course of the next few months as Pakistan prepares for its next democratic elections. Whether street power and the electorate's wishes can do to the judiciary's verdict what they did to a sitting General's in 2008 might redefine the nature, yet again, of who holds power in Pakistan.
S. Akbar Zaidi is a political economist based in Karachi. He teaches at Columbia University in New York, and at the IBA in Karachi
Source; thehindu.com/opinion/lead/history-is-not-repeating-itself/article19486421.ece?utm
URL: http://www.newageislam.com/current-affairs/s-akbar-zaidi/history-is-not-repeating-itself/d/112195