Related Stories:
Saudi King Abdullah Was a Cautious Reformer
Saudi Arabia's new king, Salman, a force for unity in royal family
Key Facts about Saudi Arabia
Oil Rises after Death of Saudi King, But Effect Seen Muted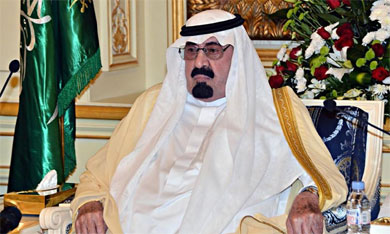 Saudi Arabia King Abdullah Bin Abdulaziz Dies, New Ruler Is Salman Bin Abdulaziz Al Saud
Reuters
RIYADH, Jan 23, 2015: Saudi Arabia's King Abdullah died early on Friday and his brother Salman became king, the royal court in the world's top oil exporter and birthplace of Islam said in a statement carried by state television.
King Salman has named his half-brother Muqrin as his crown prince and heir.
"His Highness Salman bin Abdulaziz Al Saud and all members of the family and the nation mourn the Custodian of the Two Holy Mosques King Abdullah bin Abdulaziz, who passed away at exactly 1am this morning," said the statement.
Abdullah, thought to have been born in 1923, had ruled Saudi Arabia as king since 2006, but had run the country as de facto regent for a decade before that after his predecessor King Fahd suffered a debilitating stroke.
At stake with the appointment of Salman as king is the future direction of the United States' most important Arab ally and self-appointed champion of Sunni Islam at a moment of unprecedented turmoil across the Middle East.
Abdullah played a guiding role in Saudi Arabia's support for Egypt's government after the military intervened in 2012, and drove his country's support for Syria's rebellion against President Bashar al-Assad.
King Salman, thought to be 79, has been crown prince and defence minister since 2012. He was governor of Riyadh province for five decades before that.
By immediately appointing Muqrin as his heir, subject to the approval of a family Allegiance Council, Salman has moved to avert widespread speculation about the immediate path of the royal succession in the world's top oil exporter.
Long Term Challenges
Abdullah pushed cautious changes in the conservative Islamic kingdom including increased women's rights and economic deregulation, but made no moves towards democracy and was a hawk on policy towards rival Iran.
King Salman has been part of the ruling clique of princes for decades and is thought likely to continue the main thrusts of Saudi strategic policy, including maintaining the alliance with the United States and working towards energy market stability.
During his five decades as Riyadh governor he was reputedly adept at managing the delicate balance of clerical, tribal and princely interests that determine Saudi policy, while maintaining good relations with the West.
In the long term Saudi rulers have to manage the needs of a rapidly growing population plagued by structural unemployment, and an economy that remains overly dependent on oil revenue and undermined by lavish subsidies.
Saudi Arabia, which holds more than a fifth of the world's crude oil, also exerts some influence over the world's 1.6 billion Muslims through its guardianship of Mecca and Medina, Islam's holiest sites.
Most senior members of the ruling al-Saud family are thought to favour similar positions on foreign and energy policy, but incoming kings have traditionally chosen to appoint new ministers to head top ministries like oil and finance.
In a country where the big ministries are dominated by royals, successive kings have kept the oil portfolio reserved for commoners and insisted on maintaining substantial spare output capacity to help reduce market volatility.
Source: http://timesofindia.indiatimes.com/world/middle-east/Saudi-Arabia-King-Abdullah-bin-Abdulaziz-dies-new-ruler-is-Salman/articleshow/45985812.cms
----
Saudi King Abdullah Was a Cautious Reformer
Reuters | Jan 23, 2015
RIYADH: Saudi Arabia's King Abdullah bin Abdulaziz, born the year the first motorcar bumped through the dusty streets of Riyadh, left a modernising legacy of cautious social and economic reform.
King Abdullah, thought to have been born in 1924, had ruled Saudi Arabia as king since 2006, but had run the country as de facto regent for a decade before that. State television reported early on Friday that King Abdullah had died.
After outliving two designated heirs, his younger half brothers Sultan and Nayef, Abdullah is succeeded by Crown Prince Salman.
The new king is thought likely to persevere with Abdullah's efforts over nearly two decades to nudge powerful conservative clerics to accept cautious changes aimed at reconciling Islamic tradition with the needs of a modern economy.
Plain-spoken and avuncular, King Abdullah was born in the court of his father King Abdulaziz Ibn Saud in 1924, according to the Saudi embassy in Washington. The capital Riyadh was at that time a small oasis town ringed by mud-brick walls at the centre of an impoverished but rapidly growing kingdom.
By the time he became de facto regent in 1995 when his predecessor King Fahd had a stroke, he was known to foreign diplomats as devout and conservative with strong ties to the kingdom's Bedouin tribes.
That reputation was soon blown away by the then-crown prince's reforming zeal as he tried to curb the indulgent habits of his large ruling family and address the alarming problem of youth unemployment by liberalising the economy to stimulate private sector growth.
However, his response to the Arab spring - a domestic security crackdown, populist economic measures and a hawkish foreign policy - disappointed some liberal Saudis.
After the Sept. 11, 2001, attacks on the United States, in which 15 of the 19 hijackers were Saudi, and an al-Qaida bombing campaign against Westerners inside the kingdom, he took on the conservative clergy who had promulgated an intolerant Islamist message in schools and mosques.
"The state is proceeding, with the help of God, in its gradual and studied course of reform," he said, vowing to ignore both conservatives calling for "stagnation and immobility" and liberals seeking a "leap into darkness and reckless adventure".
The reforms were slow and only partly successful, but they skewed the dynamic of Saudi policy towards gradual change and made King Abdullah a popular leader among an increasingly young population where 60 percent of Saudis are under the age of 30.
Abdullah left the kingdom's political system largely untouched, however.
Apart from introducing elections for town councils that hold little real power, his only major political reform was to set up a council of the ruling family to make the royal succession more orderly.
Arab Uprisings
King Abdullah was staunchly opposed to the pro-democracy protests in neighbouring countries during the Arab Spring, reflecting Saudi concerns that the fall of old allies might create opportunities for regional rival Iran and al-Qaida.
His order to spend $110 billion on social benefits, new housing and new jobs helped to avert any significant pro-democracy unrest in Saudi Arabia.
In recent years activists who have demanded change through petitions ended up in jail, and political parties and public demonstrations are banned.
Yet even among those Saudis who called for a "day of rage" to protest against the lack of democracy, the king appeared to remain popular. Critics of the ruling family said that was because of his government's lavish spending during his reign, a period of historically high oil revenue.
In a ruling family known for lavish excesses, his fondness for retreats at his desert camp distinguished him from Saudi princes who prefer to spend summers in Mediterranean palaces.
One of his first acts as king was to rein in spending on the royal family, demanding princes start paying for phone bills and air tickets rather than treating state bodies as a personal valet service.
His efforts to overcome a stutter, supposedly acquired after he was punished as a child, have further cemented his image as a man of the people.
When he visited Saudis living in slum-like conditions shortly after becoming king, he was applauded for a first public recognition by the state that poverty existed.
King Abdullah also aimed to improve the position of women in his ultra-conservative country, trying to offer them better education and employment prospects and saying they will be allowed to take part in municipal elections in 2015.
He said women would be selected as members of the next Shoura Council, the appointed body that advises the government on new laws.
Women are still barred from driving and must seek the approval of a male "guardian" to work, travel abroad, open a bank account or undergo surgery in some cases.
In recent years, the king's foreign policy was increasingly focused on efforts to contain what the Sunni monarchy sees as the rising influence of Shi'ite Muslim power Iran across the Middle East.
That policy reached its high point in March 2011 when Saudi Arabia sent troops to Bahrain to support the island's Sunni Muslim monarchy against an uprising by the Shi'ite majority.
It was an unpopular decision among Saudi Arabia's own Shi'ite minority, but many of the sect's leaders in the kingdom said that King Abdullah did more than his predecessors to reduce discrimination.
Riyadh feared that the U.S. invasion of Iraq in 2003 had already altered the regional balance of power, giving Iran more sway from Beirut to Baghdad.
Those concerns were underpinned by Iran's nuclear programme, which the West suspects is aimed at making nuclear weapons.
In a 2009 diplomatic cable released by WikiLeaks, King Abdullah was quoted repeatedly as urging the United States to "cut off the head of the snake" by attacking Iran.
http://timesofindia.indiatimes.com/world/middle-east/Saudi-King-Abdullah-was-a-cautious-reformer/articleshow/45986096.cms
------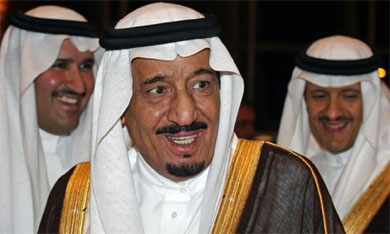 New KSA King Salman bin Abdulaziz Al-Saud.—AFP/File
Saudi Arabia's New King, Salman, a Force For Unity In Royal Family
AP | Jan 23, 2015
DUBAI: Saudi Arabia's new king, Salman bin Abdul-Aziz Al Saud, is a veteran of the country's top leadership, versed in diplomacy from nearly 50 years as the governor of the capital Riyadh and known as a mediator of disputes within the sprawling royal family.
Salman, 79, had increasingly taken on the duties of the king over the past year as his ailing predecessor and half-brother, Abdullah, became more incapacitated. Abdullah died before dawn on Friday at 90.
Salman had served as defence minister since 2011 and so was head of the military as Saudi Arabia joined the United States and other Arab countries in carrying out airstrikes in Syria in 2014 against the Islamic State, the Sunni militant group that the kingdom began to see as a threat to its own stability.
He takes the helm at a time when the ultraconservative Muslim kingdom and oil powerhouse is trying to navigate social pressures from a burgeoning youth population — over half the population of 20 million is under 25 — seeking jobs and increasingly testing boundaries of speech on the Internet, where criticism of the royal family is rife.
The new king's health has been a question of concern. He suffered at least one stroke that has left him with limited movement on his left arm.
King Abdullah had carried out a slow but determined series of reforms aimed at modernizing the country; including increasing education and nudging open the margins of rights for women. Salman appears to have fallen in line with those reforms. But he has also voiced concerns about moving too fast.
In a 2007 meeting, he told an outgoing US ambassador that "social and cultural factors" — even more than religious — mean change has to be introduced slowly and with sensitivity, noting the power of the multiple tribes in the kingdom, according to an embassy memo of the meeting leaked by the Wikileaks whistleblower site.
He struck the same theme in a 2010 interview with Karen Elliot House, author of "On Saudi Arabia: Its People, Past, Religion, Fault Lines." He told her that while Americans are unified by democracy, Saudi Arabia is in essence unified by his family, the Al Sauds. "We can't have democracy in Saudi Arabia, he said, because if we did every tribe would be a party and then we would be like Iraq and would have chaos," House told The Associated Press.
That was House's second meeting with Salman. Her first was in the 1980s when, she said, he "seemed to be rather kind of stiff and regal and he pontificated more than he responded." But in 2010, "he was a different guy, kind of softer and less formal and much less self-important."
Salman is one of the dozens of sons of Saudi Arabia's founder, King Abdul-Aziz Al Saud — thought to have had more than 50 sons from multiple wives. Notably, he was one of so-called "Sudeiri Seven" — seven sons born to one of Abdul-Aziz's most favoured wives, Hussa bint Ahmad Sudeiri. The seven full-brothers were seen as a centre of power within the family. Abdullah's predecessor, King Fahd, was among the seven, as were Abdullah's first two crown princes, Sultan and Nayef, who died in 2011 and 2012 respectively before ever reaching the throne.
The Al Saud family has long sought to keep a united front, papering over any internal disputes to keep the stability of its rule. Salman appears to have played a frequent role in ensuring that unity. The 2007 US Embassy memo said he "is often the referee in family disputes." It pointed to an incident after King Abdullah formalized the Allegiance Council, a body of top royals that is tasked with voting on succession issues based on merit and not just age. Salman's eldest living brother, Abdul-Rahman, was outspoken in his criticism of the arrangement, but Salman bluntly told his brother to "shut up and get back to work," according to the memo.
Salman is also known to have extensive contacts among the country's tribes and his influence is further extended through a network of family businesses, including a stake in the pan-Arab newspaper ASharq Al-Awsat.
At a relatively young age, Salman became the governor of Riyadh in 1963 and over the next 48 years he oversaw its transformation from an isolated desert town into a crowded city of skyscrapers, universities and Western fast-food chains. He also saw it struggle to keep up with demand for affordable housing and sufficient public transportation for its 4 million residents. The post made him well known internationally, as he played host for VIPs and international envoys and helped secure foreign investment for the country's heartland and capital.
He was elevated to defence minister in 2011, and then Abdullah named him crown prince — heir to throne — when Nayef died.
In discussions with US diplomats in 2007 revealed in several memos, Salman spoke out against militancy, but added that Jewish and Christian extremism has fed Islamic extremism — even warning that the United States will one day see a threat from Jewish and Christian radicals. He told the Americans that the key to bringing stability to the Middle East is to resolve the Israeli-Palestinian conflict, adding that Israel is "a burden on the US"
Salman's sons include Prince Abdulaziz, the deputy oil minister; Prince Faisal, the governor of Medina; and Prince Sultan, the first Arab astronaut and current head of the tourism authority
The most influential, however, is believed to be Prince Mohamed, the eldest son from Salman's third wife. In his 30s, Mohammed is the head of his father's court.
http://timesofindia.indiatimes.com/world/middle-east/Saudi-Arabias-new-king-Salman-a-force-for-unity-in-royal-family/articleshow/45986106.cms
----------
Key Facts about Saudi Arabia
AFP | Jan 23, 2015
RIYADH: Saudi Arabia, whose ruler King Abdullah died on Friday, is an oil-rich, absolute monarchy that occupies most of the arid Arabian Peninsula.
It is also home to the two most holy sites in Islam and is a pilgrimage destination for Muslims from all over the world.
Geography: Saudi Arabia dominates the Arabian Peninsula, lying between the Gulf and the Red Sea. Mostly desert, it is bordered to the south by Yemen, the east by Oman and the Gulf emirate states, and to the north by Jordan and Iraq.
Area: At 2,149,690 square kilometres (about 860,000 square miles), the country is approximately four times the size of France.
Population: 28.83 million (2013), including around eight million foreign nationals.
Capital: Riyadh.
Religion: Sunni Islam is the official religion, although about 10 percent of Saudis are Shias. Other religions are banned from practising in Saudi Arabia, which is home to the Islamic holy cities of Mecca and Medina.
History: Bedouin prince Muhammad bin Saud allied himself in 1744 with fiery cleric Muhammad bin Abdul Wahhab to forge a new state. By 1802 they controlled the lands that mostly make up Saudi Arabia, but lost much of it to the Ottomans in 1818.
Abdul Aziz bin Saud captured Riyadh in 1902 and declared himself king in 1932. Oil was discovered in 1938. Abdul Aziz died in 1953, and a succession of his sons have since ruled. King Abdullah bin Abdul Aziz inherited the throne in 2005.
Between 2003 and 2006, the kingdom witnessed a wave of al-Qaida attacks, including against foreigners.
In recent years there have also been protests and limited confrontations with police in mainly Shia regions of the east, while women have campaigned for basic rights, such as being allowed to drive.
The country was little affected by the wave of uprisings known as the "Arab Spring" in 2011. King Abdullah announced $36 billion of social benefits at the time, in a clear bid to keep the population content.
In September, Saudi Arabia and other Gulf countries joined the US-led air campaign against the extremist Islamic State group that seized swathes of Iraq and Syria.
Political institutions: An absolute monarchy, with senior princes of the al-Saud family holding the most powerful ministerial positions, all provincial governorships and top military jobs.
The Shura Council makes recommendations on legal and policy issues. There is no constitution and law is based on Islamic Sharia in the ultra-conservative Wahhabi-Hanbali tradition.
Judges are clerics schooled in Sharia.
Economy: At 265.4 billion barrels, Saudi Arabia possesses the second-largest known reserves of crude oil in the world, after Venezuela.
A close ally of the United States, it is a leading member of the Organization of Petroleum Exporting Countries and often acts to regulate world oil prices by adjusting its output.
Saudi Arabia also has significant quantities of natural gas. The government has pushed to diversify by building petrochemical plants and energy-intensive heavy industry. Pilgrims also fuel an economy which is heavily reliant on foreign workers.
GDP: $745.3 billion in 2013; per capita gross national income: $26,200 in 2013 (World Bank, 2014).
Military: 233,500 active duty personnel (IISS, 2012).
http://timesofindia.indiatimes.com/world/middle-east/Key-facts-about-Saudi-Arabia/articleshow/45986479.cms
-----
Oil Rises after Death of Saudi King, But Effect Seen Muted
AP | Jan 23, 2015
NEW YORK: Oil prices rose on the news of the death of Saudi Arabia's King Abdullah Thursday, but the king's death is not expected to change the course of oil prices over the next several months.
The price of US crude was up $1.07, or 2.3 percent, to $47.38 a barrel in after-hours trading. Brent crude, an international benchmark, was up 1 percent to $49 a barrel.
Oil prices have plummeted nearly 60 percent since June as global supplies have soared. Saudi Arabia has so far declined to call for a cut in production by OPEC members that could reverse the price decline.
Analysts expect Saudi oil minister Ali Al-Naimi to remain in his position for at least the next several months and for Saudi Arabia's export policy to remain the same.
http://timesofindia.indiatimes.com/world/middle-east/Oil-rises-after-death-of-Saudi-king-but-effect-seen-muted/articleshow/45986122.cms
-----
URL: http://www.newageislam.com/current-affairs/reuters,-ap-and-afp/saudi-arabia-king-abdullah-bin-abdulaziz-dies,-new-ruler-is-salman-bin-abdulaziz-al-saud/d/101160