By Reema Abbasi
26 September 2014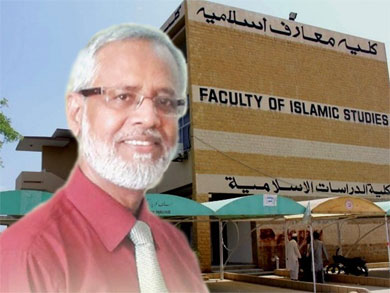 Tragedy: Dr Shakil Auj, a progressive religious scholar and dean of the Islamic Studies department at the Karachi University, was shot dead by unknown assassins
Once again, it's apparent that Pakistan's bloodstained Black Laws point to a cowering administration's tacit support for hardliners and their ruthless demands.
This week, Shakil Auj, a progressive religious scholar and dean of Islamic Studies department at the Karachi University, was the latest to take a fatal bullet by always unknown assailants.
The assassination has stirred despair as it signals a darker truth – that questioning cadres of intellectuals, analysts and journalists will be silenced.
Whispers abound about the background of Dr Auj's murder. Turns out, the professor had been at the receiving end of blasphemy charges by members of the same faculty.
These were ascribed to his outrage against sectarianism and the Blasphemy Laws, and to a speech he made in the US with references to the latter.
Although Pakistan has yet to execute anyone for blasphemy, accusations have rocketed in the country – research conducted in 2012 by the Centre for Research and Security Studies records 80 cases in 2011 from one in 2001.
Given the absence of political will, hopes for repeal are delusions. But space can't be ceded to messages of submission that turn one's own voice, faith and sect into vulnerable targets.
So the closest this country can come to a solution is through amendments ensuring safety valves for both communities and opinion.
Last year, the former top judge announced a precedent – that Pakistan Penal Code Article 295 sees offence against any faith as blasphemous – but in this milieu, he had to back it up with safeguards for such directives to see the light.
Undeniably, any possibility of protective measures has crashed in the face of these edicts. Therefore, a blasphemy charge is tantamount to either a death sentence or plain murder.
Lives are hostage to a law that is far from divine. At the end of a gory day, it is just another act of man.
Reema Abbasi is a columnist and an author based in Karachi
Source: http://www.dailymail.co.uk/indiahome/indianews/article-2770026/Moderate-religious-scholar-shot-dead-charged-blasphemy.html#ixzz3ERb4XU84
URL: http://www.newageislam.com/current-affairs/reema-abbasi/moderate-religious-scholar-shot-dead-after-being-charged-with-blasphemy/d/99261