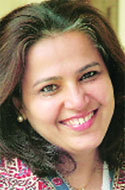 By Rakhshanda Jalil
17 January 2020
Sometimes, a poem, or one particular piece of writing casts a long shadow and comes to be seen as most representative of a writer's work. Such is the curious case of Hum Dekhenge and Faiz Ahmad Faiz, despite the fact that that he enjoyed a fairly long innings and wrote on a range of subjects. What is more, poetry and politics ran as the warp and woof of his life, creating a rich tapestry that glows with life to this day.
Faiz Ahmad Faiz
-----
Moving from an easy-going young man, shy with strangers but equipped with a ready wit in the company of friends, given to a liberal Left inclination, heavily influenced by classical Persian traditions though he studied and taught English literature, Faiz evolved his own prosody and vocabulary that was at once contemporary yet exquisitely musical. Like his contemporary Majaz, Faiz too began to use the Nazm for increasingly political, even revolutionary purposes. Unlike Majaz, however, Faiz had an academic bent of mind. Being a teacher, he retained a scholarly disposition which he brought to all subsequent vocations and callings.
Faiz Took the Message of Marx Where Iqbal Had Left It...
Another useful comparison would be between Faiz and Iqbal. Both from the Punjab, they took to Urdu (not their mother tongue) as a bird takes to song. They wrote poetry that was at once passionate, direct, impetuous – that appealed with a startling near-prophetic call to the collective consciousness of their readers. Both used traditional poetic forms such as the elegy, the ode and the anthem, and infused them with a fresh note of social consciousness.
Faiz remained a Marxist long after the decline of the Movement, but never an in doctrinaire one, nor was he ever a member of the Communist Party.
Faiz Lent His Weight to the Progressive Cause Whenever Needed
Apart from the help in setting up the Lahore PWA, Faiz lent his weight to the progressive cause whenever called upon to do so. He, along with Krishan Chander, emerged as a leading light of the Punjab progressives. He organised the Punjabi progressive writers' conference in Amritsar in the historic Jallianwala Bagh on the same venue as the annual meeting of the Punjab Kisan Committee in February-March 1940. Denied permission to hold their conference in the MAO College (where Faiz taught and where his brother-in-law MD Taseeer was by now the principal), Faiz sought permission from the organisers of the 'Kisan conference' to use their marquee. Sitting on grimy rugs under a torn canopy, an eclectic group of intellectuals from all over the Punjab responded to Faiz's call: Chiragh Hasan Hasrat, Firoz Deen Mansoor, Teka Ram Sukhan, Mohibbul Hasan, Taseer, Raghuvansh Kumar Kapoor, Raghupati Chopra, Sanat Singh, Faiz himself and Sajjad Zaheer and KM Ashraf in the unlikely role of representatives from the UP sent to attend the 'kisan conference'!
Faiz Juxtaposed the Beloved's Beauty Against the Ugliness of the World
Faiz produced seven volumes of verse. His first collection, Naqsh-e-Faryadi (Imploring Imprints, published in 1941 while he was still in Amritsar, but written over a period of ten years) shows a strange intermingling of the romantic and revolutionary. It reflects the aches of a sensitive, somewhat sheltered young man, but also the sorrows of the world. The early poems have a haunting, dreamlike quality, such as Mere Nadeem, Husn aur Maut, Aaj ki Raat. This trance was broken as he came in contact with Marxists and increasingly influenced by social realism.
In Mujhse Pahli Si Muhabbat Mere Mahboob Na Mang (My Beloved, Don't Ask Me to Love You as I Once Did), for instance, the poet acknowledges the heart-tugging beauty of the beloved, but talks of the other sorrows of the world which claim his attention. He juxtaposes the beloved's beauty against the miseries and ugliness of the world, a world which has hunger, disease and deprivation, a world that can never let him love her as he once did, for a love that is divorced from social reality is too individualistic, too meaningless:
Aur Bhi Dukh Hain Samane Mein Mohabbat Ke Siwa
Raahatein Aur Bhi Hain Wasl Ki Raahat Ke Siwa
(There are other sorrows too apart from love
And other pleasures too apart from that of union)
'Bol, Ki Labh Azaad Hain Tere'
Another poem, Chand Roz Aur Meri Jaan, again has the poet addressing his beloved and comforting her that the days of cruelty, oppression and helplessness are about to end. The humiliations inflicted by strange hands (the British), he assures her, shall be short lived:
Zulm Ki Chhaon Mein Dam Lene Pe Majbur Hain Hum
Aur Kuchh Der Sitam Sah Lein Tadap Lein Ro Lein
Apne Ajdad Ki Miras Hai Mazur Hain Hum
(We are constrained to breathe in the shade of tyranny
Bear it just a little longer, endure thus oppression
This suffering that is our inheritance, and we are helpless...)
Other poems from Naqsh-e-Faryadi that bear the stamp of progressivism are Raqeeb Se, Tanhai, Bol Ke Lab Azaad Hain Tere, Mauzoo-e-Sukhan, Hum Log. If in Bol, he is inciting his people to speak up and reminding them that they are free despite their fetters:
Bol, Ki Labh Azad Hain Tere
Bol Zaban Ab Tak Teri Hai
Tera Sutvan Jism Hai Tera
Bol Ki Jaan Ab Tak Teri Hai
(Speak, for your lips are free
Speak, for your tongue is still yours
Your supple body is still yours
Speak, for your life is still yours)
What Should Truly Concern a Poet?
In Hum Log, he seems to be chastising them for the fear, regret and sorrow that do not let them rise in revolt:
Dil Ke Aivan Men Liye Gul-Shuda Shamon Ki Qatar
Nur-E-?Hurshid Se Sahme Hue Uktae Hue
Husn-E-Mahbub Ke Sayyal Tasavvur Ki Tarah
Apni Tariki Ko Bhenche Hue Liptae Hue
(Clasping a row of snuffed out candles in the niches of our hearts
Scared even of the light of the moon, wearied of all things
Like the remembrance of love's beauty now faded
Clutching our darkness, and being cloaked by it)
In Mauzoo-e-Sukhan, he makes the most direct statement of what should concern a poet: should it just be the darkness of a beloved's tresses or the delicate tracery of henna on her pale hands or should it be all that has happened to the sons and daughters of Adam and Eve from time immemorial and all the tragedies and misfortunes that shall continue to happen? Should he not ask?
Inn Damakte Hue Shahron Ki Faravan Ma Hluq
Kyuu Faqat Marne Ki Hasrat Men Jiya Karti Hai
Ye Hasin Khet Phata Padta Hai Jauban Jin Kaa!
Kis Liye In Mein Faqat Bhuuk Uga Karti Hai
(The countless souls who inhabit these glittering cities
Do they live simply with the desire to die one day?
These beautiful fields whose youth is bursting forth
Why does only hunger grow in them?)
'Why Should I Mourn if My Tablet and Pen are Forbidden...'
The next two volumes, Dast-e-Saba (The Breeze's Hand, 1953) and Zindah Nama (Poems from Prison, 1956) buttressed his reputation as one of the leading intellectuals of his day.
Mata-e-Lauh-O-Qalam Chhin Gai To Kya Gham Hai
Ki Hun-E-Dil Men Dubo Li Hain Ungliyan Main Ne
(Why should I mourn if my tablet and pen are forbidden
When I have dipped my fingers in my own blood?)
In 'The Execution Yard (A Song)', he seems to be consoling himself and all others who face oppression by saying that this night too shall pass. In the same poem he goes on to speak of the 'Street of Scorn' (ku-e malaamat), a familiar trope in Urdu poetry, used to refer to the 'wrong side of the street' where the prostitutes lived; in Faiz's altered landscape it becomes any street anywhere in Pakistan where the summons can come for anyone at any time.
Faiz Voiced Ageless Concerns & Also Pointed Out New Ones
Sometime in the summer of 1951, Faiz wrote Subah-e-Azadi, his first, and only, poem that directly addresses Independence and makes an allusion to the trauma of Partition:
Yeh Daagh Daagh Ujala, Yeh Shab-Gazida Sehr
Yeh Woh Sehr To Nahi Thha Intizar Jiska
(This patchy darkness, this night-bitten dawn
This is not the dawn of freedom we had waited for)
Ale Ahmad Suroor, writing the foreword to the Indian edition of Zindah Nama, praised not merely the melodiousness of his poetry but also its technical finesse.
But what really struck a chord with millions of lay Urdu readers was the manner in which Faiz was voicing ageless concerns and also pointing out new ones. Not only was he drawing the readers' attention away from the ecstasy and agony of love, but he was also no longer content to talk of deen (faith) or qaum (community) in a narrow sectarian way.
Rakhshanda Jalil is a writer, translator and literary historian. She writes on literature, culture and society. She runs Hindustani Awaaz, an organisation devoted to the popularisation of Urdu literature.
Original Headline: What Makes Faiz Timeless and Accessible to Lay Urdu Readers?
Source: The Quint
URL: http://www.newageislam.com/current-affairs/rakhshanda-jalil/faiz-ahmad-faiz-took-the-message-of-karl-marx-where-iqbal-had-left-it/d/120824