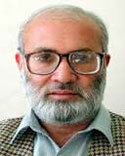 By Rahimullah Yusufzai
May 07, 2013
Jamiat Ulema-i-Islam-Fazl head Maulana Fazal ur Rehman has repeatedly been warning that any attempt to block the way of his party, which believes in peaceful political change, will open the way for non-state actors and prove harmful for Pakistan. However, he has yet to provide evidence of this blocking or identify those trying to do so.
The Maulana's message though is loud and clear: his party shouldn't be ignored or discriminated against as doing so could provoke JUI-F members and supporters to give up on the democratic process. (According to Rehman, examples of this discrimination include the arrest of clerics and raids on madrasas during military operations in Malakand division, the Federally Administered Tribal Areas (Fata) and elsewhere.) And without addressing the so-called 'establishment' or its components, the JUI-F chief has been reminding it that non-state armed groups using the name of Islam are already fighting the state and persuading the peace-loving Islamists to join their ranks.
In a way, Fazal ur Rehman is right. The founders of some militant groups were associated with the JUI-F but abandoned the party because they found its policies too moderate. Some Tehreek-e-Taliban Pakistan (TTP) commanders (including its deputy leader Wali ur Rahman and many fighters) as well as a few leaders of Deobandi militant groups such as Harkat ul Mujahedeen, Harkat ul Ansar and Jaish-e-Mohammad, for example, started out with the JUI-F but left to chart their own radical course by picking up the gun to first fight in Kashmir, then Afghanistan and finally, Pakistan.
Such defections also impacted the thinking within the parent party. For a while, some years ago, Fazal ur Rehman toyed with the idea of ending his party's participation in elections and instead launching a campaign for 'peaceful Islamic revolution'. In the end, however, Rehman dropped the idea and began making greater efforts to increase JUI-F's electoral strength and his party has taken part in every general election since. Significantly, the JUI-F refused to boycott the 2008 general election even on the call of its then ally, Jamaat-e-Islami. The decision split apart the six-party religious alliance, Muttahida Majlis-i-Amal (MMA), but Rehman was not to be swayed.
The JUI-F is an important religio-political party that makes it a point to emphasize its Islamic roots and ideology but its politics isn't limited to religion. In many respects, its politics are no different from those of other political parties. Party leaders readily assist JUI-F members and voters sort out their problems and disputes at the Thana and Kutchehry – a feature of conventional politics in Pakistan. JUI-F's elected representatives also enjoy the protocol and the perks that come with the job and don't mind working with the existing system in which contracts for development projects are awarded to favourite contractors and commissions are accepted. Notwithstanding its promise to overhaul and Islamize the system of government and economy in Pakistan if voted to power, the party hasn't really tried to change the status quo.
However, of late, the JUI-F leadership has turned its focus to socio-economic issues and has been highlighting the suffering of the people. While Islam, Quran and Shariah remain the central planks of the JUI-F platform, the party isn't privileging the spiritual needs of its voters over their material demands.
Widely acknowledged as a clever politician, Rehman loves to criticize the US and other Western powers but is forever ready to engage with their diplomats and visit world capitals. He is supposedly anti-India and an advocate of Kashmiris' right of self-determination. However, unlike some other Pakistani Islamists, he isn't in favour of hoisting the Pakistan flag on the Red Fort in Delhi or a supporter of acts of terrorism in India. From his statements, Rehman often comes across as a dove, despite his reputation as the father of the Taliban. (Those aware of ground realities know that the Maulana fathered neither the Afghan nor the Pakistani Taliban: the Taliban would rather listen to their commanders than to Rehman.)
In 2008, the JUI-F suffered a split in its ranks, primarily in Balochistan, where hard-line elements formed a breakaway faction named JUI-Nazriati. The latter won a few assembly seats in the 2008 polls and its leader, Maulana Asmatullah, defeated the JUI-F provincial head Maulana Mohammad Khan Sherani to win the National Assembly seat from Zhob-Sherani-Qilla Saifullah. The splinter group, which is more pro-Afghan Taliban and anti-US, is again hoping to snatch some seats from the JUI-F.
To compensate for this, for the 2013 general election, Fazal ur Rehman has done everything to bring electables into the JUI-F fold without alienating the party's core clerical base. Just like in other parties, JUI-F's doors were thrown open to turncoat politicians and tickets were awarded to moneyed candidates. At times, the Ulema were ignored and tickets given to newcomers capable of winning seats. Beardless men were welcomed in a party of bearded mullahs and – as Fazal ur Rahman has taken pains to point out – even women and minorities are allowed.
Although the JUI-F and the PML-N have failed to reach an electoral alliance or even agree to seat adjustments, they could become part of a coalition government at the centre and in Khyber Pakhtunkhwa (KP) and Balochistan by winning enough seats in the polls. (The JUI-F and JI, which did exceedingly well in the 2002 general election as components of the MMA and went on to rule both KP and Balochistan, gave up efforts to revive the alliance after failing to bridge their differences.)
As in the previous elections, the JUI-F has again tried to persuade some reputed religious scholars such as Mufti Said Qamar, Dr Sher Ali Shah and Maulana Abdullah Shah to contest the 2013 elections but these 'men of God' have declined. In the past, the JUI-F fielded candidates such as Maulana Hasan Jan (who defeated Khan Abdul Wali Khan), Maulana Mohammad Ahmad of Shergarh (who won a National Assembly seat in Mardan) and Mohib Babajee (who lost the seat he was contesting). Clearly, Maulana Fazal ur Rehman's current strategy is to win as many seats as possible and come into power.
All in the family
Maulana Fazal ur Rehman
After the death of his father, took over the reins of the Jamiat Ulema-e-Islam in 1980 at the age of 27 Has been elected to Parliament in 1988, 1993, 2002 and 2008 Will contest elections from NA-24, Dera Ismail Khan, NA-25, Dera Ismail Khan/Tank and NA-26, Lakki Marwat in 2013
Maulana Mufti Mahmoud
A religious scholar and political leader in the Indian subcontinent Opposed the creation of Pakistan, but moved to Pakistan after Partition Defeated Zulfikar Ali Bhutto from Dera Ismail Khan, NW-13, in the 1970 general elections After the 1970 elections, he became the president of the Jamiat Ulema-e-Islam founded by Maulana Shabbir Ahmed Usmani
In 1972, he became the chief minister of NWFP (now Khyber Pakhtunkhwa)
Maulana Lutf ur Rehman
Unsuccessfully contested by-elections held in 2011 for a provincial assembly seat, PK-65. Will contest two provincial assembly seats, PK-64 and PK-66, in 2013 on JUI-F tickets
Maulana Ubaid ur Rehman
He is expected to contest a provincial assembly seat, PK-65, on a JUI-F ticket in 2013
Maulana Atta ur Rehman
JUI-F deputy chief In 2008, was elected as a member of the National Assembly from Dera Ismail Khan Tank (NA-25) Is not contesting elections in 2013
Source: http://www.thenews.com.pk/Todays-News-16-175892-The-JUI-F-way
URL: http://www.newageislam.com/current-affairs/rahimullah-yusufzai/jamiat-ulema-i-islam-(fazl)-way/d/11484