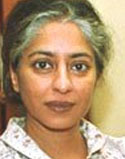 By Radha Kumar
Nov 16 2013
A workable strategy would be to act nationally and multilaterally against terrorism; negotiate bilaterally on Kashmir; and build trade under the radar
Now that the heat over Pakistani Adviser Sartaj Aziz's visit to Delhi has died down, it is time to evaluate whether it improved the prospects for a renewed India-Pakistan peace process, or set them back. If we go by the media coverage and the Bharatiya Janata Party's outcry, there is no hope. Reading between the lines, however, the signs are ambiguous: indeed, they display positive attributes as well as negative ones.
High Hopes
To briefly recap, India had high hopes when Nawaz Sharif won the elections in Pakistan. He had stated during the election campaign that peace with India was one of his top priorities. Unfortunately, despite imaginative confidence-building measures such as the offer to transmit electricity from Indian to Pakistani Punjab, Indian hopes receded, as did the promised normalisation of trade through reciprocating the most-favoured nation status, partly due to backlash against them in Pakistan.
The first 10 months of this year witnessed an escalation of hostility between India and Pakistan. In fact, the escalation began in the run-up to Pakistani elections, with Hafiz Saeed given a free hand to inflame sentiments, and the founding of the Difa-e-Pakistan alliance of extremists. At the same time, we saw a sharp rise in infiltration attempts across the Line of Control, which has continued and led to hundreds of ceasefire violations as well as a resurgence of terrorist attacks on security forces in Jammu and Kashmir, one of them from across the International Border. Whether supported by the Pakistani military or not, it was clear that the militant groups were pushing the envelope to see how far they could go with Pakistan's new government.
These incidents led Prime Ministers Manmohan Singh and Mr. Sharif to agree in New York that the Indian and Pakistani Directors-General of Military Operations would meet to identify improved mechanisms to maintain the ceasefire and, by extension, prevent infiltration, which is a high priority for India.
An immediate media outcry that nothing could come from the DGMO talks led to their indefinite postponement and ultimately benefited militant groups, from whom even this weak spotlight was removed.
External Affairs Minister Salman Khurshid, and the Adviser, Mr. Aziz, have now again emphasised the importance of the DGMOs meeting. Let us hope that this time around it will happen soon and the DGMOs will actually get a chance to fulfil the important mandate of the meeting, which is to stop violence across the LoC and the International Border.
The general assumption in India, and to some extent in Pakistan, is that a serious peace initiative can be made only after Indian elections in the spring-summer of 2014. Yet it is these intervening months that will be a make-or-break period for peace-making. In the first year of the Pakistan People's Party government, its leaders were willing to take bold initiatives for peace with India but were deterred by the Mumbai attacks and stiff military opposition. For the rest of the PPP term, little happened by way of India-Pakistan peace-making, with a negative impact on Jammu and Kashmir, as the 2010 youth uprisings and deaths indicated. The events of this year could be seen as similar attempts by spoilers to disrupt peace initiatives; the danger is that we risk another four years of inaction.
Indications are that Pakistan is inching towards restarting the back channel on Kashmir that was initiated during Mr. Sharif's second term in 1998. At a recent Pugwash conference in Islamabad, Mr. Aziz reportedly assured participants that his government would seriously consider the framework that was developed during the Lambah-Aziz discussions of 2004-06 and then put on the back-burner at President Pervez Musharraf's request.
The framework offered maximum autonomy to all parts of the former princely state. The LoC would gradually become invisible through free Kashmiri trade and movement. All parts of the former princely state would be encouraged to undertake joint resource development, and there would be phased demilitarisation (beginning with non-state actors such as the militant groups). And India and Pakistan would together monitor the situation.
The PPP-led government that followed pleaded ignorance of the back channel and the framework that was developed there, largely because it had been misnamed "the Musharraf Formula" though it had emerged from an intra-Kashmiri dialogue. And it remained inactive for most of its tenure. If Mr. Sharif's government picks up the discussion from where it left off, its gains will not have been lost and there could be tangible progress on the Kashmir front. In this context, Mr. Aziz's meetings with the Hurriyat and allied groups on the sidelines of the ASEM summit in Delhi have come in for considerable media flak, but this could in fact contribute to restarting the back channel from where it had left off. True, the Pakistani embassy should have consulted the MEA before scheduling the meetings (I do not know whether it did or did not). More importantly, it should not have invited Asiya Andrabi of the Dukhtaran-e-Millat: she is avowedly against an India-Pakistan peace process, and has repeatedly spoken out against the Kashmir-focussed CBMs. Given that her family in Pakistan has also been allegedly involved in activities supporting terrorism, the invitation could only send mixed messages within Pakistan and Kashmir.
Role in Peace-Making
However, groups like the Mirwaiz-led Hurriyat and Yasin Malik's JKLF have in the past supported both the India-Pakistan CBMs and the framework developed in the back channel. If they conveyed their desire for the framework to be the base document for a renewed Kashmir peace process, then the meetings with Mr. Aziz will have been useful. The argument made by the BJP and picked up by the media that these meetings should not have been allowed, is specious. In fact, the green light for such meetings was given during Prime Minister Vajpayee's tenure, as part of a policy of helping the Hurriyat play a role in peace-making. The impact was large — the Hurriyat was able to push militant groups for an end to violence; indeed, militancy gradually lost legitimacy in Kashmir.
But for the Hurriyat to assume a role in the peace process, it should talk to representatives of the Government of India, which it continues to hesitate over, perhaps for fear of being shot (as was its last interlocutor, Fazl Haq Qureshi). And New Delhi needs to have the same access to dissidents in the Pakistan-held parts of the former princely state, including Gilgit-Baltistan, as Pakistani leaders have to dissidents in Jammu and Kashmir.
PPP Strategy
Kashmir is only one piece of the puzzle that besets India-Pakistan relations. Counter-terrorism and trade are two other priorities to emerge over the 15-year effort at peace-making by Indian and Pakistani leaders. At the beginning of Mr. Sharif's third term, it looked as if the three could be linked and would provide the ballast to sustain negotiations through the hard times that were inevitable. The PPP government's strategy, after its first-year setbacks, was to build trade as a ballast and then progress to negotiations on what it considered "doables", such as Siachen and Sir Creek. Trade did progress considerably, with new infrastructure being developed at Wagah (better on the Indian than the Pakistani side).
What the PPP government failed to see was that progress against terrorism has become the test of good faith in India, whether in the government or among the public. The stalled Mumbai trials are a constant reminder that Pakistan is unwilling to act against anti-India militancy; and the trebling of infiltration attempts this year lends credence to this belief. For our part, we fail to see that it is difficult to find judges or public prosecutors for the Mumbai trials, since a prosecutor was killed and judges regularly seek transfer out of fear. Pakistan today is in a far worse situation as far as militancy is concerned than it was 10 or even seven years ago. This does not mean India tolerates the violence; rather, we need to build our own defences. A workable strategy would be to take concerted action nationally and multilaterally against terrorism; negotiate bilaterally on Jammu and Kashmir; and build trade under the radar, if necessary, as happened during the PPP period.
But no strategy will succeed unless supported by the military in Pakistan and the Opposition in India. Lacking access to the former, I cannot analyse the potential for change; but as far as the latter is concerned, the BJP's approach appears to be: wait until we come to power and then we will allow progress. That is surely morally unacceptable: no party should hold a peace process hostage until its turn at power.
Indeed, Mr. Vajpayee's peace initiatives gained traction because the Congress supported them (it had originally opposed them but decided, at Dr. Singh's intervention, to support them in the national interest). The BJP's position is also practically untenable: by mid-2014 Pakistan's attention will be focussed on the new government in Afghanistan, where its stakes are much higher, and the space to achieve a feasible and result-oriented India-Pakistan peace process will be severely curtailed.
Finally, India's electronic media do not appear to take their own influence seriously. Endlessly repetitive talk shows of naysayers pooh-poohing every peace initiative our government takes have created a deep public scepticism in peace-making. Given how many spoilers there are who want to prevent peace, public support is essential for any leadership to persevere. The media could play a critical role in anchoring the constituency for peace, instead of strengthening the spoiler lobby. I cannot think of a single talk show in 10 years that has discussed what a serious India-Pakistan peace process could consist of, issue by issue and action by action, taking the very real frailties of our country and Pakistan into account. How refreshing would that be!
Radha Kumar is Director-General of the Delhi Policy Group. The views published here are her own.
Source: http://www.thehindu.com/opinion/lead/renewing-an-indiapakistan-peace-process/article5355247.ece
URL: http://www.newageislam.com/current-affairs/radha-kumar/renewing-an-india-pakistan-peace-process?/d/24447