By Pritha Chatterjee
Nov 19 2013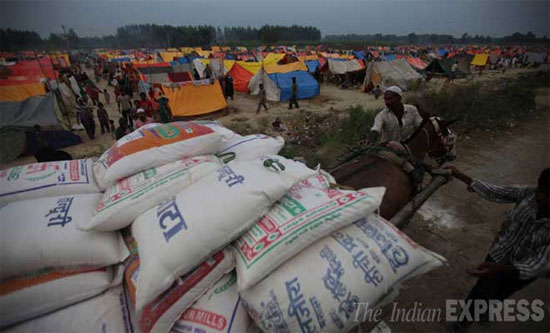 Over 900 displaced families in Muzaffarnagar and Shyamli districts have signed affidavits stating that they will not return to their villages, in return for a compensation of Rs 5 lakh from the state government. (IE Photo)
With winter setting in, and the conditions in relief camps fast deteriorating, over 900 displaced families in Muzaffarnagar and Shyamli districts have signed affidavits stating that they will not return to their villages, in return for a compensation of Rs 5 lakh from the state government.
"Main Aur Mere Parivar Ke Sadasya Apne Gram Mein Hui Hinsatmak Ghatnaon Se Bhayakant Hokar Gaon Va Ghar Chhodkar Aaye Hain, Tatha In Kinhi Bhi Paristhitiyon Mein Ab Apne Mool Gaon Evam Ghar Nahin Lautenge (I and my family left our village and our home due to the violent incidents there. We will not return to our village and home under any circumstances)," says the affidavit.
The affidavit, which was first ratified by a government order on October 28 and revised on October 29, adds that the compensation will only be used for rehabilitation in "any other land, arranging residence elsewhere", and that such rehabilitation will not be in any "government, non-government or village land occupied illegitimately".
The affidavit also states that those who take the compensation will not be eligible for any other government compensation "for property in their village, or any more immovable property".
The affidavit is being offered as an option to 1,600-odd families in the nine "worst affected" villages of Muzaffarnagar and Shyamli. The district administrations transfer the Rs 5 lakh electronically, within hours of getting the signatures.
"We had identified 950 families, of which compensation has already been given to 620 families. We are transferring the money electronically on the day people sign the affidavits," said Muzaffarnagar District Magistrate Kaushal Raj Sharma.
However, officials in both the districts maintained that the property or land owned by the displaced people "will continue to remain in their names."
In Shyamli, where 385 of 700-odd families have accepted the compensation, District Magistrate P K Singh said the prospect of displaced families wanting to return to their villages in future had "not been sorted out yet".
"I cannot comment on what will happen if these displaced families wish to return, because they are categorically stating in the affidavits that they do not want to return. However, they will be free to sell, cultivate or do whatever they wish on their property. The government will not have any ownership of their land," he said.
District officials also said there will be "no further efforts" to trace where these families re-settle. "The choice of rehabilitation has been left to them," said Singh.
"Some families have chosen to go to their relatives in cities, some have gone elsewhere in the district. They could not continue to stay in the makeshift camps," said Sharma.
Meanwhile, organisers of the relief camps claimed that the displaced people were being "fooled" by the authorities. "People are being called to the Tehsil office and made to sign these papers. Many of them have sustained losses of about Rs 10 lakh, but are settling for much less. The administration is forcing them to leave the relief camps which have become an embarrassment for them," said Abdul Jabbar, who has been running a camp in Joula in Muzaffarnagar.
Source: http://www.indianexpress.com/news/muzaffarnagar-riots-for-rs-5-lakh-900-families-give-up-their-right-to-return-home/1196714/0
URL: http://www.newageislam.com/current-affairs/pritha-chatterjee/retain-the-title-to-your-home-and-fields-but-just-don-t-come-back--if-someone-takes-them-over-take-him-to-court-but-just-don-t-come-back/d/34489