By Praveen Swami
Aug 19, 2013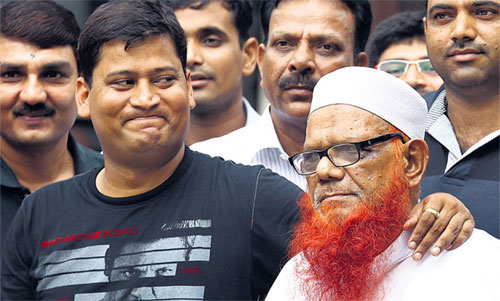 Abdul Karim Tunda
'Hakim-ji', they called him, the stocky middle-aged man with a flowing beard dyed with henna, who had stood among the crowd that had gathered to hear the speech that gave birth to the modern jihadist movement in India.
In the summer of 1985, as riots raged in Maharashtra, a small group of men had gathered in Mumbai's Mominpura slum to discuss the creation of an armed group to defend Muslims. The organisation would carry out a string of bombings following the demolition of Babri Masjid in 1992—and lay the foundations of today's jihadist networks.
Now, in the wake of a carefully-crafted operation involving India's Research and Analysis Wing and intelligence services in the United Arab Emirates and Saudi Arabia that man is in jail.
Held this morning by the Delhi Police on the India-Nepal border, Syed Abdul Karim 'Tunda' will likely provide interrogators with more detail on the inner workings of the Lashkar-e-Taiba's jihad against India than any terrorist held since 1993. For two decades, he evolved from being a hands-on terror operative to a key mentor, fundraiser and recruiter among jihadists drawn from the Indian diaspora in West Asia.
Born in 1943 to a lower middle-class family in Delhi, little detail is available on Karim's early life. He moved to Pilkhuwa, near the town of Ghaziabad, in his teens. He then shifted base to Mumbai, where he set up a small dyeing business. From the accounts of relatives, Karim had little to do with politics—but was drawn to the neo-fundamentalist theology of the Jami'at Ahl-e-Hadis.
His friends in Mominpura came from diverse backgrounds. There was Muhammad Azam Ghauri—a one-time street thug from Nalagonda, in Hyderabad, who became a key jihad commander before eventually dying in a shootout with police. The third member of the trio was Jalees Ansari, the son of a Mumbai textile-mill worker, who'd clawed his way up to earn a medical degree.
The three men had just one thing in common: anger at what they saw as a fundamentally anti-Muslim society.
Precisely a year after the Babri Masjid was brought down; India's first Lashkar cell executed 43 small bombings in Mumbai and Hyderabad and 7 separate explosions on inter-city trains.
Karim, intelligence officials believe, travelled to Kolkata, and crossed into Bangladesh with the help of contacts in the Jami'at Ahl-e-Hadis. He was then taken to Zaki-ur-Rahman Lakhvi, a long-standing Lashkar-e-Taiba commander who had been tasked with developing the terror group's pan-India capabilities. By 1996, operating through the Dhaka-based Islamic Chattra Shibir [Islamic Students Organisation], Karim was running a formidable network throughout north India.
In 1996, Karim is alleged to have executed a series of bombings in Delhi, Rohtak and Jalandhar—the first significant actions carried out under his direct command. He earned the nickname 'Tunda' after his left hand was blown off in a bomb-making accident.
Pakistani nationals are alleged to have had an important role in Karim's operations. In July 1998, for example, the Delhi Police arrested Abdul Sattar, a resident of Pakistan's Faislabad district who had set up a covert terror cell in the town of Khurja. Karim had used his expanding network in India to provide Sattar with fake identification papers, cash, guides—and a landlord willing to look the other way while the Pakistani terrorist built a bunker to house explosives inside a pottery kiln.
The most successful of the long-term Lashkar agents was Mohammad Ishtiaq, the son of a shopkeeper from Kala Gujran in Pakistan's Jhelum district. Operating under the alias Salim Junaid, Ishtiaq obtained an Indian passport, set up a trucking business out of Hyderabad which secretly served to transport explosives – and even married a local resident, Momina Khatoon.
The Lashkar's confidence grew: at a November 1999 rally, its chief, Hafiz Muhammad Saeed, announced that "today, Insha Allah, I announce the break-up of India".
Karim receded into the background, shuttling between Lashkar safe houses in Dhaka, Kathmandu and Lahore to meet with operatives. There were repeated rumours he had died. However, he was spotted by Indian intelligence agents at the Lashkar's campus near Murdike, near Lahore, where he owned a perfume business. Lashkar recruits who joined the organisation after 2002 Gujarat pogrom often met Karim, now a mentor and guide to a new generation of terror operatives.
Abdul Razzak Masood, an alleged Lashkar operative held in New Delhiin 2005, told police he worked under Karim's direct command.
Karim's also thought to have helped developed links between the Lashkar and Karachi-based gang lord Dawood Ibrahim Kaskar. The Lashkar's coalition partner in the International Islamic Front for Jihad, al-Qaeda, wished to expand into East Africa and offered cash for the mafia's networks.
In October, 2003, the United States Treasury Department officially determined that Dawood Ibrahim's "smuggling routes from South Asia, the Middle East and Africa are shared with Osama bin-Laden and his terrorist network."
Karim was reported, in 2008, to have been arrested in Mombasa—but that turned out to have been a case of mistaken identity.
Now, a full thirty years after that fateful meeting in Mominpura, Karim is finally in prison. Indian investigators will be seeking detail on the Lashkar's future plans—but at last, they'll be able to speak to someone who can tell the story from beginning to end.
Source: http://www.firstpost.com/india/why-let-terrorist-abdul-karim-tunda-is-a-big-catch-for-india-1040373.html?utm_source=hp-footer
URL: http://www.newageislam.com/current-affairs/praveen-swami/why-let-terrorist-abdul-karim-tunda-is-a-big-catch-for-india/d/13107