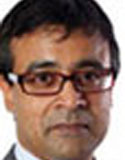 By Praveen Swami
Oct 26, 2013
The smoke was still rising from the Twin Towers in New York when a top United States diplomat arrived in Pakistan seeking its help in the war against Osama bin Laden. Then assistant Secretary of State Richard Armitage wanted Pakistan to grant the United States unrestricted over flight rights, deploy its troops against fleeing Taliban and give access for intelligence operations targeting al-Qaeda. Islamabad could choose to cooperate, Armitage told Pakistan's intelligence chief, or, alternatively, "prepare to be bombed". "Be prepared to go back to the Stone Age," Pakistan's former military ruler, General Pervez Musharraf, recalls being warned. Earlier this week, the man Musharraf deposed from office and sent into exile arrived in Washington, DC, now evidently willing to take that chance.
Prime Minister Nawaz Sharif told the United States to put an end to drone strikes in Pakistan, part of the significant concessions the country made after 9/11. He held out no promises to use Pakistan's army to overrun jihadist-controlled tracts in the country's troubled north-west. His only hard offer was to feed President Barack Obama Queema and Naan whenever he visits Pakistan–the United States president fondly recalled learning to cook them from friends as a graduate student.
The thing is, there's only so much Barack Obama will pay for Queema and Naan, no matter how tasty it is.
In FY2013, estimates released today by the authoritative Congressional Research Service show, Pakistan will receive $1.157 billion in United States aid–the lowest in years. The inexorable downward trend is unmistakable: in FY2012, the United States gave Pakistan $2.604 billion, in FY2011, $3.581 billion and in FY2010, $4.504 billion. The allocations for this year, thus, are just a quarter of the level they were at three years ago. Though FY2013 allocations for migration and relief assistance, as well as international disaster assistance, have not yet been firmed up, these will make no significant difference to the total.
The sharpest cut has been in security-related assistance, which has fallen year-on-year from $1.236 billion in 2010, to $353 million this year. The single biggest reason for that fall is the drying-up of counter-insurgency capacity-development funds to the Pakistani military, which amounted to $800 million in FY2011.
For Pakistan's strategic establishment, there ought be some fairly simple, if unpleasant, lessons in these numbers. The truth is the United States doesn't cut back aid to allies, however dysfunctional, casually. Egypt has lost significant aid in recent months, but that's because it suffered a coup.
The obvious explanation for declining United States aid to Pakistan is that the superpower is withdrawing from Afghanistan, and thus losing its strategic equities in the region.
In other circumstances, though, this should have meant a surge in assistance to Pakistan, not the other way around. The United States would have liked Pakistan to take a more active role targeting the Taliban, who threaten its allies in Kabul. It would have wanted Islamabad to be more aggressive in its pursuit of the Pakistani Taliban, who provide haven and funding for anti-West jihadists. It would have wished for Pakistan to put an end to crisis-inducing jihadist actions against India, sensitive to the potential global consequences of a regional war.
For all these ends, the United States would have paid top dollar. It isn't paying, because the goods successive Pakistani governments have said they're willing to deliver never show up, generous advances notwithstanding.
Instead, Nawaz Sharif's government, bowing to pressure from Islamists and the army, has made ending the United States drone campaign against jihadists a core priority. Leaving aside arguments over the legality of the drone campaign, most experts concur they have been an effective tool in degrading the jihadist leadership. This tool is obviously a limited one, since without Pakistani troops and civil administration on the ground, the gains remains nebulous. Still, it's better than nothing–and by the accounts of many scholars and journalists, it is clear there are plenty of people in Pakistan who see them as a critical line of defence.
During Sharif's visit to Washington, DC, Nawaz Sharif was told pretty bluntly the United States didn't intend to call off its drones, which make clear the prime minister isn't going to get what he wants–a prize for his Islamist allies.
It's a hard place, this impasse Pakistan finds itself at. The army, which bitter experience has taught Nawaz Sharif not to antagonize, just doesn't have the stomach for a serious counter-terrorism campaign. Ever since 2008, figures from the South Asia Terrorism Portal show, it has steadily disengaged from counter-terrorism operations, losing less men year-on-year but also killing less jihadists.
Innocent civilians, whose killings have skyrocketed, are paying the price. The army hopes the politicians will cut a deal with the jihadists, an end an all-parties convention controversially agreed to last month. In the meantime, the generals are hoping to bolster their own patriotic credentials by picking fights with India on the Line of Control. You don't have to be a genius to see there's no strategic payoff in this game. Pakistan's cash-strapped economy is on the rocks, and with International Monetary Fund loan repayments having kicked in, the burdens will escalate. Terrorists are getting stronger.
The United States might not bomb Pakistan back into the Stone Age, but it's doing a great job of doing exactly that all by itself.
India needs to be drawing some lessons from the story of numbers, too. The key one among them is that the world's preeminent power, with billions of dollars at its disposal, didn't succeed in purchasing a change in Pakistan's strategic trajectory. The United States did get some concessions, such as agreement from Pakistan's leaders for drone strikes against terrorists. It didn't, however, manage to push Pakistan's army to act against jihadists in areas such as North Waziristan, or succeed in compelling them to take on al-Qaeda proxies such as the networks of warlord Jalaluddin Haqqani.
Prime Minister Manmohan Singh has said he's disappointed Nawaz Sharif hasn't kept his word to deescalate tensions on the Line of Control. Islamabad is yet to agree to dates for a meeting of Directors-General of Military Operations, and fighting between the armies has escalated.
New Delhi's disappointment suggests it expected Pakistan's strategic establishment would do it a favour it hasn't done anyone else: tell the truth and keep its word.
The United States is demonstrating its displeasure by choking off the dollars. India, for the moment, doesn't seem able to do anything but whine.
Source: http://www.firstpost.com/world/zipped-wallet-us-aid-for-pakistan-military-set-to-shrink-1194189.html?utm_source=ref_article
URL: http://www.newageislam.com/current-affairs/praveen-swami/the-lessons-india-can-take-from-us-on-handling-pakistan/d/14233