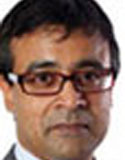 By Praveen Swami
Oct 29, 2013
Tehseen Akhtar, investigators believe, was watching television inside the small rented apartment at Zephyr Heights on Mangalore's Attavar Road, when news broke that made him leave in a hurry. Early on the morning of 29 August, top Indian Mujahideen commander Ahmad Zarar Siddibapa had been held in a carefully-crafted Intelligence Bureau operation. Inside the Zephyr Heights apartment, the National Investigations Agency found ammonium nitrate and bomb-making components. There were DNA traces, which tallied with Akhtar's family. There wasn't, though, the least clue on where he'd gone and what he meant to do next.
Now, we know.
Sunday's bombing on Gujarat Chief Minister Narendra Modi's rally in Patna has been attributed, based on testimonies from men alleged to have planted the explosives, to an Indian Mujahideen cell run by Akhtar. The fact that the operatives were caught on-site suggests they weren't well-trained operatives: in no past Indian Mujahideen operation has this happened. Yet, the story also tells us something important about the resilience of the Indian Mujahideen: its ability to attract new cadre, and to rise from the ashes. Few details are available on Akhtar, known to his friends as 'Monu'. Born in Samastipur's Maniarpur village in 1990, he completed school locally, before moving to Bhagalpur two years ago to pursue an engineering degree. Local residents say he was not known for any deep political commitments until then. His family has declined to speak to media, so there's no firsthand account of the circumstances which might have led to the development of jihadist convictions and his making contact with the Indian Mujahideen.
National Investigations Agency officials say the family claims to have had no contact with Akhtar for two years. He began emerging in investigations in around 2011. From the custodial testimony of Nalanda resident Muhammad Tariq Anjum Ahsan–which, under Indian law, is not admissible as evidence for the purposes of his ongoing trial–we have at least some idea of how the network functioned. The son of a government schoolteacher, Ahsan became involved in the now-proscribed Students Islamic Movement of India in 1998, like thousands of others.
The organisation was going through a phase of rapid radicalisation, the consequence of the storm-winds unleashed by the demolition of the Babri Masjid in 1993. Fringe elements who would later form the Indian Mujahideen were pushing for terrorist action. In 2003, Ahsan moved to Bhatkal, near Mangalore, to study engineering in the town. His Islamist student activism brought him into contact with a growing circle of radicals around Siddibapa, and his mentors, the to-be Indian Mujahideen chiefs Riyaz Shahbandri and his brother Ismail Shahbandri. Ahsan moved to Mumbai in 2005, to work with Samir Construction Company, and then took a job with al-Riyam in Dubai. He remained in touch with his old friends, though, and began meeting with them again when he returned to work in Gurgaon.
Following the October, 2008 shootout at Batla House in New Delhi, which led to the decimation of the Indian Mujahideen leadership, Siddibapa and Riyaz Shahbandri turned to him for help. Riyaz Shahbandri and other key Indian Mujahideen members stayed at Delhi resident Gauhar Kirmani's home in Shaheen Bagh. The group discussed, with Ahsan, how best to rebuild the group. Later, in December, 2008, Shahbandri relocated to Darbhanga, calling himself "Dr Imran". He left the next month, along with Siddibapa-but then sent his lieutenant back to manage the network. For the next three years, police allege, Siddibapa worked out of Indian Mujahideen sympathiser Irshad Khan's home at Shaheen Bagh, in Delhi's Okhla suburb. He set up a chemicals factory, which served as cover for Indian Mujahideen bomb-production.
His lieutenants in Bihar and Jharkhand, cultivated under cover, carried out a succession of nationwide strikes. Akhtar rose rapidly after 2011–becoming Siddibapa's key aide after the arrests of Ahsan, Gauhar Kirmani and Siddiqui, the last later killed in a controversial prison murder. It wasn't a secret that the Indian Mujahideen saw Modi as a key enemy. Though intelligence services repeatedly warned that he would be a target of attack, it didn't actually take any great genius to do so. Firstpost reported earlier that both – its publicly-released e-mail manifestos, as well as the statements of members during questioning, cast their central mission as vengeance for 2002 carnage in Gujarat. This was precisely why it was able to draw cadre like Tehseen Akhtar into the ranks, replenishing those lost to police action.
The notoriously inefficient Bihar Police, however, simply failed to adequately secure and search the rally venue. This is something, it bears mention, happens all the time, all over India: public facilities, from places of worship to transport infrastructure, is poorly guarded because police aren't properly trained or equipped. Now, the bombings have left us with a bizarre conspiratorialist discourse, with anti-Modi activists charging him with staging the attacks himself, and his supporters claiming the terror attacks were a political plot. This tells us something important about the maniacal suspiciousness that's come to characterise Indian political life. India desperately needs a serious response from its political leadership to both the failures of policing and underlying social fractures that keep us vulnerable to terror. Instead, as ever, we've got worthless polemic.
Source: http://www.firstpost.com/india/lessons-from-patna-blasts-why-politicians-must-stop-mucking-around-1198549.html?utm_source=ref_article
URL: http://newageislam.com/current-affairs/praveen-swami/lessons-from-patna-blasts--why-politicians-must-stop-mucking-around/d/14254