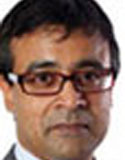 By Praveen Swami
Sep 17, 2013
It makes perfect sense, right: less than forty-eight hours after jihadists killed one of its top generals, and its chief of army staff vowed vengeance, Pakistani troops have begun fighting. The thing is, their fire's been aimed east at India, not west at the jihadists targeting them. Pakistani television has been reporting that a woman has been hurt in the latest fighting on Tuesday; Indian television reports a Border Security Force guard has been critically injured. The clashes are part of series low-grade skirmishes that have run uninterrupted for months now.
Bizarre, isn't it: shouldn't Pakistan be focussing its military energies westwards, and protect its disintegrating state from jihadists who are threatening to overwhelm it?
The thing is, this apparently irrational behaviour does make perfect sense for the Pakistan army. The simple reason behind this also holds the keys to grasping why the Prime Minister Manmohan Singh—Nawaz Sharif meeting most observers concur will soon take place in New York won't be just a waste of time, but a national security hazard. First up, the Pakistan army's doing well out of not fighting jihadists. There's a grim fact behind the murderous news from Pakistan, which generally passes unnoticed. Though civilian fatalities have been headed upwards since General Pervez Ashfaq Kayani took office in 2009, combatant fatalities have been falling. This suggests the warring parties have, effectively, disengaged. Though the country doesn't publish disaggregated data on terrorism fatalities, the South Asia Terrorism Portal's open-source monitoring gives a fairly good idea of what's going on. Pakistan Terrorist Violence 2003-13 (Click here)
Even while its been busy not fighting, the Pakistan army's been declaring victory at regular intervals. Less than a week before his assassination, Major General Sanaullah Niazi, the general-officer-commanding of Pakistan's counter-terrorism operations in Malakand, proclaimed his forces had "secured the western borders of the country by thwarting the nefarious designs of terrorists". Last summer, The Dawn's MAK Lodhi gave a somewhat different ground-level view of who was actually wining. "We wear a different uniform, not the regular pigmented army fatigue," a soldier told him. "It indicates to militants that we are involved in road construction under the Frontier Works Organisation." The soldiers Lodhi interviewed told him they were "allowed to continue development work but only development work". Yes, allowed.
In the wake of his colleague's assassination, General Kayani dramatically declaimed he wouldn't let the Taliban set terms for the army—but was careful not to rule out continued peace talks, or even freeze the recent decision to pull back troops from Swat. For years now, Pakistan's armed forces have tried to pass off their jihadist crisis as an Indian plot. Tele-jihadists like the controversial Zaid Hamid, among others, proclaimed insurgents killed by Pakistani forces weren't circumcised—which, to their minds, meant they must have been Hindus. It isn't just the crazy, though, who have peddled this narrative. Major General Ijaz Awan, former general-officer-commanding of Pakistan's troops in Swat, proclaimed on television that Indian-made explosives and weapons had been recovered by his troops. The claims were comprehensively debunked by commentator Anas Abbas, who showed that the machine guns exhibited as evidence for these claims were Soviet-designed, widely cloned Pulemyot Kalashnikova PK-series weapons.
This didn't stop the story from continuing to surface periodically. Even the eminently respectable Karachi newspaper, The Dawn, reported on an official dossier purporting to show India's secret services had a role in several terror strikes. The actual dossier's never seen the light of day—likely because, as Indian officials assert, it exists only in the reporter's imagination.
For Pakistan's army, though, sustaining the state of denial is essential. It ensures there will be no losing war with jihadists, which could discredit the institution in the eyes of the public. The low-grade conflict with India allows them to enjoy continued primacy in Pakistan's policy, deriving power from the supposed threat from the east. Perhaps most important, as scholar Husain Haqqani has pointed out, the army sees itself as the praetorian guard of an Islamic state. Its instinct is to seek an accommodation those who challenge the theocratic wellsprings of its legitimacy. In the past, just as in the present, that's meant a succession of peace deals with jihadists—each of which have given them greater legitimacy and reach, without ending violence.
"None of the agreements with Taliban factions involved in attacks in Pakistan," expert Daud Khattak has noted, "lasted for more than a few months, and the breaking of each agreement resulted in severe bouts of violence including attacks on government installations, security forces and civilians." Major General Niazi himself, the eminent author Arif Jamal has recorded in a Facebook post, was something of a Taliban apologist. "I remember," he wrote on his Facebook page, "this army officer giving me lectures on how great the Taliban are, and how he 'advised' me to stop criticising those who do great service to Pakistan.
I wish he can come back to life for an hour and give me the same lecture and advice." It's profoundly unlikely, though, that other generals will be drawing a lesson from their colleague's sad end. The Pakistan army's state of denial is, sadly, mirrored by an identical one in India. Prime Minister Sharif's calls for peace and trade with India, pragmatic as they might be, clearly pose a threat to his army. For all his pious intent, though, he's been able to make no forward movement on his India policy because of resistance from General Kayani. Each individual episode of fighting on the Line of Control has local causes, but there's a thread which ties them together: a calibrated policy of escalating tensions, to ensure Nawaz Sharif isn't able to move forward. He, quite clearly, just doesn't have the political heft to defy the generals. Indian dialogue-advocates, in and outside government, argue ending talks with Pakistan will hand a victory to the Pakistani military.
This is true. There's a flip side, though: keeping on talking even as fighting continues gives both the politicians and the generals a free pass. It allows Pakistan to pursue crisis-inducing policies, secure in the knowledge there will be no substantial retaliation. That's a certain incentive for larger crisis in the future—particularly after 2014, when the United States will lose at least some of its interest in maintaining the peace in the region.
The twin states of denial are a recipe for war, not peace. Following his meeting with Sartaj Aziz in Bishkek, Salman Khurshid put the Line of Control issue centre-stage among India's concerns. "The ceasefire," he said, "is the basic fundamental ingredient of confidence between our two nations; and that ceasefire must be respected, the Line of Control must be respected." "If there is no peace and tranquillity on the border and Line of Control," Khurshid concluded bluntly, "then all our efforts go waste, frankly." He's right. The firing today makes clear, just in case that there was any doubt, that there isn't going to be peace: Nawaz Sharif is simply in no position to deliver it. The question Khurshid and his government face is a simple one: what are they going to do about it?
Source: http://www.firstpost.com/india/behind-the-war-on-the-line-of-control-two-states-in-denial-1115121.html?utm_source=ref_article
URL: http://www.newageislam.com/current-affairs/praveen-swami/behind-the-war-on-the-line-of-control,-two-states-in-denial/d/13583