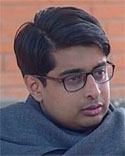 By Prashant Jha
May 31, 2017
Rashid Nehaal is a harried man. As the director of the Aligarh Muslim University's Kishanganj campus, he is running an academic centre starved of funds, with nonexistent infrastructure, in one of the poorest corners of India with little linkages with industry and the market for students to leverage.
And Nehaal, 48, senses prejudice from the central government.
Yet, Nehaal's advice to younger Muslims and the community at larger is to 'stop complaining'.
"Muslims need to understand that every community in India has struggled. You cannot keep blaming the government and parties 24 hours a day. They must stop expecting pampering, reservations. They must understand that they have to compete in the marketplace. All that we should do is create an enabling environment and give them educational facilities."
At a time when Indian Muslims are disturbed at what they see around them, at a time when they are introspecting about political choices, there is a third simultaneous trend visible in the community - a desire to convert the crisis into an opportunity by focusing on internal reform. The unanimous refrain, across North India, among older and younger Muslims, among men and women, among middle class and poor, and among urban and rural Muslims, is that the only way to do this is through a single-minded focus on education.
Increase Capabilities
Mohammed Adil Faridi is in his thirties, and works at the Imarat-e-Sharia, an influential Muslim organisation in Patna's Phulwari Sharif. He is working on a computer, shuffling between checking his email and editing an Urdu newspaper.
When asked if Muslims are feeling like a 'defeated community', a refrain one had heard elsewhere, he replies, "No. Muslims know that education is the only route to mobility. And anyone who wants to study can study. Yes, if someone can succeed with 30% work, a Muslim may have to put in 50% work because of certain prejudices. But no one is stopping us from doing that."
The institute runs madrasas across Bihar. With education, did he refer to traditional Islamic education? Faridi replied, "At most, five or six percent of Muslims are in madrasas. Earlier, they were outside the education system entirely. Even now, the majority of Muslims who are studying are in the mainstream education system. We see a value in both." He however acknowledged that modern education imparts technical skills, which in turn helps improve standards of living.
But is this an apolitical outlook, given the current circumstances? "There is a concerted call to spread hate. The smart thing for Muslims to do is to stay out of it. Increase your capabilities educationally, economically, socially. If you don't give it too much value, if you ignore it, their politics itself will see a setback."
Whether by design, or through a natural process, this focus on enhancing capabilities is happening.
In a minority hostel for Post Graduate students in Patna College, Nishad Ahmed from Motihari said that Muslims are insecure. "But the only way of empowerment is through intellect. And we can gain this through higher education. There is no other way."
In Bareilly, a group of Muslim students - boys and girls - are pursuing chemical engineering from the Rohilkhand University. They come from different background. Hiba Roshan's father is a businessman, her mother is a teacher, and women in her family have been teachers. A bright, enthusiastic student, Roshan wants to go on to teach engineering.
Farah is in her late teens, and is the second year topper of her batch. But getting to college was not as smooth for her. Her father is a tailor who has studied till Class 12 himself, her mother a homemaker who is not literate. "In my locality of Azamnagar, most people think that there is no need for girls to study. My parents supported me. My father pays a fee of Rs 75,000 every year." If she gets a job outside Bareilly, will her family allow her to go? "Yes, of course," replies Farah.
There are fewer Muslim students than their population share would suggest in colleges in Bareilly. And even within that cluster, there are very few girls. Yet, Roshan and Farah represent a new generation of Muslims who seek to find a space in the modern Indian economic system, with a degree in hand. Their families have broken out of community traditions, taken risks, and invested resources in education.
Nehaal, the AMU Kishanganj director, points out that the aspirations of the young Muslim are the same as any other young Indian. "From here, students go to Patna, to Delhi, to Kota for education and coaching. Their problem is their economic baggage. Can we help with that? Can we provide more scholarships, more aid, set up residential coaching centres? Let us talk about these issues. This is the single most pressing need."
He adds that Muslims need to stop being demoralised. "No one is shooting you physically. Some people may want to shoot you mentally. Fight it. How long will you keep weeping and wailing? There is no other instrument but education to battle it."
---
(With inputs from Chandan Kumar in Bareilly)
Source: hindustantimes.com/india-news/off-to-the-classroom-indian-muslims-learn-education-is-empowerment/story-XhS
----
Modi, Rahul or Owaisi? Indian Muslims Consider Their Political Options - Part One
By Prashant Jha
May 30, 2017
After a 20-minute lecture on the political marginalisation of Muslims in India, a prominent Muslim scholar at the Darul-Uloom-Deoband changes track.
"We may be down. But we know one thing. Out future is in Jamoooriyat, democracy. We have faith in India, in the Indian system, in the elections. No one can change the Indian constitution. And till then we are safe."
Even as alienation constitutes one element of the story of Muslims in contemporary India, political introspection constitutes another. They are thinking hard about political choices they have made in the past, and the political choices they ought to make in the future. It is a moment of remarkable openness in the community. And all options are on the table.
Engage with BJP
Four years ago, Manzar Islam was teaching social science at the Azad Academy in Araria. During a conversation about BJP's PM candidate Narendra Modi's winning prospects in 2013, he had said, the irritation palpable in his voice, "Why are you asking a Muslim this? You think we can like him?" He added, confidently, that Modi would not win - for it was Hindus themselves who were opposing him, citing the late UR Ananthmurthy and Amartya Sen.
Islam is now retired and we met at his house, near his old school in Araria. His tone has palpably changed.
"What do we do now? Even backwards and Dalits are going towards Modi. He will win in 2019." Islam also, in a matter-of-fact tone, speaks of the polarisation on the ground. "Even at the ward level, if there are Muslim candidates, the other side would rally together behind a Hindu candidate. This mindset has percolated down. We will have to accept that the majority will decide."
Islam - a Nitish supporter himself - says the situation leaves the community with no choice but to now engage with Modi and BJP. "The community and BJP should talk to each other. See, Modi himself is fine. He has not discriminated. It is not even his followers who cause problems. It is people acting in his name. If he can punish them, if both sides should show flexibility, we can find a common point."
This is a voice one increasingly hears from elders in the community, particularly those involved with running institutions.
In Bareilly, Maulana Shahabuddin Razvi is the director of the Islamic Research Centre and the general secretary of the All India Tanzeem Ulema-e-Islam.
He says that Muslims have to accept that the PM, and now the UP CM, are from the BJP. "There are problems. But I am in favour of talking to them; of telling them that we also want to be partners in Sabka Saath, Sabka Vikaas; we are also citizens; we also have rights. We should remind the PM of his statement that he wants to see Muslims with Quran in one hand, and laptops in another and ask him to implement it. We want to bridge the distance." He adds that Yogi Adityanath too, after taking over as CM, has changed his language and not said anything insensitive.
It was catering to these impulses within Muslim society itself that a delegation of the Jamiat-Ulema-I-Hind met the PM. It raised issues of the 'gulf' between the government and Muslim community, but the meeting also marked the beginning of some sort of critical engagement.
'It Is a Cycle'
This approach however does not have many takers, particularly among the younger Muslims. This school believes that the community must wait for the 'secular parties' to get its act together and this is only a passing phase.
A group of young Muslims in Deoband laugh off those who want to give the BJP a chance. "In that party, the route to success is abusing Muslims. Look at Yogi - what was his politics except his hatred for us? And yet there are Muslims who cannot see this," says Shah Alam, sitting in a cloth shop.
A Maulana at the Darul-Uloom-Deoband pointed to the futility of this approach. "We need to remember BJP does not want Muslims because that is how they unite everyone else."
Instead, he argues that Muslims should get out of this sense of defeatism and remember that despite the aura of electoral invincibility, BJP had only been winning 30-40 percent of the vote. "This means that a majority is against them. Secular parties need to strategise better, get united, and consolidate this vote. I refuse to believe all Hindus are communal and hate us. Then BJP would have won a majority of votes, and elections for sixty years. Even now it is a battle between secular and communal Hindus."
The fact that BJP could wait so long to emerge on the national stage in fact had a lesson for Muslims, he added - of patience and resilience. "We can wait for a few elections if they can wait this long."
At the other end of the North Indian plains, in Kishanganj, a college lecturer - who did not want to be named - agreed and said there was no point talking to BJP. "Rahul is a failure and so we have all failed and lost. What these secular parties should do is forget about us Muslims. Get the majority vote. Instead, if Modi goes to one temple, they should go to ten temples. If Modi puts tika, they should paste their entire forehead with tika. Go and win back the Hindu vote. We are waiting."
The Alternative Path
But not everyone wants to wait.
Mohammed Tanweer Alam, a student from Gorakhpur, believes that the marginalisation of Muslims is due to the failure of secular parties. "Our problem is a problem of leadership. And this can be resolved through our own party, someone like Owaisi." His focus is on elevating the economic standards of Muslims, argues Alam. "Owaisi is saying we don't want Haj subsidy. We want education. That is what Muslims need."
Not Everyone Is Convinced.
In a college hostel in Patna, Tariq Anwar - who belongs to the CPI (ML) student outfit, AISA - warns Muslims against precisely this path. "In difficult times, people take wrong decisions. And Muslims will end up doing that if they go with Owaisi. It will then become a minority versus majority election; we will be falling into a trap. We won't have the numbers and the majority will consolidate."
Indian Muslims remained wedded to Indian democracy. Within this, from engaging with BJP to sticking to 'secular parties' to setting up their own party, they populate various political positions. But what is clear is they find themselves at a crossroads - seeking to restore their political relevance.
A special series by Hindustan Times takes a deep look at the churn within the Muslim community. How deep is the alienation? Are they looking for political alternatives? What questions are Muslim women asking? Are they warming up to the BJP? Find all the answers to the critical questions.
Source: hindustantimes.com/india-news/in-the-plains-of-north-india-muslims-rethink-politics-a-story-of-introspection/story-bDccBp6p1SkvqvB3V6X1nM.html
URL: http://www.newageislam.com/current-affairs/prashant-jha/what-indian-muslims-have-learnt--education-is-empowerment---part-two/d/111353