By Pragya Singh
January 20, 2014
I am abroad in the sugarcane-dwarfed fields of Muzaffarnagar, Budhana and Shamli—wandering in the far wake of the storm. The dawn of 2014 is just hours away. Heavy rains have lashed the area, but they have forcibly dismantled the camp in Loi. True, the water had turned the tents into freezing mud pits, but they still sheltered some 800 Muslim riot victims in their folds. Now they have been left out in the cold, literally and figuratively.
Assistant district magistrate Indermani Tripathi is not moved. He is sitting in the sun with village elders, quite the picture of unconcern. "It's true," he says, perfunctorily, "our problems will increase after the camps are gone. How will we find the affected persons then? But our priority is to ensure they return to their villages."
"Muslims won't return," asserts Bittoo, a former Pradhan of Lisarh. The village was no exception to the overall pattern of attacks: secret planning, and then a very public dam burst of mob fury. "The Muslims know if they come back, they will be killed," adds Bittoo.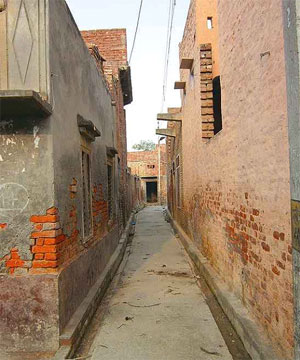 Empty spaces The Muslim quarter in Bhajju
At the house of a man with a similar name, Billoo Pradhan, in nearby Lakh, it had crescendoed into an orgy of sexual and physical violence, as reported in Outlook (Thread Bared, Dec 30). But now, the Muslims are in the grip of a different kind of violence, a slow strangulation. Caught vice-like between a state administration that wants to see the back of 'riot victims' and a menacing countryside.
Salim Quraishi, a middle-aged Kabadiwala, is reacting with pure dread to the prospect of venturing into the villages for work. He refuses to step out of his ghetto in Khalapar in Muzaffarnagar since the day goons got on a bus he was on and beat him black and blue, calling him a dirty Mussalman. "If I step out and something happens to me, who will feed my children?" he asks. He can't afford the luxury, just now, of musing on the irony that if he doesn't, he'll be leading them to starvation anyway. The family has been mostly living off his savings. He'd earn Rs 1,500 daily earlier, travelling around Roorkee, Jhajjar, Rohtak, Jind. That's been whittled down to Rs 500 in the last four months.
Its war by other means, a silent, insidious war, being waged against the Muzaffarnagar Muslim—part through force, part through neglect. Several Jat Panchayats have declared no one will buy the belongings of refugee Muslims. "I don't give Muslims any importance," says Chunnilal Teeka, a trader in town. "If they come to my shop, fine; if they don't, that's fine too." Surendra Agarwal, who heads the association of traders on Bhagat Singh Road, admits the number of shoppers from the villages has dwindled. "It will take time for wounds to heal."
One wonders. Mangeram Pawar, head of the Budhana district youth council, would not have the Muslims anywhere near again. He wants Muslims to be declared Naxalites. (This is even before the Lashkar taint lobbed up last week.) He believes they are the ones waging the silent war, burning Jat fields. "They have stocked weapons in the camps," he alleges. He is also convinced they are on a love jihad. "Muslim boys wear Om pendants and Janeyus to seduce Jat girls. We can't tolerate this." Quite evidently, Jat rage is still simmering. The four-month interlude since the riots has done little to assuage it. It can be brought to boil by the merest sign of 'provocation'. Their unjust anger spills out variously, at times manifest, at other times in unspoken terms.
Sonia, 15, too can tell you how the situation is still with her; 'the riots' are not an 'event' that is past but a daily lived reality. She'd washed up in Muzaffarnagar city from Kinoni village, transiting via the Sanjhak camp, and says she is routinely taunted by Jats and other Hindus here. "And we thought this city would be different," she says. "They call me kanjari, bavri (mad)." She doesn't attend school.
Parvez Saifi, 16, did enrol in a school in Shahpur, in the suburban swathe hugging Muzaffarnagar. (He had escaped there from Dulheri village, not far down the trail.) But the taunts of Jat boys inside the school and the beatings outside soon put an end to that. "They come in groups and attack. They dragged me into the fields once." And yet, the administration insists displaced Muslims will be better off in the villages they have fled. "You are not from here, you don't know the reality," district magistrate Kaushal Raj Sharma tells me. "These people must return. They are not under any threat."
They aren't? Mohammad Asif, a rickshaw-puller in Laddawala, wasn't killed in the September riots. He died in November, when he was out around foraging for customers past midnight outside the Muzaffarnagar station. Two men walked up to him, one asked for a matchbox, the other for his name. They then punched him, and held a gun to his jaw. The bullet went through one cheek, out through the other. After several weeks in Meerut and Delhi hospitals, he died. "My six young sons and I are living off charity," says his widow Tabassum. "We were promised compensation, but got none." Sorry, Asif doesn't qualify as a "riot victim".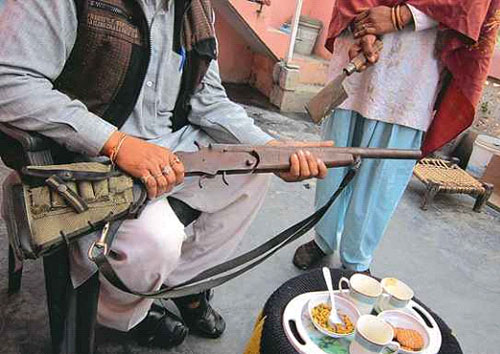 A Jat at tea
There are others who do not "make the cut", those who opted to take refuge with friends and relatives rather than at the camps for instance. Shiana, from Karoda village, now lives with 15 kinsfolk in a room in the Kidwai Nagar area of Muzaffarnagar. After they were brought to town in a military rescue truck, they have run up a debt of Rs 23,000 to relatives but are not entitled to compensation. "Hum Veeran Hain (we are desolate)," she says. Shamsiddin of Dinkarpur village, her relative and neighbour in the ghetto, recalls how two relatives in the army and the BSF, Akeel and Sharafat, had helped rescue them in military jongas. She shivers as she recalls how Valmikis and Jats unloaded two Bolero-loads of weapons—swords, guns, spears on September 8. "We were deposited here, then the government forgot us," she says.
There is also no compensation for people of villages not perceived as riot-hit—that is, if no casualty was reported, and they had merely been "terrorised by Jats and not killed". Bhajju is one such village. A week before the attacks, classmates of Fatima's 13-year-old son Shamim at the Saraswati Gyan Mandir told him, "We are going to cut you into tiny pieces." She withdrew him from school, but didn't have the sense to flee the village altogether. Days later, the mob swooped down, shouting 'Har Har Mahadev'.
Bhajju itself gives a lie to the government claim that "nothing happened" here. The brick houses on either side of a suffocating lane end in a cul-de-sac that can offer no escape from a mob. Not a house stands intact, charred remains of doors, windows, cots, cattle, speak of the storm that passed that way. Fatima, a mere leaf in the storm, had landed up at the Idgah camp. That too was dismantled two days after Loi. "Return to your village," they were told. "Nobody died there."
The Muzaffarnagar SSP says as much: "Compensation was only for those who fled villages where the actual violence—murders—took place." He had declared, as early as November 27, that all camps, except Loi, had been closed as the beneficiaries had been compensated. A month on, officials grudgingly let on that over 16,000 were still living in camps. Within a week, the state forcibly closed all but a few. Their inmates have been dispersed—back into the fields, lanes, schools. This time it's long and attritional. And silent wars leave only silent victims.
Source: http://www.outlookindia.com/article.aspx?289119
URL: http://www.newageislam.com/current-affairs/pragya-singh/muzaffarnagar-muslims---a-creeping-murder/d/35253