By Pheroze L. Vincent
November 23, 2014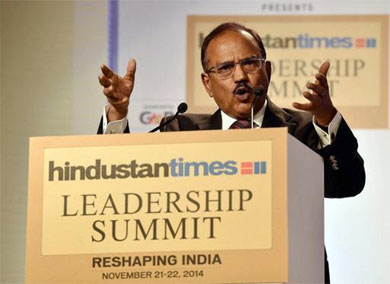 National Security Adviser Ajit Doval addressing the Hindustan Times Leadership Summit in New Delhi on Saturday
National Security Adviser Ajit Doval on Saturday said two Indian men had joined the Islamic State (IS) in West Asia but hastened to add that the country provided a negligible number of recruits to the insurgent group as Indian Muslims were against it.
"Two confirmed reports we have…one who died and one about whom we do not know much right now. The bigger thing is that from the entire ulema of India, not even one Muslim religious leader has supported the IS. All of them have issued fatwas against it, saying it is un-Islamic," Mr. Doval said at the Hindustan Times Leadership Summit here.
"There have been at least five or six cases where some youth showed some inclination to join the IS. It was their parents who approached the police and intelligence agencies and sought help in preventing their wards from joining. Now this is where India is different…whereas in France 2,000 boys have joined from that minuscule population. The entire community comes to shield them. No one gives any information. Even when people have died, they celebrated it as a great service to religion and society."
Speaking on India's future security threats, Mr. Doval said economic growth was the bulwark against insecurity. "When our country has a huge market and vast economic capabilities, we will have international clout and there will be a vested interest to see India protected. A strong economy is the surest thing for a secure country."
He added that it was imperative that India modernise technology in every sphere, particularly defence production, immediately. "We may have contact-less or electronic wars. We are probably going for a weapon system where it may not be necessary to engage in the battlefield… The country will have to start preparing from now for a very massive programme of technology upgradation."
Mr. Doval pointed out that India is struggling against corporates in the cyber battlefield. "One of the problems we have is that technologically we have lost out in certain areas where the root servers are all under the control of countries that are not under our control. A lot of these control systems are with the West, mainly the U.S.… They are helpful to us in some areas but not always helpful, particularly in the corporate world. There are corporations which are very powerful and they use it. I don't want to name them but they are very powerful."
Commenting on Chinese construction activity in Pakistan-occupied Kashmir, Mr. Doval said: "We have got to see the consequence, particularly if it is passing through areas which are in PoK which is close to our border and actually is our own territory. I think we have taken it up from time to time with China and Pakistan. And it is a matter on which strategic cognisance needs to be taken, and I think the government should prepare itself for possible consequences."
He said the most critical factor of national security "is the will of the nation…This depends on our values of fairness, justice and equality".
"Imperative for India to modernise technology in every sphere, particularly defence production"
Source: http://www.thehindu.com/todays-paper/indian-muslims-held-firm-against-is-nsa/article6626040.ece
URL: http://www.newageislam.com/current-affairs/pheroze-l-vincent/indian-muslims-held-firm-against-islamic-state,-as-they-had-against-al-qaeda--national-security-adviser-ajit-doval/d/100146