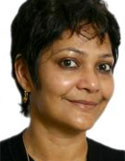 By Patralekha Chatterjee
May 4, 2017
The sounds and sights are familiar — the mob fury, the merciless beating, the deaths, the images of the grief-stricken families, the polarising debates that follow on prime-time television. A steady stream of such incidents could soon trigger a feeling of sickly, mottled monotony. Sordid as each case may be, it has happened before.
Why then does one feel compelled to speak out in the wake of the latest instance of mob fury in central Assam, which claimed the lives of two young men? Last week, Abu Hanifa and Riazuddin Ali were brutally beaten by a mob for the alleged offence of trying to steal cows from the local grazing ground. The local police claims it took the men to a hospital but that they couldn't be saved. Two men have been detained in connection with the lynching. The police says this is a case of "mob fury" and not part of the cow-related vigilantism going on elsewhere in the country. At the time of writing, no one knows Assam's new chief minister Sarbananda Sonowal's thoughts on the issue, because he has not expressed them. Curiously, the Opposition has also been muted in its response.
Which brings me to the crux of the matter. We have reached a point where we are in grave danger of normalising mob violence. We have begun to see incidents of mob fury, cow-related and others, as routine.
The death of Hanifa and Ali are not the first case of lynching of suspected cattle thieves in Assam. As one news report pointed out, there have been several such incidents in the past 15 to 20 years. Other states, including Left bastion Tripura, have witnessed lynching of persons suspected to be cattle thieves. But context can't be wished away. The latest savagery comes amid rising tensions over the killing and smuggling of cows in India.
It is also true that mob violence in India is not the monopoly of thugs who kill in the name of the cow. Across the country, there are countless instances of an angry crowd taking the law into their hands for a range of reasons. Two years ago, a massive crowd, including school and college students, stormed the central jail in Dimapur, Nagaland, dragged out a rape suspect, tied him up by the waist, dragged him for seven kilometres, kicked and pelted him with stones till he was dead, and displayed his body on a clock tower. The horrific images of the incident went viral on the Internet. Media reports noted that it was not the first instance of mob justice in the country. A few years prior to that, a man in Agra had been beaten up and killed by a mob for harassing girls. This was not Uttar Pradesh's first brush with mob justice. In 2010, a 26-year-old man, Aslam, was also a victim of vigilante justice in Moradabad district. He was beaten to death inside the premises of the district court, barely 100 metres from the district magistrate's office, for allegedly stealing water. Mob fury continues in Uttar Pradesh though the political leadership in the state has changed.
And it is not just the Northeast or the Hindi heartland. Some time ago, photos and videos of resident doctors being brutally beaten in a government hospital in Dhule, Maharashtra, made a splash in social media. As happens so often, the voices of agitating doctors were heard for a few days. Then the public lost interest. Or it was back to normal.
Despite myriad examples of public anger erupting into mob violence, we as a society have not collectively and unequivocally condemned it. That has perhaps been the most important reason why we see such attacks happening with increasing frequency and sometimes even being given some sort of pseudo- legitimacy by officials who should know better.
The many instances of vigilantism in the name of protecting the cow have only added to the sordid saga of mob fury and mass apathy. The savagery is fast losing its sting because it is so repetitive. And each act of mob violence is emboldening mobs elsewhere, undermining the rule of law that holds society together.
As thresholds of tolerance continue to plummet, it is important to ask whether these worrying trends can be reversed. And if so, how? How do we stop mob violence at its source? The one-line short answer is, don't normalise it.
The starting point has to be by collectively saying what may seem obvious — it is illegal to hurt someone, leave alone kill someone. A mob can't take the law into its hands, no matter what. The political leadership, from Parliament to Panchayat, as well as the law and order machinery, have to send out strong signals that there will be zero tolerance for unlawful acts. This has to be enforced. If vigilante action is simply forbidden, and if each and every instance of vigilantism is punished in accordance with the law of the land, we can and we will avoid even beginning the cycle that leads to mob violence. But the point to note here — there can't be exceptions.
Next, we must prod everyone who is a social influencer at any level to speak out boldly against mob violence and we must ensure that such voices of reason are protected and not confronted by threats of violent retribution.
Who eggs on a lynch mob? Who struck the first blow that eventually claimed the lives of the two young men in Assam and so many before them? It may be convenient and comforting to think that only the uneducated or the poor take to mob justice. But facts on the ground do not support that narrative. The lynch mob in Dimapur included school and college students. Those who sympathised with such a mob include people in positions of power.
Middle class India is understandably shaken by the growing numbers of mob assaults. But simply worrying about the phenomenon will not lead us anywhere. There is a need to speak up so that a lynch mob is not formed in the first place, and mob violence is not normalised. Simultaneously, one must fight for better-trained and better-equipped police forces, more judges and more courts so that the people's faith in the rule of law is restored.
---
Patralekha Chatterjee focuses on development issues in India and emerging economies.
Source: deccanchronicle.com/opinion/columnists/040517/dev-360-dont-normalise-mob-violence-as-a-routine.html
URL: http://www.newageislam.com/current-affairs/patralekha-chatterjee/don't-'normalise'-mob-violence-as-a-routine/d/111016