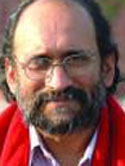 By Paranjoy Guha Thakurta
Dec 31, 2013
Why are almost all corporate captains in the country so enamoured of Narendra Modi? Are they all confident that he is going to become the next Prime Minister of India, as indeed are large sections of the media here and abroad? Is the kind of adulation that is being showered on the chief minister of Gujarat by businessmen, who are often shy of disclosing their personal political preferences in public, simply because they believe that Mr Modi is the best thing that can happen to this country? Or is it that Indian capitalists, who have been the biggest beneficiaries of the policies of economic liberalisation initiated by Prime Minister Manmohan Singh over more than two decades, are today so disillusioned with his "dithering" and "ineffectual" ways that they seek a "strong" and "decisive" person to replace him.
Before seeking answers to these questions, a few points need to be underscored. If the Bharatiya Janata Party on its own does not win 200 or close to 200 Lok Sabha seats in the next general elections, the chances of Mr Modi becoming Prime Minister are remote. Even if a BJP-led coalition is able to obtain a majority in the lower House of Parliament, there is a distinct possibility that the party's partners may prefer someone other than Mr Modi to lead the coalition and the government. Such a person could be the current leader of the Opposition in Lok Sabha, Sushma Swaraj, or Lal Krishna Advani or, even, the chief minister of Madhya Pradesh Shivraj Singh Chouhan or party president Rajnath Singh.
There are, of course, some who think Mr Modi is certain to become the next PM. The UK-based Economist recently wrote that his chances of holding the top job in the country "look better than ever". Reuter's columnist Andy Mukherjee, comparing Mr Modi to Japan's Shinzo Abe, asserted that he "will be Prime Minister of the world's largest democracy by May next year".
After the 2002 communal riots in Gujarat, many industrialists (including Rahul Bajaj) had openly expressed their reservations about Mr Modi in public meetings organised by the Confederation of Indian Industry. The book, The NaMo Story: A Political Life, details how the CII had to later bend over backwards to get back into the good books of Mr Modi. A group of businessmen (including Gautam Adani and Karsanbhai Patel) got together in 2002 and issued a statement that read: "All citizens of Gujarat involved in trade and industry have no other option but to rise to the occasion from a non-political platform and condemn such efforts to damage the image of the state in the international arena."
The tone is familiar. Any attempt to criticise Mr Modi is painted as an affront to the entire population of Gujarat and all Gujaratis wherever they may live. The fact is that Mr Modi has been the darling of much of India's business community for some years now. It is not just the country's richest man Mukesh Ambani and one of India's best-known entrepreneurs Ratan Tata who have sung paeans of praise for him. In January 2009, two influential businessmen raised a political storm by their pronouncements at the "Vibrant Gujarat Global Investors Summit".
Sunil Bharti Mittal, who heads India's largest (and one of the world's biggest) telecommunications conglomerates, said: "Chief Minister Modi is known as a CEO, but he is actually not a CEO, because he is not running a company or a sector. He is running a state and can also run the nation."
On the same occasion, Anil Ambani too was effusive in his praise for Mr Modi, leading the spokesperson of the Congress Manish Tewari to compare the Gujarat chief minister to German dictator Adolf Hitler: "In 1933, German capitalists were attracted to a fascist dictator… Modi's edifice rests on the bodies of innocent people."
Brilliant oratory skills and a strong belief in a Hindu nationalism has given Mr Modi a tight grip over the administration of Gujarat. This state in western India has a long tradition of entrepreneurship and in recent years it has been among the fastest growing parts of the country. But Gujarat is not India. What works well in one state may not be equally effective in a diverse country like India.
Ashis Nandy, an eminent political psychologist, had told this correspondent: "Industrialists love organised societies. Throughout history, whenever there has been spectacular economic development, this has been associated with colonialism and/or authoritarianism... Businessmen want to deal with one person who is in control or at best, a small group. They are not comfortable with complex, heterogeneous societies where they have to negotiate through transparent, democratic processes."
Speculating about India's political future is a hazardous exercise. It may be a cliché but a week is indeed a long time in politics. India's polity is far from bipolar, not even one dominated by two stable coalitions led by the two largest political parties, the Congress and the BJP. The two parties, minus their coalition partners or allies, together accounted for barely half the total votes polled in each of the last five general elections that have taken place since 1996.
The country's corporate captains seem unwilling to concede that Mr Modi is arguably the most-divisive and deeply-contentious political personality in contemporary India at present. If Mr Modi was prescient when he told a gathering of well-heeled businessmen from across the world that he hoped to be meeting them again in the January 2015 edition of the "Vibrant Gujarat" conclave in Ahmedabad!
The coming months are certain to be politically volatile. Mr Modi's elevation is hardly a foregone conclusion. Even BJP insiders concede this in private. They point out that the party is non-existent as a political force in at least 200 out of the country's 543 parliamentary constituencies, including those in three states in southern India (Andhra Pradesh, Tamil Nadu and Kerala) and West Bengal. Potential allies, notably Mamata Banerjee, would be wary of supporting the leader from Gujarat who is hardly popular among the country's Muslims who account for one out of seven voters.
Therefore, the question remains as to why so many Indians, including the urban middle classes and the business community, are placing all their bets on Mr Modi. Could it largely be a case of wishful thinking?
Paranjoy Guha Thakurta is an educator and commentator
Source: http://www.asianage.com/columnists/why-india-inc-betting-modi-711
URL: http://www.newageislam.com/current-affairs/paranjoy-guha-thakurta/why-is-india-inc-betting-on-modi?/d/35075