By New Age Islam Special Correspondent
17 Jan 2014
Mahatma Gandhi's peaceful resistance, Dr. Martin Luther King's fight against discrimination, Nelson Mandela's struggle for freedom and Malala Yusufzai's vigorous passion for education were the focus of Ms. Diane Millar's talk as she interacted with students of Education for Peace, an initiative of New Age Islam Foundation and discussed with them the leadership qualities of these prominent world leaders of peace, freedom and education.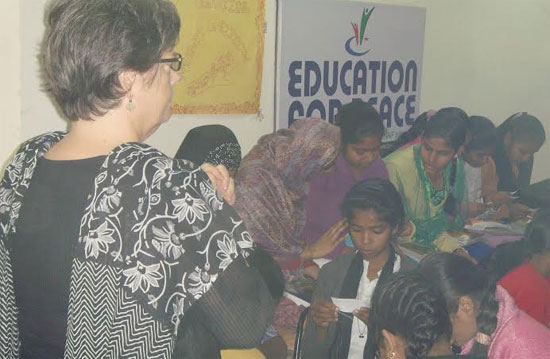 The programme was basically aimed at improving English communication skills of the Education for Peace students at its premises on 16 January 2014. Education for Peace regularly organises such interactions for its students who come from underprivileged backgrounds.
Ms. Diane Millar, Regional English Language Officer, Embassy of the United States of America, was the chief guest and mentor of this 3-hour communicative English programme. After she talked to the students about the contribution of these leaders on the 85th birth anniversary of Dr. Martin Luther King, she dwelt on the distinguishing qualities and skills required to be a good leader. Speaking to the students in an interactive way, she explained to them why a good leader needs to be honest, intelligent, well-behaved, peace-loving, sympathetic, and determined in his or her aim.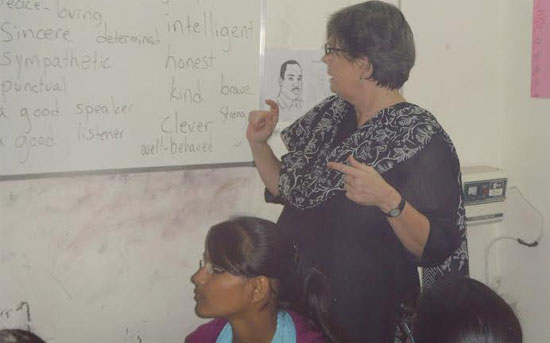 She also introduced a collection of games that offer interactive English language practice in a learner-centred and low-stress environment. These games can be used for a variety of conversational English classes that give students the opportunity to practice speaking English with each other about on a number of interesting topics. They stimulate conversation through a series of thematically related questions and interesting images that engage students, activate background knowledge and help match vocabulary words with concrete objects. They also provide students with vocabulary practice by asking them to think of vocabulary words that are related to many different topics.
Bringing the students into a group interaction with one another, Ms. Diane Millar employed very advanced, sophisticated, and amazing techniques to teach them English communication skills. She took out question slips from a Question Magic Bag and passed on to each of the students in an attempt to ignite the power of creative thinking in their minds. Some of the questions went like this: What did Mahatma Gandhi believe in? What did Dr. Martin Luther King fight for? What did Nelson Mandela fight against? How long did Nelson Mandela spend in prison etc.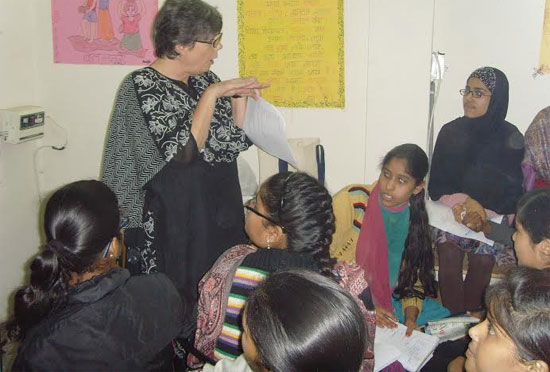 Likewise, it was amazing to see a variety of lively, vibrant and interactive ways and tools she used in imparting English language skills to the students of Education for Peace. At the end of the programme, Ms. Diane Millar held an open and free question and answer session and responded to each and every question she received from the students. It is worth mentioning that the girl students of the Education for Peace outshined the boys in different activities, particularly in the question and answer sessions of the programme. The workshop was attended by both the Education for Peace teachers and New Age Islam staff members. The main organisers of the workshop were Ms. Muriel Potherat, Ms. Sonika Rahman and Ms. Varsha Sharma.
URL: http://www.newageislam.com/current-affairs/new-age-islam-special-correspondent/dr-martin-luther-king's-fight-against-discrimination-recalled-on-his-85th-birthday-celebrated-at-education-for-peace,-a-naif-initiative,-in-an-interactive-session-with-ms-diane-millar/d/35358