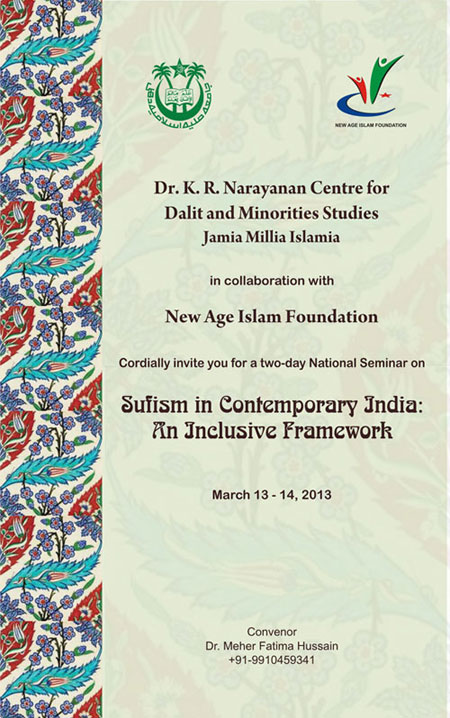 New Age Islam Edit Desk
March 11, 2013
A two day national seminar on Sufism titled, 'Sufism in contemporary world: An inclusive framework' is going to be organised by K. R. Narayanan Centre for Dalit and Minority Studies in collaboration with New Age Islam Foundation at Jamia Millia Islamia, New Delhi on March 13 and 14, 2013.
The seminar seeks to explore the Sufi culture in present perspective to access its relevance in contemporary times when we boast of being modern but where society is still ridden with caste and communal hostilities and gender imbalances. There is a need to re-look into our own past, revive and rediscover our own culture to ascertain answers to many a biases that have crept into our society. In this regard, one needs to explore the strength of Sufi culture and explore the relevance of its perspectives in contemporary times.
The Sufis have remained in the vanguard of promoting peace and harmony so essential for an inclusive society where bonds are formed on basis of mutual love and respect. They are the ones who embraced in their fold people of all class, religion and gender without distinction of high and low. The Sufis incessantly worked in their mission in promoting social justice and equality that too mostly in common language of the people. The Sufis remained devoted to service to humanity where individual interests were relegated in the interest of communal harmony. It is thus imperative that a seminar is held to explore the viability of Sufism in the present scenario.
The Seminar Will Be Held In Four Thematic Sessions
(i) Historical Aspect of Sufism
(ii) Sufi activists
(iii) Sufi Literature and Regional impact
(iv) Contemporary Relevance in India
List of the Confirmed Participants
Prof. Iqtedar Hussain Siddiqui,
Eminent Historian, Expert on Sufism, Centre Of Advanced Study
Department of History, Aligarh Muslim University
Prof Syed Liyaqat Hussain Moini
Expert on Sufism, (History)
Centre Of Advanced Study, Department of History,
Aligarh Muslim University
Prof. S.M Azizuddin Hussain,
Expert on Sufism (History)
Director, Rampur Raza Library, Rampur
Prof. Mohinder Singh,
Member, National Commission for Minority Educational Institutions, MHRD, GoI.
Prof. (Ms.) Syed Bilqis Fatima Husaini
Expert on Sufism
Former HoD, Dept of Persian, DU
Prof. Nasir Naqvi
Expert on Sufism
Urdu, Punjabi University, Patiala,
Director, Baba Farid Centre for Sufi Studies, Punjabi University
Prof. Aslam Islahi,
Arabic Scholar,
Dean, School of Languages, JNU
Prof. M. Shafey Kidwai,
Chairman, Department of Mass Communication, AMU Communication Theories, History of Journalism, Broadcast Writing, Urdu Journalism
Prof Kuljit Shellie
Eminent Scholar, Expert on Sufism
Department of Punjabi,
Delhi University,
Delhi-110007
Dr. Sameena Hasan Siddiqui
Associate Professor, Centre for the Study of Comparative Religion & Civilizations, JMI
Dr Manjit Singh
HoD, Department of Punjabi,
Delhi University, Delhi-110007
Member, Sufi Foundation of India
Prof Quddus Jawaid
Eminent Urdu critic
Former HoD Urdu department,
University of Kashmir
Dr Ranjeeta Dutta
Associate Professor, History, JMI
Dr. Mohammad Aleem
Renowned novelist, Dramatist and Script Writer
Dr. Moula Baksh,
Renowned Critic
Associate Professor, Urdu, DU
Dr. Akhlaque Ahan
Expert on Sufism,
Assistant Professor, Persian, JNU
Dr. Rashid Anwar
Assistant Professor, Urdu, AMU
Dr Waseem Begum
Assistant Regional Director
MANUU
Dr. Syed Ali Kazim
History, Jawaharlal Nehru Fund, Teenmurti House
Dr. Malik Rajkumar
Hindi poet and short story, novel writer, editor of a magazine
Dr. A A Siddiqui IPS, Retd. DGP
Chairman, Sufi Foundation India
1108, Sector: 8-C, Chandigarh
Prof. Manindra Thakur
Associate Professor,
Centre for Political Studies, JNU
Sadia Dehlavi,
Expert on Sufism
Prof. Sadiq,Expert on Sufism,
Former HoD, Dept of Urdu, DU
All are cordially invited.
URL: http://newageislam.com/current-affairs/new-age-islam-edit-desk/two-day-seminar-on-sufism-to-be-held-at-jamia-millia-islamia,-new-delhi,-organised-by-centre-for-dalit-and-minority-studies-in-collaboration-with-new-age-islam-foundation/d/10724