New Age Islam Edit Desk
June 2, 2015
Prof Waleed Iqbal meeting the Imam of famous Nakhoda Masjid
A day after Prof. Waleed Iqbal, the grandson of poet Allama Iqbal spoke of friendly ties between India and Pakistan while attending Jashn-e-Iqbal (Iqbal celebrations) in Kolkata on 29-31 May, Jamat-e-Islami jumped off to create an anti-India hysteria in Pakistan to pour water on the friendly atmosphere created by his visit to India. It has been a routine for political and non-political non-state actors to heighten anti-India rhetoric after any efforts or initiative to lessen the confrontation between the two neighbouring countries. Earlier, it was Hafiz Sayeed who would react aggressively to any peace initiative between the governments of Pakistan and India by raising the Kashmir issue. It has also been observed that whenever there is a peace initiative between the two countries, they go to Pakistan-occupied Kashmir or to Wagah border to issue anti-India statements. Since, this time the talk of peace and friendship came from a non-political platform and not from the governments, Hafiz Sayeed did not come forward. This time Jama'at Islami came forward, that too, from Pak-occupied Kashmir as is their wont.
It should be noted that Prof. Waleed Iqbal who is also a senior functionary of Imran Khan's party Tehreek-e-Insaf said that neighbours could not be changed. So what was required was to build friendly relations with the neighbours and strengthen cultural and political bonds. He had also requested both India and Pakistan to reduce their defence spending in order to instill a sense of security and confidence among the people of both the countries and instead spend a greater amount of their budget in order to emancipate poverty and illiteracy among their masses. His visit was also seen as a step towards creating better ties between the two countries.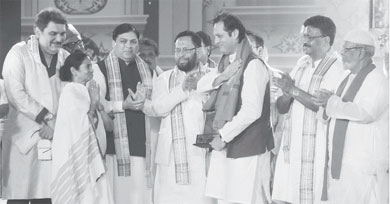 Prof. Waleed Iqbal was in Kolkata to receive "Tarana-e-Hind" Award conferred on his grandfather Allama Muhammad Iqbal posthumously by the Academy. Chief Minister of West Bengal, Shri Mamata Banerjee gave away the award to him.
However, his statements were seen by the Jama'at-e-Islami Pakistan as a political initiative as he is also a senior leader of Tehreek-e-Insaf party though he never mentioned the name of Imran Khan in his address. This followed by the aggressive anti-India statement by Jama'at Islami Pakistan saying they did not want friendly ties with India and those seeking friendship with India (like Prof. Waleed Iqbal) should leave Pakistan and settle in Hindustan. It should also be noted that Jama'at Islami has always demonstrated their liking for Iqbal's theory on democracy and universal brotherhood and his belief in the idea Mohabbat Fatah-e-Alam (love is the conqueror of the world).
The Jama'at did not rest at issuing anti-India and anti-friendship statements. It also declared a bounty of one billion dollar on the head of Indian Prime Minister Narendra Modi. This was highly unbecoming of a political party which has its branches in India and Bangladesh where they are part of the democratic process of their respective countries. In India, the Jama'at has also launched a political party called Welfare Party of India and has contested elections. JIP's stance has caused embarrassment to the Indian wing of the party. The nation expects Jama'at Islami India to make its stand clear on the issue.
In fact, the Modi government had processed the visa of Prof. Waleed Iqbal and his companions to ensure their participation in the celebrations. The Home Ministry had processed their visa in record time despite the coldness of the relations between India and Pakistan. This too was despite the fact that the celebrations were organized under the West Bengal Urdu Academy with Mamata Banerjee as its Chairman and Mamata Banerjee and Narendra Modi are not on good terms at present because of the political differences. Still, the central government not only granted them visa but also processed it in record time. There have been occasions when Pakistani writers or artists have not been granted visa owing to diplomatic bottlenecks and due to this they failed to attend the programmes in India. Prof. Waleed Iqbal's participation in Iqbal celebrations was also due to the fact that the Indian government wanted to create a good impression on their neighbours as well as on the minority community of India.
Jama'at Islami Pakistan's anti-India and anti-peace stance is condemnable as it expressed its support to Hizbul Mujahideen terrorist Salahuddin and tried to sabotage the peace building process between the two neighbours.
URL: http://www.newageislam.com/current-affairs/new-age-islam-edit-desk/jama'at-islami-pakistan's-hysteria-over-waleed-iqbal's-statements-in-kolkata,-india/d/103298