Photo: Attack: A woman sits on the ground outside the club while another party-goer, whose legs are covered in blood, stands beside her
Orlando nightclub shooting: How the attack unfolded
What Happened at the Orlando Nightclub Shooting
IS claims responsibility of Orlando attack; Shooter was known to FBI
Compiled by New Age Islam Edit Bureau
URL: http://newageislam.com/current-affairs/new-age-islam-edit-bureau/worst-mass-shooter-in-us-history---nyc-born--islamic-extremist--omar-mateen,-29,-who-shot-dead-50-and-injured-53-in-orlando-gay-club-massacre-was-homophobe--who-got-angry-when-he-saw-two-men-kissing-/d/107610
---------
Worst mass shooter in U.S. history - NYC-born 'Islamic extremist' Omar Mateen, 29, who shot dead 50 and injured 53 in Orlando gay club massacre was homophobe 'who got angry when he saw two men kissing'
By Matt Hunter For Mailonline and Jenny Stanton In New York and Jose Lambiet In Fort Pierce, Florida For Dailymail.com
12 June 2016
The suspected Islamic extremist who slaughtered at least 50 people after taking party-goers hostage inside a gay club in Orlando was 'angry after seeing two men kissing'.
Law enforcement sources have identified the shooter, who was wielding an AR-15 assault rifle and a handgun, as US citizen Omar Mateen, 29, from Port St. Lucie in Florida.
The gunman, who was born to Afghan parents, was carrying a suspicious device, possibly a suicide vest, when he opened fire on the dance floor inside Pulse in the early hours of this morning.
At least 50 people were killed and 53 others were injured in the shooting in the deadliest mass shooting in US history. A surgeon at Orlando Regional Medical Center said the death toll was likely to climb.
An FBI spokesman said the mass shooting is being investigated as an act of terrorism, adding that they are looking into whether this was an act of domestic or international terror, and if the shooter was a lone wolf.
The FBI believe the gunman, who was shot dead by officers, may have 'leanings to radical Islamic terrorism'.
But his father, Mir Seddique, told NBC News his son became angry when he saw two men kissing in Miami several months ago.
'This has nothing to do with religion,' he said. 'We are saying we are apologizing for the whole incident. We weren't aware of any action he is taking. We are in shock like the whole country.'
Writing on Facebook, Pulse, which described itself as the most prominent gay club in Orlando, urged party-goers to 'get out and keep running' as bullets started flying at around 2am local time.
Orlando Police Chief John Mina said the suspect exchanged gunfire with an officer working at the club around 2am, then went back inside and took hostages. There were about 320 people inside the club at the time of the shootings and about 100 people were taken hostage.
At around 5am authorities sent in a SWAT team to rescue the hostages. Nine hero officers used a 'controlled explosion' to distract the shooter before fatally shooting him and were able to rescue about 30 hostages who were hiding in the bathroom of the club.
During the gunfire, an officer was shot, but he was saved by his helmet. It was thought that at least one hostage had been locked in a bathroom with gunshot wounds.
Mayor Buddy Dyer said in a press conference: 'Many were saved by the heroic efforts of the men and women of the OPD, the Orange County Sheriffs, Seminal County Sheriff's office.'
At around 6am local time police tweeted: 'Pulse Shooting: The shooter inside the club is dead.'
Twitter accounts which claim to be affiliated to the Islamic State have hailed the shooting, although DailyMail.com cannot confirm whether the terror group was behind the attack.
U.S. Rep. Alan Grayson identified the shooter as Mateen, citing law enforcement officials in speaking to reporters.
Mateen, a Muslim and father to a three-year-old son, was born in 1986 in New York and married Sitora Alisherzoda Yusufiy, who was born in Uzbekistan, in 2009.
His father told NBC News: 'We were in Downtown Miami, Bayside, people were playing music. And he saw two men kissing each other in front of his wife and kid and he got very angry.
dailymail.co.uk/news/article-3637414/Everyone-running-Gunman-bursts-gay-nightclub-Florida-shoots-20-people-taking-hostages.html
-----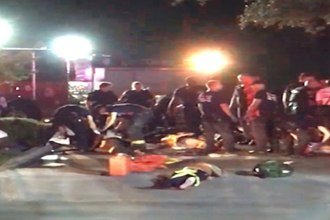 Response: Emergency services are pictured at the scene outside the Pulse nightclub in Orlando, Florida following this morning's shooting
What Happened at the Orlando Nightclub Shooting
12 June 2016
Before 2 a.m. Omar Mateen, a resident of Port St. Lucie, a city about 120 miles from Orlando, parked his van outside Pulse, a gay nightclub.
2:02 a.m. He entered the club armed with an AR-15-type assault rifle, a handgun and many rounds of ammunition, and opened fire, said John Mina, the Orlando police chief.
An armed off-duty officer working security at the club confronted Mr. Mateen and engaged in a "gun battle," Chief Mina said.
The gunman was outside the club at some point after the initial shots were fired, the chief said, then returned inside, and "this did turn into a hostage situation."
Police then marshaled forces, bringing in a SWAT team and an armored vehicle. At some point, Chief Mina said, there was contact with the gunman inside. "There was some communication, but we are not going to release that right now," the chief said.
It is unknown, he said, whether the gunman was killing others inside the club as the authorities prepared cautiously for a confrontation. "Any time we have a hostage situation, we're definitely going to use extreme measures to make sure we have enough personnel on the scene," Chief Mina said.
3 a.m. "Everyone get out of pulse and keep running," the club posted on Facebook.
At some point, police heard from inside the building that at least 15 people were hiding in a restroom.
5 a.m. Police began an attempt to rescue the hostages. They detonated two explosives to distract the gunman. Nine officers entered the club, and shots were again exchanged. Mr. Mateen was killed. One officer was shot in the head, but his Kevlar helmet saved him from serious injury, Chief Mina said.
Guns Found With the Killer
The gunman was armed with an AR-15-type semiautomatic rifle and a handgun, Chief Mina said.
An example of an AR-15-style semiautomatic rifle. The make and model of the rifle has not been released.
The rifle is the same type of gun used in the mass shootings in Aurora, Colo.; Newtown, Conn.; and San Bernardino, Calif. Gun control advocates contend that semiautomatic weapons like the AR-15 are a logical choice for mass shootings because of their ability to rapidly fire multiple high-velocity rounds. Defenders of the firearm say it is misguided to blame a gun that is used by millions of owners across the country in a responsible manner.
The rifle is legal to buy in most states, including Florida. In 1994, Congress passed an assault weapons ban that prohibited manufacturing AR-15 for civilian sale with large-capacity magazines, bayonets or pistol grips. The ban limited, but did not end, sales of AR-15s. The weapons ban expired in 2004.
------
Orlando nightclub shooting: How the attack unfolded
12 June 2016
At least 50 people have been killed and dozens injured after a gunman opened fire at a gay nightclub in Orlando, in an incident that lasted three hours. What do we know about what happened?
How the incident unfolded
The attack began at about 02:00 local time (06:00 GMT), said Police Chief John Mina.
Pulse, which is one of the biggest nightclubs in Orlando, Florida, was holding a Latin-themed event that was nearing its end when a man opened fire inside.
Shortly afterwards, the nightclub posted on its Facebook page: "Everyone get out of pulse and keep running."
Police sources have told US media the gunman was in possession of a suspicious device strapped to his body.
There was an exchange of fire with a police officer working at the club, but it is unclear whether that was inside or outside the venue.
A hostage situation developed and at 05:00 local time (09:00 GMT), officers stormed the building and detonated a "controlled explosion".
The gunman was killed and police said at least 50 people are also dead, making it the worst mass shooting in recent US history.
That figure could rise, with at least 53 wounded people taken to hospital.
Media captionOrlando Police Chief John Mina said at a briefing that there had been multiple deaths
Officials have named the suspect as Omar Mateen, a 29-year-old from Fort Pierce, a city about two hours drive south of Orlando, in St Lucie County.
An FBI spokesman said the gunman appeared to "have leanings towards" radical Islamist ideology but it was not yet clear whether this was a case of domestic or international terrorism.
Police said he had been armed with an assault-type rifle, a handgun and some type of suspicious device.
They have not said whether they think the nightclub was targeted because it is gay.
US Congressman Alan Grayson said it was "no coincidence" the attack happened in a gay club.
And Mr Mateen's father told NBC News his son became very angry when he saw two men kissing recently in Miami.
What have eyewitnesses said?
There were about 320 people inside the club during the shooting, according to the Orlando Sentinel. Some have been speaking about what they witnessed.
"All you saw is people running and screaming and there were bodies in the parking lot where bodies were being tagged," Christopher Hansen told CNN. "It was like a scene from a horror movie."
Jon Alamo said he saw a man holding a weapon walking into the room he was in.
"I heard 20, 40, 50 shots, he said. "The music stopped."
Has there been political reaction?
A statement from the White House said the president had been briefed about the shooting.
"Our thoughts and prayers are with the families and loved ones of the victims.
"The president asked to receive regular updates as the FBI, and other federal officials, work with the Orlando Police to gather more information, and directed that the federal government provide any assistance necessary to pursue the investigation and support the community."
The presumptive Republican presidential nominee, Donald Trump, tweeted: "Really bad shooting in Orlando. Police investigating possible terrorism. Many people dead and wounded."
His Democratic rival, Hillary Clinton, tweeted: "Woke up to hear the devastating news from FL. As we wait for more information, my thoughts are with those affected by this horrific act."
Florida Senator Marco Rubio told CNN the gunman was an "animal" whose act of violence showed that "this is the new face of the war on terror".
He also paid tribute to the police officers who "saved lives" by raiding the club to bring the attack to an end.
bbc.com/news/world-us-canada-36511778
-----------
IS claims responsibility of Orlando attack; Shooter was known to FBI
Agencies | Jun 13, 2016
WASHINGTON: Islamic State claimed responsibility on Sunday for the worst mass shooting in US history, but US officials said they had seen no immediate evidence linking the militant group to the massacre in Orlando, Florida.
Islamic State's claim was carried by Amaq, the organization's news agency.
"The armed attack that targeted a gay night club in the city of Orlando in the American state of Florida which left over 100 people dead or injured was carried out by an Islamic State fighter," said the Amaq statement.
At least 50 people were killed and 53 others were wounded in the Pulse nightclub before the gunman was shot dead by police.
The shooter was identified by authorities as Omar Mateen, a Florida resident and US-born son of Afghan immigrants who a senior FBI official said might have had leanings toward Islamic State.
The FBI official cautioned, however, that proving the suspected link to radical Islamism required further investigation.
Mateen had previously been investigated for ties to an American suicide bomber, the FBI said Sunday.
Special Agent Ronald Hopper said he had been cleared by the probe, but was believed to have pledged allegiance to the Islamic State before the massacre.
According to the agent, Mateen twice came to the attention of investigators in 2013 and 2014 over alleged links to Islamist extremists.
"The FBI first became aware of Mateen in 2013 when he made inflammatory comments to co-workers alleging possible terrorist ties," he told reporters.
"The FBI thoroughly investigated the matter including interviews with witnesses, physical surveillance and records checks.
"In the course of the investigation Mateen was interviewed twice. Ultimately we were unable to verify the substance of his comments and the investigation was closed."
Later, he was interviewed by agents investigating his contacts with Moner Mohammad Abusalha, a fellow Floridian and the first US citizen to carry out a suicide bombing in Syria.
"We determined the contact was minimal and did not constitute a substantive relationship or a threat at that time," Hopper told reporters.
Asked how Mateen had been able to hold a Florida gun license and to legally purchase two guns shortly before the attack, Hopper said simply that the investigation into his supposed radical ties had been "inconclusive."
"It has been reported that Mateen made calls to 911 this morning in which he stated his allegiance to the Islamic State," he said.
"We're looking into any and all connections both domestic and international."
Speaking at the White House, President Barack Obama called the attack "an act of terror and an act of hate," and said the FBI would spare no effort to determine whether the suspect had been inspired by any extremist group.
The two officials familiar with the investigation said a leading theory was that the suspect somehow was inspired by Islamist militants.
One official said early information, the nature of which he did not disclose, indicated that the shooter was motivated by a mixture of "hate" and religion.
ACT OF TERRORISM
US Representative Adam Schiff of California, the senior Democrat on the House Intelligence Committee, said in a statement issued after a briefing on the massacre that several factors indicated the attack was an Islamic State-inspired "act of terrorism."
He noted that the incident occurred during the Islamic holy month of Ramadan, that Islamic State had called for attacks during that period, the target was an LGBT nightclub and it was hit during Gay Pride weekend.
Schiff said that, if accurate, "according to local law enforcement the shooter declared his allegiance to ISIS (Islamic State)."
An audio message purportedly issued last month by the spokesman of Islamic State called on followers to launch attacks in the United States and Europe during Ramadan, which began on June 5 in the United States.
"Ramadan, the month of conquest and jihad. Get prepared, be ready ... to make it a month of calamity everywhere for the non-believers ... especially for the fighters and supporters of the caliphate in Europe and America," said the statement allegedly made by Abu Muhammad al-Adnani and distributed over Twitter accounts usually associated with Islamic State.
"The smallest action you do in their heartland is better and more enduring to us than what you would if you were with us. If one of you hoped to reach the Islamic State, we wish we were in your place to punish the Crusaders day and night," said the audio clip, the authenticity of which could not be verified.
timesofindia.indiatimes.com/world/us/IS-claims-responsibility-of-Orlando-attack-Shooter-was-known-to-FBI/articleshow/52720265.cms
URL: http://newageislam.com/current-affairs/new-age-islam-edit-bureau/worst-mass-shooter-in-us-history---nyc-born--islamic-extremist--omar-mateen,-29,-who-shot-dead-50-and-injured-53-in-orlando-gay-club-massacre-was-homophobe--who-got-angry-when-he-saw-two-men-kissing-/d/107610
New Age Islam, Islam Online, Islamic Website, African Muslim News, Arab World News, South Asia News, Indian Muslim News, World Muslim News, Womens in Islam, Islamic Feminism, Arab Women, Womens In Arab, Islamphobia in America, Muslim Women in West, Islam Women and Feminism, Moderate Islam, Moderate Muslims, Progressive Islam, Progressive Muslims, Liberal Islam, Liberal Muslims, Islamic World News