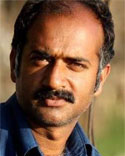 By Naseer Ganai
29 May 2017
On April 7, as evening fell over Karimabad, which otherwise had nothing to distinguish it from a typical south Kashmir hamlet, an unprecedented scene was witnessed. If the village is a tiny punctuation mark en route to Pulwama, that moment too was like an inflection point in a long, tortured narrative. Some six gunmen appeared, out of the blue, at slain Hizbul Mujahideen commander Naseer Ahmad Pandit's grave to pay respect. Nothing unusual yet.
But the back-story first
Pandit was killed the same day last year in a gunfight in Shopian—another Hizbul militant, Waseem Ahmad Malla, too was killed in that scrimmage. But Pandit's was an odd trajectory: he was a cop-turned-militant. In 2015, the then 28-year-old constable with the Jammu and Kashmir Police decamped with two AK-47s and joined the Hizbul. He was a young man of principles, who was disillusioned after seeing the police up close, hand-in-glove with drug traffickers, says his father Ghulam Rasool Pandit. Pandit was seen as close to Hizb's 22-year-old commander Burhan Wani, whose killing last year inaugurated a new phase of street protests in Kashmir.
But this April evening came as a marker of something else, a gene mutation in Kashmir's quarter-century-old secessionist struggle. Witnesses recount that, after a few shots fired in the air, a masked gunman told the people, "Do not wave the 'un-Isla­mic Pak­istani flag' during funerals of slain militants." Now, in the south Kashmir countryside, which has seen a surge in pro-Azadi sentiment, that flag has been the default visual tool of protest—an instrument to mock the Indian establishment as much as to affirm itself.
Why, then, would that act suddenly become not kosher in some eyes? And why would the message be delivered by an outfit that has been overtly Pakistan's cat's-paw over the years, as against the purely pro-Azadi JKLF of old? The masked Hizbul man had the line down pat. The insurgency, he told the crowd, is "a fight for the implementation of Islam" and not for the power interests of any group or entity like Pakistan. After Kashmir, he continued, they would march to India and Pakistan for establishing an Islamic system. The struggle, he said, is about Shariat and Shahadat (martyrdom) and the Pakistani flag doesn't fall within the pure realm of Shariat "because the Kalimah has not been inscribed on it". The Kalimah is the Islamic testimony of Allah's oneness and Prophet Mohammed's Prophethood, and the allusion is to Pak­istan's presumably lesser existence as a modern nation-­state, as defined against a global caliphate.
As for a Hizbul man voicing this message, some fault-lines that became visible the next day explained it. On April 8, the United Jehad Council (UJC), the Muzaffarabad-based amalgam of militant groups, warned the group that gave the speech at Karimabad of "dire consequences" for opposing Pakistan and its flag. UJC spokesman Syed Sadaqat Hussain said it "ref­lects only the intentions of a group of gunmen masquerading as Mujahideen at Naseer's grave". Small, rebellious outliers...that was the implied characterisation. For the time being, it seemed ­'order' was restored and the rift settled. On May 8, a month after Karimabad, the Hurriyat Conference phalanx of Syed Ali Shah Geelani, Mirwaiz Umer Far­ooq and Yasin Malik closed behind this too, declaring Kas­hmir's struggle as "ind­igenous". "Terrorism and freedom movement are poles apart. Our movement has nothing to do with…ISIS, Al Qaeda." These "world-level groups" are "practically non-existent" in Kashmir, they said, pretty much accusing Indian agencies of using the names "to create a wedge".
The blowback came four days later, May 12, when Zakir Musa, a 24-year-old Hizbul commander, rattled the Hurriyat—and a lot of ordinary Kashmiris—by calling the separatist leadership "hypocrites, infidels, followers of evil". If the Kashmir struggle is not an Islamic one, "why do you call the Mujahids (militants) your own and participate in their funerals," he asked in a widely-watched video clip.
After deriding them for pinning their hopes on the UN and the international community, Musa let loose a stunning fusillade on the Hurriyat. "They are political leaders, not Islamic leaders. They cannot be our leaders. If they have to run their politics, they shouldn't become thorns in our path to Shariat. Otherwise, we will cut their neck and hang them in Lal Chowk. I am warning these people…they would be first to be hung."
The Response:
For a secessionist leadership already left behind by the 'leaderless' intifada on the streets, and left with little room for manoeuvre with the formal stakeholders, a dangerous new flank had opened up. It's for the first time that top separatists have faced such a serious ideological challenge from a militant commander over their definition of the Kashmir struggle. For much of the 27-year-long insurgency, the separatist leadership occupied the position of a vanguard elite—and now they were receiving threats of beheading.
In a second audio released on May 13, Musa part-retracted, this time excluding Geelani, whose hard line is seen as overlapping the most with an Islamist one, but said his fight against secularists would continue. Musa also quit Hizbul, when the militant outfit distanced itself from him. "Hizbul says they have nothing to do with my statement. So, if Hizbul doesn't represent me, I also don't represent them. From today, I have no association with Hizbul Mujahideen," he said.
In a larger frame, it would have been a routine moment when Musa left his studies in 2013 to join the militancy. But when he succeeded Burhan Wani as the Hizbul commander operating in Tral sub-district, he was stepping into a space that already had high social media visibility. Something was almost bound to happen. Now his audio messages—three in all, released within a week—have set off a wave of heated debates and introspection about the nature of Kashmiri separatism. Was its source impulse ethno-cultural, something essentially revolving around being Kashmiri, or was it fundamentally Islamic? Can the latter be kept separate and secure from snowballing down a pan-Islamist cline? The original destination of a more pronouncedly Islamic line was seen as Pakistan, but now the spectre of ISIS looms. Is not the idea of an independent Kashmir qualitatively different from the vision of a global caliphate? Is it not possible to be Muslim and secular-democratic? The questions roiled the Kashmiri political mind.
The debates revealed a variety of opinions on the ground, searching for coherence. Unlike the '90s, when militants were not criticised, Musa faced a barrage of condemnation on social media. His statement was rejected and ridiculed, even if it found pockets of endorsement. In his third audio, in which he thanked Al Qaeda, Musa acknowledged the anger. "I am thankful to all those who abused me without understanding my point… because of you, many of my sins would be forgiven."
The reactions to Musa reveal Kashmir as an essentially Muslim political movement at present, even if distanced from Musa's model, says political analyst Zafar Choudhary. Pandits and other minorities were part of Sheikh Abdullah's struggle against the maharaja before 1947, he says, and that made it inc­­lusive. "If you call Sheikh's struggle also communal and Isl­amic, then you deny the Muslim any right to fight for justice," he says. However, after 1947, Kashmiri Pandits and the Dogras of Jammu identified themselves with India—and "in spite of being a constitutionally secular state", says Choudhary, at its core was an implicit "Hindu apparatus". That's why Pandits and Dogras didn't join the National Conference's plebiscite movement in 1953 after Sheikh's arrest. "Pandits perceived it as a Muslim struggle against a Hindu state."
Mustafa Kamal, brother of Dr Farooq Abdullah and NC general secretary, paints a similar picture: Pandits were in the forefront of Sheikh's resistance against the autocratic Dogra rule and later Sheikh's own cabinet reflected the movement's secular ethos. They, however, kept a distance from the NC's mass movement against Sheikh's arrest in the Kashmir conspiracy case. "I will say Pandits remained very inactive in 22 years of Sheikh's struggle," adds Kamal.
Despite the fraught air in which the Pandit exodus had happened, the early JKLF-led insurgency had a secular colour. Religion was reinforced when foreign fighters took over. "But it continues to remain a political movement at the people's level…no major cultural change is seen there," says Choudhary. In fact, when extremists called for women to adopt the Islamic dress code or for men to sport a beard, it failed to yield any substantial result. After September 11, says Choudhary, when American perceptions about Muslim str­uggles around the world changed, everyone took the opportunity to de-emphasise the Islamist element. With separatists for long seeking the West's support, the present crisis has again come in handy to prove a point to sections in New Delhi keen to label the secessionism as an Islamic Jehad.
But such is the sense of moment that the Hurriyat joint statement compared the situation with the 1990s, though they said that was more awful and complex. "We paid a heavy loss in terms of precious lives. We were engaged in petty, non-serious matters. Instead of following logic, we were swayed by our emotions," they said, in an allusion to inter-group clashes between JKLF, Hizbul etc.
In the early '90s, pro-Pakistan groups went after the JKLF, which stood for azadi. The JKLF gave up armed struggle in 1994 and adopted Gandhian means but continued to face criticism for its secular line. In 2013, Hurriyat veteran Prof Bhat reminisced about how those rifts led to the killings of Mirwaiz Mohammed Farooq (1992) and Abdul Gani Lone (2002) by "our own people". Those killings emaciated the moderates and left a default hard line on the table.
Thus, the ideological fault-lines have always been there, and Musa's videos only revealed them again. Perhaps at a more fraught juncture when global Islamist entities have mutated, as has the political climate in mainland India. The latter context too indirectly frames the debates in Kashmir, as a secular, accommodative polity was still a viable option—and was widely spoken of as such outside separatist circles.
The Political Face:
If the militancy had a fratricidal edge, the fault-lines and paradoxes also resided in the blurred lines of overlap within the political over ground. On July 31, 1993, as insurgency was going at full tilt, the All Parties Hurriyat Conference (APHC) was formed as a joint political platform. The parties that came on board had only six years before forged the Muslim United Front (MUF) against the NC in the ill-fated 1987 elections, widely believed to have been rigged.
The APHC, from the outset, was shaped by the fact that it was a coalition that brought two divergent, if not incompatible streams together—those who sought independence from both India and Pakistan, and those who wanted to join Pakistan. So its basic slogan had a 'common minimum' touch to it: "the wishes and aspirations of the people should be ascertained for a final resolution of the dispute". Mirwaiz Umer Farooq, then merely 19, who had taken over as Awami Action Committee (AAC) chairman and become the head priest of Kashmir after the assassination of his father, became the first APHC chairman. Its executive council had seven members: Geelani represented Jamaat-e-Islami, the young Mirwaiz AAC, Yasin (JKLF), Prof Bhat (Muslim Conference), Abdul Gani Lone (People's Conference), Maulvi Ansari (Ittehad-ul-Muslimeen) and Sheikh Abdul Aziz (People's League).
Despite their shades of variation in emphasis on political Islam and secularism, the Hurriyat has always used mosques to mobilise people and its cadre on the slogan of Islam, as was pointed out by Musa. The sequence of call-and-response slogans usually started with "Hum Kya Chaahte? Azadi (What do we want? Freedom)," followed by, "Azadi ka Matlab Kya? La Ilaha Illallah (What does Azadi mean? There's no God but Allah)" and "Yahan Kya Chalega? Nizam-e-Mustafa (What writ will run here? The order of the Prophet)". A generalised Muslimness as a language of protest, on which they all converged, became the adhesive; the rift was confined to whether J&K should go for full Azadi or become part of Pakistan. And later, on whether dialogue should be held with the Centre or not.
In 2003, the Hurriyat split when Mirwaiz decided in favour of dialogue with the Centre—the group held talks with the then deputy PM, L.K. Advani, in 2004. The Jamaat-e-Islami too distanced itself from militancy and ousted Geelani. A miffed Geelani floated his own party, the Tehreek-e-Hurriyat. Even so, analysts say the moderates, pro-Azadi parties like JKLF and hardliners like Geelani share the core of their political philosophy: that the international community should int­ervene to resolve the Kashmir dispute. Geelani calls the struggle Islamic and Tehreek-e-Hurriyat believes in a welfare state on the pattern of Khilafat, but even he maintains the UN resolutions are the bedrock of the struggle. The distinction bet­ween his position and new ultra Islamist streams was clarified in 2015, when ISIS flags started appearing during protests in Srinagar's old city: Geelani described ISIS and Taliban as Boko Haram-like organisations and called their actions un-Islamic.
Geelani has always opposed secular politics but now the young hardliners have raised the bar too high for even him. These new, tech-savvy radicals use Facebook, Twitter and other online media to ridicule the "cowardliness" of Hurriyat. They call Geelani and the rest crisis managers of the government who help control the masses. Contrary to the perception elsewhere of Geelani as a hardliner, these new voices say Geelani and other separatists by design avoid the question of whether the struggle is political or Islamic.
Still, in a space polarised between moderate, radical and ult­ra-radical, Geelani is seen by many as a uniquely stabilising figure: he still enjoys the support of people and even militants, the reason why Musa retracted his first statement saying his threat was not meant for "Geelani Saheb". But the worry is, what after Geelani? "Geelani is the person who brings some sanity in the chaos. Once he is not there, what will happen to this place?" wonders a senior mainstream party leader.
However, a senior police official who has seen south Kashmir for long blames the separatists for patronising militants. "Now the younglings are biting back. Musa naming Al Qaeda will put the so-called Tehreek (struggle) in its true frame, an Islamic movement rather than a political one." In a long-drawn conflict with little results, this was inevitable. "These young militants feel the old guard is senile and has not done enough," the official says. They say the Hurriyat was naïve to believe the militancy too will remain wedded to the original political ends. "For militants, the movement is essentially Isl­amic, the political part is secondary," the police official said.
Sensing an opportunity in the crisis, Chief Minister Mehbooba Mufti went to south Kashmir on Sunday and paid homage at the Sufi shrine of Hazrat Baba Hyder Reshi, popularly known as Reshi Moul Sahib, in Anantnag. On its annual festival, people don't eat meat for seven days as a mark of respect to the saint. In her speech, Mehbooba pointed towards a Sufi shrine, a mosque, a temple and a Gurudwara, all close to each other in the Sher bagh area, and asked people whether they would adhere to Kashmiriyat or ISIS.
A senior mainstream leader says the challenge from Musa is real—an existential threat. "It is a new reality and has to be engaged with." He says it's an opportunity for the separatists to declare the basic credo of the Kashmir struggle before the people explicitly. As of now, the Hurriyat, after that first statement, is hesitating to take up the gauntlet.
Source: outlookindia.com/magazine/story/azadi-means-many-things/298885
URL: http://www.newageislam.com/current-affairs/naseer-ganai/azadi-means-many-things/d/111336