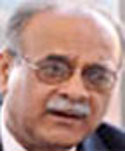 By Najam Sethi
22 Aug 2014
Three new developments suggest that, despite the aggressive and uncompromising rhetoric, the political crisis provoked by the long marches of Imran Khan and Tahir ul Qadri is dissipating. Neither a military coup nor the resignation of the prime minister, Nawaz Sharif, or dissolution of parliament followed by fresh general elections, is imminent.
The first is a statement from the military leadership indicating its mindset. It has called upon all parties to resolve their disputes through negotiations while signaling the army's decision to physically protect "institutions of the state", like Parliament, the Presidency, PM House, the Secretariat, the Supreme Court, etc – in effect to stop the demonstrators from storming or besieging the constitutional abodes of government. Following this "advice", the siege of parliament ordered by Tahir ul Qadri has been lifted and both he and Imran Khan have entered into talks with government delegations. Although both are sticking to their maximalist demands – which are at odds over core issues – this is a good first step in the direction of conflict resolution.
The second is a demonstrated consensus in civil society that, however inadequate, Pakistan's democratic dispensation should not be rolled back by unconstitutional or violent means, in effect disavowing any direct military intervention or regime change through violent long marches and street protests. All political parties, Ulema groups, civil society organisations, lawyers associations and media are on the same page on this account. Now parliament is demonstrating its resolve to resist any encroachment on its sovereignty. This has isolated both PTI and PAT and compelled them to disavow violence. Indeed, this explains how the current protest movement is sharply different from earlier movements in Pakistani history for regime change – and why D-Square is not Tahrir Square – in which the opposition parties and civil society were all ganged up against a solitary government that responded with fierce repression.
The third is a consensus in civil society that Imran Khan's charges of institutional election rigging are unmerited because all domestic and independent pollsters and monitors have declared these elections to be the fairest and freest since 1970. Equally, all are also agreed that an independent investigation needs to be commissioned in order to pinpoint serious flaws in the electoral system that give rise to such allegations so that suitable and timely reformist measures can be undertaken by the government in consultation with the opposition in parliament.
These developments may be considered a measure of the way forward in resolving the current impasse by giving each protagonist a face-saving exit while enforcing the national consensus.
Since the attempt to dislodge the prime minister by a long march of protestors representing 35 MNAs out of over 400 parliamentarians is unpopular, unconstitutional and untenable, PAT/PTI must climb down from their maximalist position. Equally, since the demand for an investigation into charges of electoral fraud has popular and political backing, the PMLN must concede a commission of inquiry – even if it means changing the election laws by Presidential Ordinance or parliamentary legislation to facilitate it – whose constitution and terms of reference meet with the unequivocal approval of the PAT/PTI. Both sides must also agree to unreservedly accept the findings of such a commission. If the commission finds that Imran Khan's charges are institutionally unfounded, then he must resign from the leadership of the PTI. But if it finds the PMLN culpable such a charge, then Nawaz Sharif must resign as prime minister, dissolve the assemblies and quit the leadership of the PMLN. If it finds evidence of particular rather than general rigging, then re-elections must be held in the tainted constituencies under a mutually approved arrangement and the existing political dispensation should be allowed to continue until the decreed next general elections in 2018. In the meanwhile, the 33 member parliamentary committee, which includes 3 PTI representatives, established to recommend suitable changes in the election framework must do its job quickly so that the second core demand of PAT/PTI is satisfied.
The issue of the 18 PAT activists killed by police firing in Model Town last month also needs to be resolved quickly. Dr Qadri is within his rights to demand an independent commission that has his stamp of approval. The PMLN must concede this demand immediately. If such a commission finds the chief minister directly responsible, he must resign from parliament. If it doesn't, PAT must back off. If it finds other functionaries guilty, they must be sacked from service.
In short, the findings and recommendations of both commissions of inquiry must be given the sanctity of law and complied with fully by all parties.
This long march can pave the way for another disastrous military intervention or it can have an enduring positive impact on Pakistan's political landscape by compelling the PMLN to rule with greater accountability and parliament with greater responsibility. Imran Khan and Tahir ul Qadri can then either be jointly condemned for undermining and derailing democracy or jointly credited for cleansing and strengthening it.
Source: http://www.thefridaytimes.com/tft/what-next/#sthash.eZgRBHWX.dpuf
URL: http://www.newageislam.com/current-affairs/najam-sethi/the-political-crisis-provoked-by-the-long-marches-of-imran-khan-and-tahir-ul-qadri-is-dissipating--what-next?/d/98691