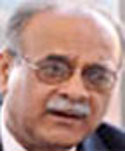 By Najam Sethi
30 May 2014
Prime Minister Nawaz Sharif's trip to New Delhi has provoked the usual war mongers to ask some prickly questions. Why did Sharif agree to attend Narendra Modi's oath-taking ceremony when Manmohan Singh declined his own invitation last year? Why didn't he raise the Kashmir issue when the Indians publicly objected to the export of terrorism from Pakistan? Why didn't he stress the urgency of the composite dialogue instead of confirming his intention to unilaterally "gift" MFN status to Modi's government? The implication is that Sharif's foreign policy initiative has come a cropper because the Indians didn't budge an inch from their stated position since Mumbai 26/11– "no composite dialogue until the perpetrators of Mumbai are punished and Hafiz Saeed's Lashkar-e-Taiba is dismantled"– while Pakistan has blithely abandoned its own stance regarding the core issue of Kashmir in the composite dialogue. The conclusion drawn is that Pakistan has lost and India has won at the game of diplomacy again.
The questions are fair but the conclusions are wrong. This way of seeing Pak-India relations through the prism of "winning and losing", or who gains what, is characterised as a Sum-Zero Game in which Pakistan's loss is India's gain and vice versa. Zero-sum games are the opposite of win-win situations – such as a trade agreement that significantly increases trade and welfare between two nations. The problem with the Sum-Zero approach in dealing with India is two-fold. One, it has created an architecture of state-sponsored militant actors in Pakistan to try and hurt India and wrest Kashmir by force. But, far from achieving their objectives, these non-state actors have spawned domestic terrorism, alienated the Kashmiris and hurt Pakistan in the process. Two, it has provoked India to posit its own conditionality on cross-border terrorism against Pakistan's conditionality on Kashmir and deadlocked the dialogue process. The "composite dialogue" approach that India under Vajpayee originally proposed in 1998 and Pakistan under Sharif accepted in 1999 and which Musharraf and Manmohan pursued, was shattered with Mumbai 26/11. To talk of renewing it unconditionally without sincerely addressing the factors in Pakistan that led to its rupture is untenable.
Therefore, Sharif is trying to find a way out of this deadlock by side stepping the Sum-Zero Game approach and pegging his India strategy on a "win-win" trade initiative in the form of Non Discriminatory Market Access. Indeed, one reason why he didn't sign on the dotted line with Manmohan Singh at the last minute was his correct assessment that Singh was on his way out and Modi was on his way in. So what did the Delhi Yatra yield?
First, Sharif was accorded "primus inter pares" status (first among SAARC equals) by Modi – first long bilateral, two vigorous handshakes, "Pehlay Aap" ushering into the conference room (Modi led the way in for the others), no comment from South Block on Karzai's pointed accusations against the LeT, and so on. Second, Sartaj Aziz's statement at home that a "new architecture for dialogue" is on the cards when the two foreign secretaries meet is significant. In effect this means that both sides are ready to sidestep their respective core issues (Kashmir for Pakistan and terrorism for India) as well as the composite dialogue (all issues more or less simultaneously). In other words, no Sum-Zero Game any more.
A hint about the proposed new architecture of dialogue is available in the assertion by both Sharif and Aziz that the thread of 1999 should be picked up in the backdrop of extended win-win trade links to create vested interests in both countries against lose-lose war. In effect this means that the core issues for both countries (Kashmir and Cross-Border Terrorism) will be tackled through a vigorous back channel in order to avoid Sum-Zero analysis or controversy in the public domain and the notion of dialogue on Siachen, Sir Creek, Water, etc will be pegged to the consolidation of greater business to business and people to people trust and confidence measures.
There is one powerful mutual impetus driving both popular prime ministers: economic development and poverty alleviation. And there is one fear that haunts their goal of a grand peace dividend: another Mumbai-like incident, re-assertion of Islamic jihad in Kashmir or fighting along the Line of Control. The back channel will also serve to iron out such difficulties and remove misunderstandings swiftly.
In principle, the national security establishment in Pakistan is on the same strategic page as Sharif on the issue of peace with India even though there may be tactical differences on how to proceed. But one fundamental question remains.
Has Nawaz Sharif succeeded in convincing Narendra Modi of his sincerity in looking to the future instead of obsessing about the past, of rejecting the blame-game, of creating a new architecture for forward movement?
The fact remains that Nawaz Sharif's efforts will be in vain if he doesn't come to grips at home with the existential issue of terrorism that threatens to blow up in the face of both countries.
Source: http://www.thefridaytimes.com/tft/new-architecture-of-dialogue/#sthash.eRj6nwPo.dpuf
URL: http://www.newageislam.com/current-affairs/najam-sethi/new-architecture-of-dialogue/d/87266