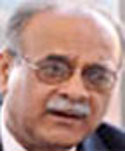 By Najam Sethi
16 May 2014
Once General Pervez Musharraf was Imran Khan's great hero because he expected to get the top berth from the general. But when Musharraf chose Zafarullah Jamali and then Shaukat Aziz as prime minister, Imran Khan changed Musharraf's status to a big zero.
Once the Geo/Jang Group was Imran's great hero because it was supporting him to the hilt before the elections. But after the elections, when Geo became critical of Imran's policies and positions, it was reduced to a big bloated zero.
Once the former Chief Justice of Pakistan Iftikhar Mohammad Chaudhry was Imran's great hero for constantly knocking down the PPP. But after Chaudhry didn't buy into Imran's election petitions, he was blasted as a big treacherous zero.
Once Chief Election Commissioner Fakhruddin G Ibrahim was Imran's great hero. But when Ibrahim couldn't deliver on Imran's great expectations, he was charged with being a big incompetent zero.
Imran Khan's blossoming political alliances are also noteworthy. The MQM was once his pet-hate, now his stunning silence is a prelude to a budding alliance for mid-term elections. Much the same sort of bonhomie is beginning to tell between Imran and the Chaudhrys of Gujrat. Once they were allegedly Musharraf's partners in crime because they refused to give him any electoral leverage in Punjab during the 2002 elections. Now they are comrades-in-arms in the joint struggle to destabilize, weaken and eventually get rid of Nawaz Sharif.
Imran's relationship with the "Angels" is another fascinating subject for research. He has unfailingly whipped up public sentiment in their favour whenever they have been cross with elected civilian governments: on Rehman Malik's attempt to bring the political wing of the ISI under his boot; on the "objectionable" clauses in the Kerry-Lugar-Berman aid to Pakistan bill; on the May 2nd Osama bin Laden debacle; on Memogate; on the "state within the state" accusation by the then prime minister, Yousaf Raza Gilani; on the blockage of NATO supplies following Salala; and now most vociferously on the Geo/Jang/ISI confrontation (he is silent on the Musharraf case which is a very big concession to them). An Ex-DGISI's attempt to pressurise assorted politicians to join the PTI in 2012 is well known.
Indeed, it is this dubious relationship that helps to explain the induction of several key politicians into Imran Khan's fold despite the lofty "lota" credentials of some of them. Sheikh Rashid, who has a ringside seat in the inner circle of IK advisors, is a self-claimed GHQ man who was once Nawaz Sharif's and then Musharraf's federal minister. Asad Omar is the son of an army general and hails from an "army family"; Shah Mahmood Qureshi jumped the PPP ship when nudged by the Angels on the Raymond Davis affair; Jehangir Tareen was Musharraf's blue-eyed boy; Shafquat Mahmood served in Musharraf's Punjab cabinet in 2000; Khurshid Kasuri was Musharraf's Foreign Minister; and so on.
More significantly, Imran's decision to launch a "movement" on May 11 is clearly aimed at destablising the Sharif regime. It has been followed up by a vicious attack on the Geo/Jang Group and a stinging denunciation of the ex-CJP and judiciary. This betrays the perennial objective of the Angels to keep every civilian government in a hunkered down defensive posture vis a vis the military establishment. In 1998 Benazir Bhutto was lumped with President Ishaq Khan and Foreign Minister Sahibzada Yaqub Khan while Aitzaz Ahsan was swiftly cut down to size for being soft on India, later she was sacked. In 1990, Nawaz Sharif was lumped with President Ishaq and Gen Waheed Kakar and shown the door in 1993. In 1997, when Nawaz Sharif got too big for his boots after easing out both President Farooq Leghari and COAS Gen Jehangir Karamat, he was ousted by a military coup. President Asif Zardari was hounded on one pretext or the other by the Angels from 2008-13, in alliance with the media and judiciary. Now Nawaz Sharif is in trouble over his attempt to try Musharraf for treason and to seize control of national security and foreign policy.
Some people say the Angels are planning another Islami Jamhoori Ittehad a la the late 1980s with Imran Khan as their opening batsman like they did with Nawaz Sharif earlier. The problem with this theory is that the Angels had to contend with only one popular force in 1988. Now there will be two, PPP and PMNL, covering both Sindh and Punjab, which will make it very difficult to play such a game. More likely, the Angels are only seeking to rap Nawaz Sharif on the knuckles and teach him to stay in his place on key issues like national security, foreign policy and the "sacred cow" status of the military rather than putting their faith in Imran Khan to lead Pakistan next. In order words, they are "using" Imran Khan for their own political goals just as they have used other politicians in the past. Therefore who will be hero and who will be zero remains to be seen.
Source: http://www.thefridaytimes.com/tft/hero-or-zero/#sthash.zrJAdibR.dpuf
URL: http://www.newageislam.com/current-affairs/najam-sethi/imran-khan--hero-or-zero?/d/77045