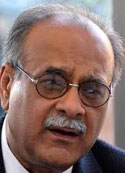 By Najam Sethi
10 Oct 2014
The advent of Narendra Modi as prime minister of India had evoked two opposing Indo-Pak scenarios. The establishment hawks in Pakistan argued that India would adopt an uncompromising and hard-line position with Pakistan because of the extremist Hindu credentials and policy positions of Mr Modi and key members of his cabinet and circle of advisors. But the peaceniks in Pakistan argued that Mr Modi, like his BJP predecessors Atal Bihari Vajpayee and LK Advani, would exploit his "patriotic" nationalist credentials to normalise with Pakistan because his pro-business agenda required regional trade, peace and stability.
Unfortunately, however, recent events – India's cancellation of the foreign secretary level talks followed by continuous artillery exchanges on the LoC in Kashmir in which thousands of villagers on the Pakistani side have been evacuated and dozens killed – have dashed hopes of any rapprochement between India and Pakistan.
The most disappointed man in Pakistan is Prime Minister Nawaz Sharif. He had gone the extra mile to proffer the hand of friendship to India without any pre-conditions. Before he was sworn in as prime minister in 2013, Mr Sharif had invited India's Prime Minister, Dr Manmohan Singh, to his swearing-in ceremony, but to no avail. Then he had postponed a signing of a free trade agreement with India pending India's elections so that he could give away the "gift" of Most Favoured Nation trade to the new leader of India as a measure of Pakistan's sincerity (given the nature of the two economies, both countries benefit from freer trade but India stands to gain much more than Pakistan), a demand that India has long made as a precondition of resolving other contentious issues in which one side's gain can be construed as the other's loss in one way or another. Mr Sharif then swept aside the advice of his foreign policy establishment to fly to New Delhi for Mr Modi's inauguration and hold a round of one-on-one talks with him. More significantly, he accepted the request of India's foreign office not to meet with the Hurriyat Kashmiri leaders, a long established practice not disapproved of by India, on his trip to New Delhi and he did not rise to the provocation of the Indian Foreign Minister when she reiterated the old Indian position on Kashmir in a press conference on the sidelines of the meeting of the two prime ministers. These decisions drew much flak for Mr Sharif back home.
Now, barely a couple of months since Mr Modi became prime minister, it is hostile "business as usual" between India and Pakistan. All talk of bonhomie evaporated after India's foreign office took exception last August to a scheduled meeting of the Pakistani High Commissioner in New Delhi with Hurriyat leaders and abruptly cancelled the foreign secretary level talks. These talks were meant to pave the way for a structured dialogue on all issues between the two sides, starting with a signing of the MFN regime agreed between the two governments before general elections in India. In the past, Pakistani officials and leaders have exploited opportunities of meetings with Hurriyat leaders to nudge them to the negotiating table with New Delhi rather than urge them to wage jihad, and the Indian authorities have turned a blind diplomatic eye to the meetings on the ground that the Hurriyat leaders are Indians (rather than avowed secessionists) who can meet anyone they like. This time, however, New Delhi objected in an unprecedented and hasty manner by cancelling the talks and putting Mr Sharif in an embarrassing position with Pakistan's national security establishment that continues to distrust and dislike its Indian counterpart and has scoffed at Mr Sharif's "naiveté" in offering an unqualified hand of friendship to India. The Modi government then went one step further by declaring that the Indian prime minister would not meet Mr Sharif on the sidelines of the UNGA session in September in New York. Before long, both leaders were haranguing the world about the other's perfidies by reiterating old positions – Pakistan wants the Kashmir issue resolved according the UN Resolutions and India wants Pakistan to stop exporting terrorism to India. Now both sides are firing on each other across the LoC.
The logic of the situation suggests that India is in aggression mode. Elections in Indian-held Kashmir are due later this year. Mr Modi has visited the region and whipped up Hindu sentiment against the Muslim Kashmiri parties and leaders. He has also reiterated his resolve to undo Article 370 of the Indian constitution that guarantees special status privileges for Kashmir. This has reignited anti-India feeling and demonstrations in the Valley. On the Pakistani side, there is little to be gained from renewed tensions with India because the Pakistani army is fully stretched dealing with terrorism in FATA, Karachi and Balochistan.
Under the circumstances, the prospects of Indo-Pak détente seem bleak. Mr Modi has reverted to form and Mr Sharif has lost credibility with his national security establishment.
Source: http://www.thefridaytimes.com/tft/bleak-prospects-of-indo-pak-detente/#sthash.QQuvcXFg.dpuf
URL: http://www.newageislam.com/current-affairs/najam-sethi/bleak-prospects-of-indo-pak-detente/d/99451