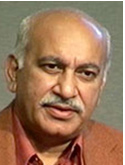 By M.J. Akbar
10 June 2014
India and China will soon find themselves on the same side
A shadow war does not begin with an ultimatum. It is conducted by militias, not a military. It is not fought in the name of a nation or under conventions signed at Geneva; it uses barbarism and terrorism in the pursuit of ideas that seek to destroy the existing order in the search of some fantasy. Its violence spreads across dozens of geographical dots that, in the terrorist's mind will connect and form a picture some day.
The opening offensive of the post-NATO era in South and Central Asia has been launched. It is entirely logical that this should coincide with US President Barack Obama's speech to graduating cadets of United States Military Academy, West Point where he told the class of 2014 that they would be the first batch since 9/11, which would not have to go to war in either Afghanistan or Iraq. The message has been heard loud and clear by those who have been fighting much before 9/11 and will continue long after American troops (although hopefully not America) have abandoned the field.
Who are they? They are best described as Taleban Plus, an alliance of different Taleban groups and ideological compatriots like Lashkar-e-Tayyeba, as well as individuals and officials who share such objectives but feel that they are more useful to the cause without the advertisement of a label.
India is a primary enemy, and our mission in Herat was a first target. The objective was not mayhem for the sake of mayhem. The attack was designed for greater psychological impact. One clue is in the timing. The aim was to hold Indian diplomats and other staff hostage, and negotiate with Delhi for their lives, at precisely the moment when Delhi was going through a significant transition in government. Imagine the challenge to India and the test for Narendra Modi, who had campaigned on a tough approach towards terrorism, if Indians were being killed, one at a time, while he was taking his oath of office.
Consider the permutations and combinations of behaviour within regional governments. How many SAARC leaders could have, or would have, come, assuming that Modi still wanted to send out invitations? Think about the rage in Indian public opinion, doubtless doubled by some gloating from Pakistani hawks that find such a regular platform on Indian television channels. Would the jangling of raw nerves have led to street violence in our country? We do not know the answers but the questions should certainly be in the thoughts of India's security leaders.
It is fortunate that Prime Minister Modi has chosen Ajit Doval as his National Security Adviser. Doval has been a hero of our intelligence services and seen how the same hostile forces tested the Atal Behari Vajpayee government with the hijacking of a plane that ended up in Kandahar. Herat failed thanks to the valour of our paramilitary troops, but we can be absolutely sure that the Modi government will be tested again, and sooner rather than later.
The terrorist war against India has three obvious dimensions. Taliban Plus views the presence of India in Afghanistan, even within the confines of diplomatic activity or the larger embrace of developmental projects, as a form of "malignant intrusion" into "Islamic space" no less reprehensible than the Soviet or American intervention. For those who drove out the Soviets and NATO, India must seem like a pushover.
It does not take any extra insight to note that this position would be backed, vocally or discreetly, by the majority of Pakistanis. Those who need evidence can check out TV panel discussions. The second target is the Kashmir valley, of course.
The third dimension is destabilisation of India's secular democracy, which is an attractive alternative, particularly for the young, to the theocratic model offered by Taliban Plus. One wonders why this very obvious reality does not cure many Pakistanis of their schizophrenia. They are hugely mistaken if they think that Hafiz Saeed and his colleagues only have an agenda for India. They have an agenda for Pakistan as well; and while they will not be able to change India they have a fair shot at turning Pakistan into a theocracy.
But this post-NATO war will not stop at South Asia; it will draw in China and Central Asia as well. China is beginning to sense the scope of this threat, but the Chinese take their time over any change in policy.
Facts will engineer this change. There just might come a moment when, acting out of their separate national interests, India and China find themselves on the same side of a complicated battlefield.
M J Akbar is a veteran journalist 
and BJP member
Source: http://www.khaleejtimes.com/kt-article-display-1.asp?xfile=data/opinion/2014/June/opinion_June17.xml&section=opinion
URL: http://www.newageislam.com/current-affairs/mj-akbar/the-taliban-plus-factor/d/87475