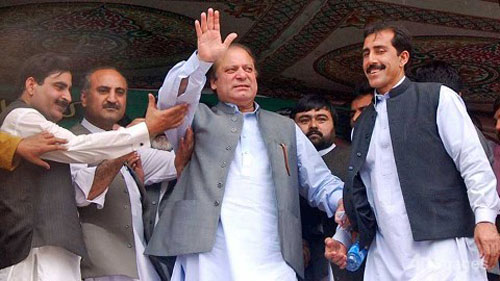 11 May 2013
Former Pakistani PM Nawaz Sharif is celebrating with his supporters, amid early signs that his party will be the largest after parliamentary elections.
Media projections based on partial results suggest a big lead for Mr Sharif's Muslim League, and he has already claimed victory.
The election should lead to the country's first transition from one elected government to another.
The turnout was huge but the poll was marred by violence.
In Karachi, the Pakistan Taliban said they planted a bomb which killed 11 people and wounded 40 others.
The bomb was placed outside the office of the Awami National Party.
There were also attacks in Balochistan and the north-western city of Peshawar.
Voting was extended for an hour across the country before closing at 18:00 (13:00 GMT).
'Thank Allah'
An election commission spokesman said they hoped for a turnout of 60-80%. In 2008 it was 44%.
No official results have yet been released, but unofficial partial results suggested that Mr Sharif's party was ahead in more than 100 of the 272 directly elected parliamentary seats.
It is not clear if they will be able to win a simple majority in the National Assembly.
In a speech at his party headquarters in the north-eastern city of Lahore, Mr Sharif said that the Muslim League (PML-N) was sure to emerge as the largest party.
"We should thank Allah that he has given PML-N [Muslim League] another chance to serve you and Pakistan."
"I appeal for all parties to come to the table and sit with me and solve the country's problems."
However, the BBC's Owen Bennett Jones in the city says that the mood in the party was not one of joy, as there are so many daunting challenges facing the country.
Mr Sharif's apparent victory is largely confined to his native Punjab province, which has nearly 60% of the country's population, and so he will be compelled to look for support from the three smaller provinces for greater legitimacy.
But our correspondent says that even if he had got as few as 90 seats he would still have been able to put together a coalition.
The Movement of Justice (PTI) party of former cricketer Imran Khan has also performed well, with projections saying he had won a big victory in Peshawar.
President Asif Ali Zardari's Pakistan People's Party (PPP) is in a race for second place with the PTI, but both seem likely to win fewer than than 40 seats.
Outgoing Prime Minister Raja Pervez Ashraf suffered a crushing defeat in his own seat in Rawalpindi.
The PPP hardly tried - because of Taliban threats against it but also because of a lack of will as it was so unpopular - our correspondent adds.
Borders closed
The Pakistani Taliban threatened to carry out suicide attacks ahead of the election.
About two hours after polling started, a bomb attack was reported in Karachi, apparently targeting an Awami National Party (ANP) candidate outside the party's political office.
Eleven people were killed and more than 40 others were wounded, police told BBC News. Local ANP candidate Amanullah Mahsud was injured but not seriously.
The attack happened in the Landhi district of Karachi, which is known for Taliban activity. Another ANP candidate and his son were shot dead close to the area last week.
The Taliban have been blamed for numerous attacks throughout the campaign on Pakistan's three most prominent liberal parties.
The PPP along with the Karachi-based Muttahida Quami Movement (MQM) and the ANP have been singled out for threats, and were forced to curtail their campaigning as a result.
Tens of thousands of troops had been deployed at polling stations to ensure security. In the run-up to the election, more than 100 people died in election-related violence.
Before polls opened, Pakistan sealed its borders with Iran and Afghanistan in an effort to keep foreign militants at bay. Officials said the borders would remain closed for the next three days.
-----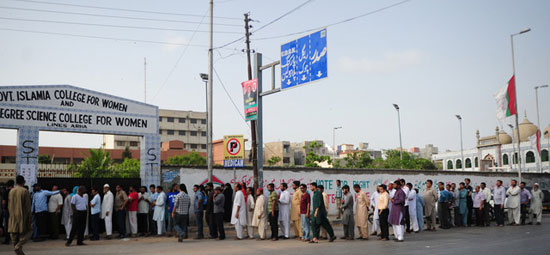 Analysis: Lyse Doucet, Chief international correspondent, Islamabad
If this was a contest between defiance and danger, defiance won. Despite worrying threats of violence and intimidation, millions of Pakistanis simply wanted to be counted on this historic day.
It was humbling to see old men and women, unable to walk on their own, bent over, and bent on casting a ballot. It was encouraging to see so many young Pakistanis queuing for hours in blazing heat to vote for the first time. It wasn't a perfect election. No-one expected that.
There were Taliban attacks, but more gunfights linked to long-standing political rivalries in volatile cities like Karachi. In all four provinces there were isolated gun battles or bomb blasts.
And, in some places, there were huge irregularities, and heated accusations of rigging.
Many doubted elections would be held at all. Many armed groups wanted to stop them. But the force for change turned out to be greater. Now the results will show what kind of change Pakistan wants.
-----
Pakistan votes in landmark election
9 May 2013
Voters in Pakistan are going to the polls this weekend to choose a new parliament, a landmark election for the 66-year-old nation.
Barring disaster, one elected government will be followed by another - the first time that has happened in a land with a history of coups and political upheaval,
The campaign has hardly been plain-sailing, though. There have been Taliban attacks, the return of former military ruler Pervez Musharraf, and a dramatic injury to ex-cricketer Imran Khan.
With the US and Nato on the way out of Afghanistan, a stable Pakistan is crucial to regional security. Will the current crop of candidates find a way to deliver?
Adam Blenford reports.
Coups, conflict and cricketers: Pakistan's vital election - in 90 seconds
------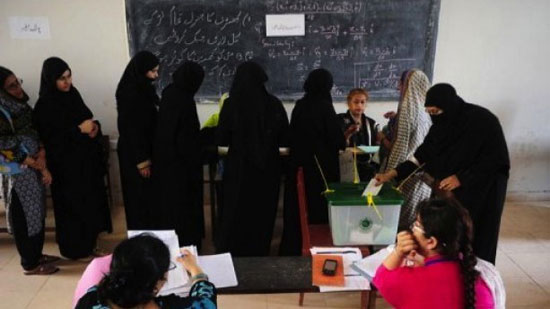 Pakistan election: Taliban threats hamper secular campaign
By M Ilyas KhanBBC News, Islamabad
Opposition leader Nawaz Sharif has held a number of major rallies
Continue reading the main story
Pakistan votes
• As it happened
• Election - in 90 secondsWatch
• Unpredictable election
• 'Tiger of the Punjab'
The cancellation of a key political rally that was to kick-start the election campaign of one of the largest political parties in Pakistan is seen by many as indicative of hard times for the country's secular political forces in the coming days.
The Pakistan People's Party (PPP) abandoned plans for Wednesday night's rally in its native stronghold of Larkana town following what party leaders called "security threats" from militants.
The PPP is one of three parties recently named by a spokesman of the Pakistani Taliban as "legitimate" targets for militant attacks during the elections, due in May.
The other two parties on the hit list are the Karachi-based MQM, and the Pashtun nationalist ANP party which has its main base in the north-western province of Khyber Pakhtunkhwa (KP) and also enjoys sizeable support in Karachi.
All three are professedly secular, and were partners in the government that completed its five-year term last month.
Similar Taliban threats forced former military ruler Gen Pervez Musharraf, also known for his secular leanings, to cancel a welcome rally on 24 March, the day he returned to the country after a four-year long self-imposed exile.
Imran Khan's party drew a crowd of tens of thousands last month in Lahore
These threats follow huge election rallies already held by former cricketer Imran Khan's PTI, former prime minister Nawaz Sharif's PML-N and Maulana Fazlur Rahman's JUI-F.
Parties like Jamaat-e-Islami and the political wings of some of the jihadi and sectarian groups also have an open field for campaigning.
All these parties are either overtly religious, or are run by right-wing liberals with religious leanings.
Campaign of attacks
The question is, can the secularists defy the militant threat and assert themselves to ensure a level playing field in the vote?
An answer would depend on how serious the militant threat really is, and whether the country's intelligence-cum-security apparatus has the competence or the will to deal with it.
Islamist parties like the JUI face no threats in campaigning
Thus far, the militants have repeatedly demonstrated their ability to attack the secular parties, while the security forces have failed to clear them out of their known sanctuaries in the north-west.
The ANP party, which led the outgoing administration in Khyber Pakhtunkhwa, has been the worst hit.
In October 2008, the party's chief, Asfandyar Wali, narrowly escaped a suicide bomb attack near his residence in Charsadda. Since then, the party's top leaders have limited their movements and have avoided public exposure.
A recent report by BBC Urdu said that more than 700 ANP activists have been killed by snipers or suicide bombers during the last four years, including a top party leader, Bashir Bilour.
In recent weeks, low-intensity bombs have gone off at several local ANP election meetings, reducing its ability to conduct an open campaign.
Wings clipped
The PPP's losses at the grassroots level are minimal, but it did suffer a major shock in 2007 when its charismatic leader and former prime minister, Benazir Bhutto, was assassinated in a gun and bomb attack.
The then government, which was headed by Gen Musharraf, blamed the attack on the Pakistani Taliban on the basis of some communication intercepts and half a dozen arrests.
President Zardari (left) and his son Bilawal have yet to start campaigning
In June 2011, Ms Bhutto's husband and by then the president of Pakistan, Asif Zardari, was stopped from visiting his ailing father in an Islamabad hospital after the intelligence agencies uncovered what they claimed to be an assassination plot involving several Taliban suicide bombers.
As for the MQM, it has its main base in Karachi, and is reported to have a strong militant wing of its own, a claim it denies. But in recent months its activists have been targeted by the Taliban, including a provincial lawmaker, Manzar Imam.
Whether or not these parties will hit the campaign trail in a big way just as their right-wing competitors have done will become clear over the coming days and weeks.
They will be desperate to do so. Their leaders, especially those of the PPP and ANP, have been out of touch with the voters for nearly four years due to restricted movement.
Their inability to openly access the voters now may make it difficult for them not only to stem some of the unpopularity they may have earned during their incumbency, but also to prevent their more loyal vote-bank being eroded.
For many, the situation is becoming more like the 2002 elections, when the military regime of Gen Musharraf forced the main political leaders into exile, creating conditions for religious forces and conservatives to sweep the election.
Often those with the largest vote, the secular political forces have in the past had their wings clipped repeatedly by a powerful military establishment which finds an Islamic image of the state more suited to its security needs.
Now that job is being done by the Taliban.
---
Pakistan votes in landmark election
By Owen Bennett-JonesBBC News, Lahore
The 11 May elections will be different from any that have been held in Pakistan before. And it's not only because for the first time an elected government will finish its term and hand over power to a democratically elected successor.
For decades Pakistani politics has consisted of a series of military regimes interspersed with governments run by two parties: the Bhuttos' Pakistan People's Party (PPP) and the Sharifs' Pakistan Muslim League (PML-N).
And as millions of Pakistanis have repeatedly complained, the PPP and the PML-N have been little more than family businesses generating vast fortunes for a tiny and fabulously rich ruling elite.
But this election contains new, unpredictable elements.
1. Imran Khan
The cricketer-turned-politician, long dismissed as a political no-hoper, has mounted a serious challenge. Before he fell off a lift and injured his back, he was storming around the country, holding as many as seven mass rallies in a single day.
Privately, government officials say that their internal polling suggests that Mr Khan's PTI will win a significant number of seats.
Continue reading the main story
11 May elections
• Polls open at 08:00 local time and close at 17:00
• 86,189,802 registered voters
• 5,000 are standing for 342-seat National Assembly, 272 are directly elected.
• 11,692 Provincial Assembly candidates
• 51 candidates are vying for the NA-48 constituency seat in Islamabad
• More than 600,000 security and army personnel will be deployed to guard against possible attacks
• More than 73,000 polling stations - 20,000 of which are deemed a security risk
• Polls will mark the first time that a civilian government has completed a full five-year term and handed over to an elected successor
• Politicians and parties
• Q&A: Pakistan's elections
As the change candidate, Imran Khan draws significant support from disparate groups.
His most vocal support comes from young people, many of them vowing to vote differently from their parents.
He also appeals to liberals who hope that, at heart, his days as a Westernised, high-living playboy are not really over.
But equally significant is his appeal to the middle classes, many of whom have tended not to vote in recent elections.
The economic growth of the Musharraf years increased the number of property-owning Pakistanis. They tend to be conservative, anti-American, pious, nationalistic and infuriated by the venal upper classes.
Imran Khan's campaign speeches have reflected all their attitudes.
2. New voters
A new electoral roll has injected another element of unpredictability. A reinvigorated Electoral Commission has overhauled the lists of those eligible to vote.
There are now 85 million verified voters. Since the last election, the commission has removed 37 million bogus names and added 36 million new ones.
Of course some things remain the same.
In many parts of Pakistan such as interior Sindh, Balochistan, southern Punjab and parts of the north-west, traditional feudal and tribal structures remain in place and the electorate there is expected to follow traditional voting patterns.
It means the election will be decided in the country's richest province, Punjab. In many Punjabi constituencies there are now three way contests between the PTI, the PPP and the PML-N, making the results highly uncertain.
There is a widespread expectation that nationally no one party will win an overall majority and whoever emerges as the leader of the biggest party will have to put together a coalition.
3. Taliban threat
Whilst the country's major politicians slug it out on the campaign trail, there are also deeper trends affecting these elections.
During the last election campaign, in 2008, they observed a ceasefire. This year they are openly calling for the overthrow of the democratic system and attacking politicians from the parties which criticize them. So far bombings and shootings have killed more than 100 people in election-related violence.
Whilst the jihadis are both visible and aggressive, there are other emerging power centres.
4. A resilient judiciary
In the past Pakistan's judiciary tended to acquiesce to whoever was in power.
Although judges are still intimidated by religious extremists, they are increasingly willing to confront the politicians. And there are signs they are even daring to stand firm against the army.
General Musharraf's decision to return to the country has caused deep frustration in the military leadership. It is nervous that the Musharraf case might set a precedent in which senior officers face trials in civilian courts.
"Start Quote
In a recent by-election one politician was filmed slapping the election officials counting the vote"
Behind the scenes the army is pressuring the courts to allow Gen Musharraf to leave the country on the grounds that he needs to see his ailing mother in Dubai. So far the judges have refused to comply.
If the judges stand firm they could establish a significant disincentive for future coups.
5. Media power
It's not just the judges who are flexing their muscles.
With sensational minute-by-minute news coverage, the satellite TV stations have emerged as a major power in the land.
With the ability to deploy journalists and camera crews all over the country and to go live to cover even the smallest incident at a moment's notice, they should make it much harder for anyone to fix the election results.
Pakistanis are now using their mobile phones to film abuses by the ruling elite. In a recent by-election one politician was filmed slapping the election officials counting the vote. The clip was repeatedly played on news channels, provoking demands for the politician to be disqualified from sitting in any assembly.
Pakistan faces many deep crises. After the Nato withdrawal from Afghanistan in 2014 the economy will be starved of billions of dollars' worth of foreign aid. Power cuts are now so common that it is difficult for factories to function properly.
Jihadis, as well as openly attacking democracy, are increasingly mounting sectarian attacks and persecuting minorities.
Partly because economic issues are a more immediate concern, many Pakistanis dismiss the jihadi challenge, explaining it away as only a reaction to the US presence in Afghanistan. In fact it is an internal, ideologically driven revolutionary uprising aimed at taking over the state.
Pakistan has defied many dire predictions in the past. Many in the elite and the middle classes remain confident they can hold the line.
But some concede that keeping the jihadis at bay may require outside help.
"Let's face it," one senior civil servant put it to me. "Can the world really afford to allow a nuclear power to fall into the hands of the crazies?"
Owen-Bennett-Jones presents Newshour on the BBC World Service.
----
Pakistan votes
• As it happened
• Election - in 90 secondsWatch
• Secularists face militant threat
• 'Tiger of the Punjab'
---
11 May elections
• Polls opened at 08:00 local time (03:00 GMT) and closed at 17:00
• 86,189,802 registered voters
• 5,000 are standing for 342-seat National Assembly, 272 are directly elected.
• 11,692 Provincial Assembly candidates
• 51 candidates are vying for the NA-48 constituency seat in Islamabad
• More than 600,000 security and army personnel will be deployed to guard against possible attacks
• More than 73,000 polling stations - 20,000 of which are deemed a security risk
• Polls will mark the first time that a civilian government has completed a full five-year term and handed over to an elected successor
• Politicians and parties
• Bid to end ballot box fraud
• Economy confronts Pakistan's leaders
Source: BBC News
URL: http://www.newageislam.com/current-affairs/lyse-doucet,-bbc/pakistan-votes-in-landmark-election--nawaz-sharif--set-for-victory-/d/11527