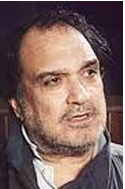 By Khaled Ahmed
Dec 14 2013
Prime Minister Nawaz Sharif is determined to "normalise" relations with India, backed by a business community consensus that bilateral trade and investment should be facilitated. A lot of paperwork has gone into it, many meetings have been held. Some progress has also been made, but unspoken hurdles have come in the way and the process is halted. And bad things happen, like cross-border incidents on the LoC in Kashmir, to spur the national mindsets into warlike expression.
Populism and elections, where politicians touch base with the "negative" aspects of the electorate, may then postpone any groundbreaking initiatives going against years of "nation-building". Sharif raised the Kashmir issue at the UN this year; Manmohan Singh retorted by calling Pakistan the epicentre of terrorism. After that botched Washington visit, where he called Singh a "village woman" — off the record — Sharif once again renewed his pledge to open trade and connectivity with India.
His foreign and security policy advisor, Sartaj Aziz, followed up by asking India to get down from Siachen in step with Pakistan, cleverly grounding his argument in the internationally popular issue of the environment. India predictably refused. And we are where we have always been, mutually hostile, with Singh assuring his voters that Pakistan will not win the war against India in his lifetime. (Note the "electoral" twist in his self-reference.)
Pakistan raises old issues the world has forgotten, unmindful of its latest phase of a "failing state" where the national consensus in the shape of an anti-American, anti-drone "shifting of allegiance" to the Taliban is scaring the world. India raises new issues like cross-border terrorism, over which it knows Pakistan has no control, and wants the known but more-powerful-than-the-state terrorists punished, exposing Pakistan once again to erosion of internal sovereignty, which means the state no longer exists. Both countries are caught in this binary, while the "indirect" solution hidden in normalisation through trade and connectivity fades away. What both forget is the fact of mutual nuclearisation: they cannot go to war if that is what "populism" means.
Stephen P. Cohen, who has sung his constant background dirge to India-Pakistan irreconcilability, has produced this insight in his latest book Shooting for a Century: Finding Answers to the India-Pakistan Conundrum (2013): "India's newfound capabilities and Pakistan's weaknesses add up to a paradox. As the Pakistani state weakens, normalisation becomes all the more urgent, and the economic means to bring it about may be within India's capabilities. Yet the arguments against pursuing normalisation with a fading country are also powerful: why act, when the fruit will fall from the tree on its own accord? There are other obstacles to normalisation, including the structure of the normalisation process. Bilateral normalisation requires willingness on both sides, the neutralisation of those who hold a veto, and at least the tacit consent of major third parties. Finally, there are important differences among and between Indians and Pakistanis in defining what 'normal' might actually look like."
Hostile incidents trigger a populist response on the surface, but the bilateral mindset is the obstacle of the deep end. An important book I read in 2002 is Prejudice and Pride: School Histories of the Freedom Struggle in India and Pakistan by Krishna Kumar, who remains for me the most perceptive living Indian. He says: "A human child is 'socialised' by his parents through a certain process of conditioning to elicit from him a behaviour of obedience. Similarly, a state too undertakes conditioning to produce obedient citizens. It uses history to create a uniform mind (national identity) and puts a carefully cultured version of it in the school textbooks.
"India and Pakistan have 'defined' each other forever in the textbooks their citizens read and not all citizens are in the business of reading history on their own and finding out where it was distorted. What results is the tendency on the part of Indians and Pakistanis to forestall knowledge by implying that they already know each other.
"Both countries live with the assumption that they know each other. The 'other', after all, is a former aspect of the 'self'. There is no room for the curiosity that foreignness normally awakens. Physical vicinity compounds this feeling. If India and Pakistan were geographically apart, there might have been a chance for the kind of anxiety that lack of news about a hostile relative residing far away causes. India and Pakistan are politically so far apart and culturally and geographically so close that there is no room for an epistemic space between them."
Pakistan tried self-correction in 2006, and the federal government asked the provinces to purge their textbooks of anti-India bumf. But to this date the directive has not been uniformly obeyed — another evidence of the weakening of the state.
Madiha Afzal, assistant professor of public policy at the University of Maryland and a non-resident fellow at the Brookings Institution, appeared on TV recently in Pakistan to highlight the problem. She produced the following observation about Pakistani textbooks in a Pakistani newspaper in October: "The view of history presented here remains one-sided, with India and Hindus consistently presented as conspiratorial and deceitful — both before the creation of Pakistan and after independence, resulting in, among other things, the break-up of Pakistan in 1971. The word 'conspiracy', overwhelmingly used with reference to India, is an all too frequent refrain. Pakistan and its leaders are, no surprise, always selfless, sincere and honest. As in the Sindh textbook, Bangladesh's creation is stated to be the work of a 'secret arrangement of big powers'. No wonder that Pakistanis are the world's foremost conspiracy theorists."
You can't change the mindset in South Asia but you can "distract" it through a focus on the South Asian economy, if the environment doesn't appeal to you as a "real and present" danger. No one can begrudge you recourse to Adam Smith to save your millions of poverty-stricken people from starvation — the sort suffered by the people of Afghanistan where no one thought beyond the "honour" of jihad and defying America.
Prime Minister Singh, like Atal Bihari Vajpayee before him, has contributed most to effective verbalisations of the "trade model" under Saarc in the wake of the kind of economic integration realised by Asean at the eastern end of Asia, where the marine frontiers otherwise give rise to countless inter-state disputes. India and Pakistan need to return to the resolutions they have signed at Saarc.
The emerging vision of South Asia supersedes the conflictual paradigm that nation-states usually follow. It not only brings the region into a trade-tipped coalescence based on physical connectivity needed for free trade, but also realises the prospect of opening South Asia to contiguous regions. To overcome South Asia's energy deficit, Saarc states will be compelled to overcome their old conflictual instincts and develop road and pipeline linkages with energy-rich regions in the west and high-growth states in the east. The most important outlets are going to be to the Central Asian states through Pakistan and Afghanistan, and to Iran through Pakistan. All South Asian states will participate in this trade highway while Pakistan and Afghanistan will wake up to their strategic importance as median states.
Alas, on December 5, the message from the secretary general of Saarc on the occasion of its 29th Charter Day went unnoticed in the region.
Khaled Ahmed is a consulting editor with 'Newsweek Pakistan'
Source: http://www.indianexpress.com/news/the-trade-highway-to-peace/1207521/
URL: http://www.newageislam.com/current-affairs/khaled-ahmed/indo-pak-trade-highway-to-peace/d/34848