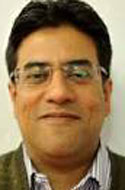 By Kamal Siddiqi
May 12, 2013
Mubarak Mian Sahab. You have been given another chance and that too with a thumping majority. This gives you the muscle to take steps that previous governments have been unable or unwilling to. How will you be different? On being sworn in, you will have created a record of being the first PM to score a hat trick. How else do you want us to remember you in times to come?
Challenges are many. But given how you patiently waited in the past five years and worked for democracy in the long term interests of Pakistan, one has high expectations. You have to tread carefully in some areas but decisively. You have the mandate to move mountains. Use that mandate to your advantage but not to bulldoze things. In many areas, consensus should be adopted. Despite the fact that some provinces did not vote for your party, this is the time to prove that you are the leader of all Pakistanis.
For starters, this is a different Pakistan than the one you left as PM in 1999. The media is much freer now. Be as patient with them as was the outgoing government. In return, the media will be your best check on how your government is doing. Let them be a mirror to your government.
Your opposition is also different. The PPP-MQM combine is predictable. Be more tuned to the PTI. They will give you a run for your money in days to come. They have a better understanding of the pulse of the nation.
And then some things will be familiar. Once again there will be a combination in the power troika in place as we saw when you were PM first time round. But don't insist on replacing such offices with people whose only qualification is loyalty. Bring people on merit when the time comes.
Your twin challenges are the economy and terrorism. Jump-start the economy. The private sector has high hopes in you. Bring in professionals to reform sick and ailing public sector enterprises. Reform the taxation system. Work towards attracting foreign investment. But this will only be possible if the perception of corruption in the bureaucracy is addressed. Do away with red tapism.
Work on the country's infrastructure. But don't ignore the social sector. We need heavy investments in health and education. Continue to engage the youth. They may become your biggest supporters. But at the same time don't give in to the temptation of populist schemes. They cause more bad than good. Billions are wasted. Work to build institutions.
Listen to the people. Don't overly rely on the bureaucracy. In the past too you have worked on your political instincts. Do away with archaic laws and appoint competent officials to deliver on government services. Take public officials to task.
Address the issue of terrorism head on. Initiate dialogue but do not be taken for a ride. Be patient but do not unnecessarily delay action. Work for peace but be willing to use force to ensure the writ of the state.
Be sincere in improving the on-ground situation in Balochistan and in other troubled parts of the country. Work against militancy in the interests of Pakistan. Improve the law and order situation in Karachi. Address the fears of our country's religious minorities and marginalized communities. They have been neglected for too long.
Do continue where you left off in relations with India. Also work towards regional dialogue. Relations with the US will be tricky given your political stance on a number of issues. Give our foreign policy a breath of fresh air. Think out of the box. Don't let others hijack your foreign policy initiatives.
Overseas Pakistanis are your biggest strength. Do not let them down. Address their problems. Give them enough reasons to invest in their home country.
Finally, don't waste your time settling scores or scoring points. Stay away from political victimization. Bring in a professional team that is representative of the country. Bring in people who understand problems and are willing to work towards solutions, not towards enriching themselves. Pakistan has given us all a lot of chances and opportunities. The time now is to give something back to the country. Let us begin.
Kamal Siddiqi is Editor of The Express Tribune
Source: http://tribune.com.pk/story/548305/mandate-to-move-mountains/
URL: http://newageislam.com/current-affairs/kamal-siddiqi/pakistan-elections--mandate-to-move-mountains/d/11563