Seminar Report compiled by Jamil Maqsood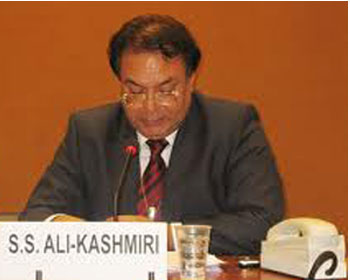 (Sardar Shaukat Ali Kashmiri Chair UKPNP (Human Rights Council 6Th Session UN Geneva)
United Kashmir People's National Party Organized Seminar On "Kashmir Conflict and Chinese Design in the Region" On 22nd February, 2012
The United Kashmir People's National Party (UKPNP), Belgium branch held a seminar on the title of "Kashmir Conflict and Chinese designs in the Region" Workers and office bearers of the Party's Belgian branch has vehemently participated in the seminar and a larger number of Kashmiri Diaspora as well as activist from the different political parties were also among the participants. Local journalists as well as Pakistani journalists were present there. Mr. Beersmans Paul, President of the Belgian Association for Solidarity with Jammu & Kashmir (BASJAK), and renowned writer and intellectual Mujahid Hussain also participated in the seminar and shared their personal experiences and shed light on the present situation in the region and in Pakistan and its historical perspectives and future prospects. Muhammad Ishaq Khan presided the seminar while Jamil Maqsood General Secretary of the Party's Belgian Branch was moderator.
Chairman United Kashmir People's National Party (UKPNP), Sardar Shaukat Ali Kashmiri addressed as a chief guest in the seminar and he has comprehensively elaborated about the history and politics of the region as well as he bring into light all the aspects on recent Chinese interest in the region of Gilgit Baltistan which is part of the former princely state of Kashmir.
Dear friends, ladies and Gentlemen, First of all I welcome all of you here to encourage us and give us your support in peaceful endeavour for the rights of our people and for the cause of unification of the state of Jammu and Kashmir. The State was divided due to tribal and military intervention of Pakistan in 1947, despite the fact that Maharajah of Kashmir had signed a standstill agreement with Pakistan. It was the violation of our boundaries drawn in 1846, under treaty of Amritsar. It was unfortunate that since its inception Pakistan has taken the position of intervention in to neighboring countries and the target was princely state of Kashmir. Later Pakistan also violated UNCIP resolutions and stipulations imposed by the truce agreement. Pakistan has failed to comply with the UN resolutions and disrespected local leadership and created proxies to rule that region under its administration. Tragically Pakistan segregated Gilgit Baltistan from rest of the areas and keeps the people marginalized and political voices suppressed. After failure of snatching Kashmir by force Pakistan started proxy war in the region of Kashmir. The Chinese interest started back in 60s when both China and India were engaged in the war of 1962, a year later in 1963, Pakistan handed over one of the strategic part Trans Karokaram Tract to China which is part of the state in Northern Kashmir in Gilgit-Baltistan. First of all Pakistan has no locus standi on Kashmir and however Pakistan has no legal authority to distribute Pakistani Administered Kashmir with third country or to trade our natural resources with anyone else. It was not in the mandate of Pakistan by Security Council resolutions and truce agreement.
The people of the Gilgit Baltistan were occupied in 1949, under Karachi agreement which has never been validated by nationalist and pro-people forces in the area. All the signatories of that accord were none local and later one of the main accused Sardar Muhammad Ibrahim Khan president of Pakistani Administered Kashmir at that time denied many times in public rallies that he didn't signed Karachi Agreement. His statements of denial shows that Powerful Pakistani institutions have bulldozed local authorities and public opinion since long and present day situation is the result of those foundations lay down at the time of country's birth.
Ladies and Gentlemen,
The United Kashmir People's National Party and the people of Gilgit Baltistan have been demanding that Karachi agreement must be revoked and both regions must be linked in socio-economic and socio-political discourse of the region fell under the administration of Pakistan in 1947.
Ladies and Gentlemen,
In September-2009, Government of Pakistan has introduced Gilgit Baltistan empowerment package which was called that old bottle has been filled with new wine and that package has inadequate social, political and economical freedoms for the people of the region. And the new package is also failed to address social, economical and political demands of the people of that region.
Ladies and gentlemen,
Both countries were assigned different responsibilities under the United Nations resolutions. India came into Kashmir through a treaty while Pakistan was asked to withdraw its forces and civilians who are staying there for the purpose of war. It is unfortunate that India also didn't act according to the letter and spirit of the Treaty of accession. It was prime responsibility of India that she has to restore state integrity. We also demanding that UN resolutions must be implemented but majority of Pakistani nationals think contrary and are not aware what is written in those resolutions. India should realise its responsibilities regarding former princely state and it is her legal obligation.
Ladies and Gentlemen,
We had immediately held a seminar in 2009, in Brussels to herald world community about the future repercussions of that package. Our findings at time were that Pakistan is trying to advance its agenda through the division of our state and that she is gradually colonizing natural resources of the region. The entire scenario was changing in the light of delicate US, Pakistan fragile diplomatic relations since Osama Bin Laden was found in Pakistan in May 2011. We have always emphasized on the world community that Pakistan is using terrorism as foreign policy tool and also importing and exporting terrorism and extremism in the world. We have also told the world community through our meetings and briefings in the European parliament, at United Nations Council for Human Rights, with other high level intellectual and civil society activists in various western capitals.
Ladies and Gentlemen, Two years back China has changed its policy towards the citizens of the state under Indian administration. Beijing has issued sample visas while they have another policy for the people of Pakistani Administered Kashmir regions of so called Azad Kashmir and Gilgit Baltistan. We have criticized double standards and dual Chinese foreign policy on Kashmir. We had apprehended that China is violating line of control and encroaching over borders.
Since two years some dramatic changes have took place in our region. The news has given an alert to the regional actors that Chinese regular forces have seen deployed to Pakistani Administered Kashmir (The so called Azad Kashmir) and Gilgit Baltistan. We have had showed our resentment over such news and rejected Chinese military presence in the state.
Now it is open to us and also to the world community that China is taking lease of Gilgit Baltistan 28.000 Sq miles, and approximately two million populations, from Pakistan which would have serious threat to international peace and to the regional stability as well.
We the people of Pakistani Administered Kashmir have strong political and historical links with Gilgit Baltistan. Our concern is that both China and Pakistan are not allowed to colonize our area and its natural resources for their own interest and benefit that the historical border of the state must be respected.
Ladies and Gentlemen,
We shall not allow both countries to occupy our land to advance their national agenda. We have pragmatically put forward our historical road map in 1993, in the European Parliament and we are peacefully striving for the unification of the state. We believe that former princely state in multi-lingual, multi-religious, multi-cultural, multi-ethnic and multi- national and we have to recognize these facts and educating our people and rest of the world on modern realities of the state. We believe that by respecting the boundaries of our state the entire south Asian region would grasp the opportunities of peace, development and stability.
Ladies and Gentlemen,
We are also thankful to the European Parliament and many European states that they have supported rights of the people of former princely state as well as they have stressed on Pakistan, India and China not to disturb the historical boundaries in May-2007, through a European Parliament resolution. We stressed on Government of India to fulfill its obligations of uniting Kashmir and play its role not to divide the state of Jammu & Kashmir. We emphasized on Pakistan through this august gathering that the policy of dividing Kashmir wouldn't benefit Pakistan, but it could further hostile the war torn region. Pakistan must accept the right of self rule of the people under its administration and it should refrain from the policy of using both regions as terrorist's hub, and launching pad. The entire terrorist infrastructure must be dismantled and lease plan to Gilgit Baltistan must be revoked.
Mr. Beersmans Paul in his speech elaborated his personal experience during visit to the different parts of the former princely state. He said that he has been working in United Nations Military Observer Group in India, Pakistan (UNMOGIP), and that he knows about the Kashmir case out of Kashmir. He told the gathering that he met with several leaders, civil society activists, journalist, and other common man on the street of Jammu, Srinagar and Ladakh. He narrated his story of visiting Pakistani Administered Kashmir as official guest of the Government of Pakistan in back-1995. He was the guest of Sardar Shaukat Ali Kashmiri, and during his visit to Hajira border town he was arrested by Inter-Services Intelligence (ISI), he was detained and forcibly pushed back to Islamabad. He also intends to visit Gilgit Baltistan but he was not allowed to do so. He said that Pakistani state security apparatus is ruthlessly operating in the region and there is no remedy against that impunity. He said that situation is normalizing in Indian Administered Kashmir and people to getting back to daily business it is welcoming signs and cross border trade is also a welcoming steps and it should be grow on other sides. It is alarming that now China wants to get in to conflict and people must think and protest on new developments. The case is between Pakistan, India and Kashmiri people on all parts and China should refrain from the policy of occupying any part of the state. I'm thankful to United Kashmir People's National Party friends for inviting me to address this seminar.
Nasir Aziz Khan Spokesperson of the party said that Party is vigilantly monitoring whole situation in the region. We think that Government of Pakistan would genuinely address our concerns about the region of Gilgit Baltistan and lease plan should be cancelled. If Islamabad would continue its policy to divide Kashmir than Kashmiri people would also think about their peaceful endeavor for the unification and if there will be any threat to peace and regional order Pakistan and its policy makers would be responsible. Nasir Aziz said that we do welcome peace initiatives between India and Pakistan but we shall not allow both countries especially Pakistan to trade on our natural resources and divide our state.
Addressing at the seminar Sajid Hussain told the audience that Party is in contact with the foreign affairs and human rights committee of the European Parliament. We are demanding that Pakistan must respect European Parliament resolution of 2007, and instead of making plans to divide Kashmir Islamabad should help Kashmiri people in the establishment of good governance and rule of law.
Ghulam Mustafa Khan also spoke at the seminar and said that the United Kashmir People's National Party (UKPNP), has a constitutional stand regarding former state and peacefully striving for the unification, and independence of the divided state. He said that in the presence of the party the state can't be permanently divided it is not a cake in the region and that Party shall emphasized on China to refrain from any policy which could destabilize entire south Asia.
Muhammad Ishaq Khan president of the United Kashmir People's National Party (UKPNP), Belgium unit in his presidential address thanks all the audiences and reiterated that Party would continue its efforts for the unity of the people, revival of our history, civilization, culture and United States of Kashmir. We are blessed with the leadership and guidance of our Party chair who is tirelessly working for the rights of the common people and cause of liberty at all international forums. There is no other force and political representation of the Kashmiri people at international front than the party which lobbying on all powerful institutions. Sherafzal Khan a local poet and writer presented a touching verses on Maqbool Bhat and his struggle. The seminar was concluded with following resolutions and meal was also served.
Resolutions:
1- All the participants unanimously agreed upon and stressed on Pakistan that she should refrain from the policy of handing Gilgit Baltistan to the People's Republic of China that no conspiracy shall be succeeded in this regard and Kashmiri people unitedly resist expansionist designs of China.
2- The participants unanimously demanding from the world community that they don't accept any move to divide former princely state and they stress on Pakistan for the revival of fundamental constitutional, political, socio-economic, development, education and health rights and that Pakistan must withdraw its forces and non state actors according to the truce agreement.
3- All the participants unitedly demanding that Skardu, Ladakh route on LOC (Line of Control) be opened so that inter-cultural and historical trade relations are revived among the people of both regions and divided families could benefit from the ongoing peace process between both countries. We also emphasis that Chinese forces must be withdrawn from the region.
4- The participants of the seminar call upon world community to listen to the voices of pro-people and patriotic forces of the region and they should take pragmatic steps in this regard.
5- The stipulations of UN resolutions, truce agreement and recommendations of the European Parliament resolution of May-2007, must be seriously considered, respected and implement, and the legitimate concern of the state citizens must be listened and addressed.
6- Note that there is widespread resentment in the people of the region in the presence of regular Chinese army troops in the region.
7- The participants expressed their solidarity with Baloch people and extending their support for their right to self-determination, that they unanimously demanding fair trial for all those who have been illegally kidnapped by the security agencies in Balochistan and in Pakistani Occupied Kashmir and Gilgit Baltistan.
Issued by: United Kashmir People's National Party (UKPNP) Belgium Branch International Secretariat: Rue Du Trone-115/3 Brussels-1050- Belgium
URL: http://newageislam.com/current-affairs/jamil-maqsood/kashmir-conflict-and-chinese-design-in-the-region/d/6778