By Jack Moore
December 15, 2014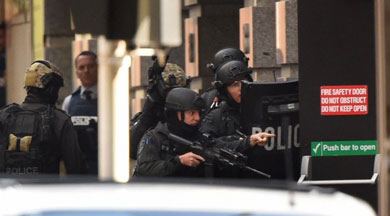 Police gesture as a hostage (unseen) escapes from an emergency exit during a hostage siege in the central business district of Sydney
A number of Australian Muslim organisations have expressed their "shock and horror" at the unfolding hostage situation in Sydney's Martin Place.
A gunman forced hostages inside a Lindt cafe to hold up a black Islamic flag in what is a suspected attack by a person "claiming political motivation", according to Australian Prime Minister Tony Abbott.
A statement from 50 Australian Muslim organisations said that the community's "thoughts go to the hostages and their loved ones" and that they "pray for their safety".
"The Australian Muslim community shares with fellow Sydneysiders their utter shock and horror at the unprecedented scenes emerging from the Lindt cafe in Martin Place this morning," the statement reads.
"We reject any attempt to take the innocent life of any human being, or to instil fear and terror into their hearts.
"Any such despicable act only serves to play into the agendas of those who seek to destroy the goodwill of the people of Australia and to further damage, and ridicule the religion of Islam, and Australian Muslims throughout this country.
"We urge everyone to stay calm as the police and authorities continue to deal with this incident and the facts come to light. We ask Australian media to be responsible in their reporting. This is a time for all Australians to stand together and support each other.
"We pray for a swift resolution to this crisis with no injuries or loss of life."
The attacker is believed to be armed and wearing a backpack and a black bandana. He forced three hostages to hold up an Islamic flag to the shop window, which read in Arabic: "There is no God but Allah, and Muhammad is his messenger."
In a press conference in response to the hostage situation, Abbott said: "Australia is a peaceful, open and generous society - nothing should ever change that and that's why I would urge all Australians today to go about their business as usual."
http://www.ibtimes.co.uk/sydney-siege-australian-muslim-community-voices-shock-horror-martin-place-hostage-crisis-1479532
-------
Five People Flee Armed Siege Cafe
15/12/2014
Five people have fled from a cafe in Australia where a gunman took an unknown number of hostages at the height of the morning rush-hour.
Earlier, two people inside the building were seen holding up a flag containing an Islamic declaration of faith.
The first development came six hours after the hostage crisis began, when three men were seen running from a fire exit of the Lindt Chocolat Cafe in central Sydney.
Shortly afterwards, two women, one after the other, sprinted from the cafe and into the arms of heavily armed police. Both were wearing aprons with the Lindt chocolate logo, indicating they were members of staff.
"We do not have any information that suggests that anybody is harmed at this stage," New South Wales Police Deputy Commissioner Catherine Burn said, after the first three hostages had emerged.
St. Vincent's Hospital spokesman David Faktor said a male hostage was in a satisfactory condition in the emergency department. He was the only one of the freed hostages to be taken to hospital.
"He's in a satisfactory condition, so he's sitting up and that's all we can give out. We can't talk about the reason for his presentation," Mr Faktor said.
It was not clear how many people remained inside the cafe in Martin Place, a plaza in the heart of Sydney's financial and shopping district that is packed with holiday shoppers at this time of year. Many of those inside the cafe would have been taken hostage as they called in for coffee on their way to work.
New South Wales state police Commissioner Andrew Scipione said police did not know the gunman's motive.
"We have not yet confirmed it is a terrorism-related event," he said. "We're dealing with a hostage situation with an armed offender and we are dealing with it accordingly."
Ms Burn said police negotiators have made contact with the gunman.
Hundreds of officers flooded into the area, streets were closed and offices evacuated. Members of the public were told to stay away from Martin Place, home to the state premier's office, the Reserve Bank of Australia, and the headquarters of two of the nation's largest banks. The state parliament house is a few streets away.
Television footage shot through the cafe's windows showed several people with their arms in the air and hands pressed against the glass, and two people holding up a black flag with the Shahada, or Islamic declaration of faith, written on it.
The Shahada translates as "There is no God but Allah and Muhammad is His messenger." It is considered the first of Islam's five pillars of faith, and is similar to the Lord's Prayer in Christianity. It is pervasive throughout Islamic culture, including the green flag of Saudi Arabia. Jihadis have expropriated the Shahada in their own black flag.
"This is a very disturbing incident," Prime Minister Tony Abbott said. "It is profoundly shocking that innocent people should be held hostage by an armed person claiming political motivation."
Heavily armed officers were lined up outside the cafe, and a man with a backpack inside the cafe could be seen walking back and forth in front of the glass doors.
"Police have been in attendance and have controlled the situation from very early this morning," said Mr Scipione.
Lindt Australia posted a message on its Facebook page thanking the public for their support.
"We are deeply concerned over this serious incident and our thoughts and prayers are with the staff and customers involved and all their friends and families," the company wrote.
The government raised Australia's terror warning level in September in response to the domestic threat posed by supporters of the Islamic State group. Counter-terror law enforcement teams later carried out dozens of raids and made several arrests in Australia's three largest cities - Melbourne, Sydney and Brisbane.
One man arrested during a series of raids in Sydney was charged with conspiring with an Islamic State leader in Syria to behead a random person in central Sydney.
The Islamic State group, which now holds a third of Syria and Iraq, has threatened Australia in the past. In September, Islamic State group spokesman Abu Mohammed al-Adnani issued an audio message urging so-called "lone wolf" attacks abroad, specifically mentioning Australia. He told Muslims to kill all "disbelievers", whether they be civilians or soldiers.
"I would like to give you as much as I can but right now that is as much as I can," New South Wales state police Commissioner Andrew Scipione said. "First and foremost, we have to make sure we do nothing that could in any way jeopardise those still in the building."
"Our only goal tonight and for as long as this takes is to get those people that are currently caught in that building out of there safely."
Channel 10 news said it received a video in which a hostage inside the cafe had relayed the gunman's demands. The station said police requested they not broadcast it.
Mr Scipione asked all media that might be contacted by the gunman to urge him instead to talk to police.
Workers in the cordoned-off area have been asked to stay at home tomorrow, indicating police believe the hostage drama could stretch into the next day.
Seven Network television news staff watched the gunman and hostages for hours from a fourth floor window of their Sydney offices, opposite the cafe.
The gunman could be seen pacing back and forth past the cafe's four windows. Reporter Chris Reason said the man carried what appeared to be a pump-action shotgun, was unshaven and wore a white shirt and a black cap.
Earlier in the day, network staff counted about 15 different faces among hostages forced up against the windows.
"The gunman seems to be sort of rotating these people through these positions on the windows with their hands and faces up against the glass," Mr Reason said in a report from the vantage point.
"One woman we've counted was there for at least two hours - an extraordinary, agonising time for her surely having to stand on her feet for that long."
"Just two hours ago when we saw that rush of escapees, we could see from up here in this vantage point the gunman got extremely agitated as he realized those five had got out. He started screaming orders at the people, the hostages who remain behind," he added.
Mr Reason later said that staff brought plates of food from a kitchen at the rear of the cafe and the hostages were fed.
Source: http://www.independent.ie/world-news/five-people-flee-armed-siege-cafe-30835818.html
URL: http://newageislam.com/current-affairs/jack-moore/sydney-siege--australian-muslim-community-voices--shock-and-horror--at-martin-place-hostage-crisis/d/100490