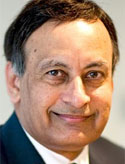 By Husain Haqqani
06 September 2014
The Pakistani military does not realise that its meddling makes Pakistan more unstable, not less, as does its insistence on a narrow definition of the national interest, which civilians are not allowed to alter
Pakistan's current political turmoil should be seen as the symptom of a deeper malaise. Although most political parties represented in Parliament have rallied to the side of preserving the country's fragile democratic system, there are still powerful forces that oppose democracy. And the unwillingness of Pakistan's powerful military to disengage from politics even when it is not ready to assume power in a coup will continue to be a disruptive factor for some time to come.
In any other democracy, protests against the alleged rigging of polls 15 months after the counting of votes would have been pooh-poohed. But Imran Khan was still able to turn his star power into a crowd of a few thousand protesters, arguing that the Parliament to which he was elected did not have an honest mandate. The Canada-based cleric, Tahir-ul-Qadri was also able to return from his exile for a second time in two years to demand the resignation of Prime Minister Nawaz Sharif along with a call for a people's revolution.
Elsewhere, protesters would make their point and go home while their leaders built up support to challenge the government at the next election. But here they camped outside Parliament for several days while the leaders garnered live television coverage from air-conditioned shipping containers. When the leaders incited violence, the Army offered to protect state buildings but neither soldiers nor the police were willing to forcibly end the sit-in.
The Punjab police, which takes orders from Mr. Sharif's brother, Shahbaz, who is Chief Minister of the province, had botched an earlier attempt to deal with Qadri's cult-like followers in Lahore; 19 people were killed in that incident. This time, the government wanted to keep the body count down.
A few dozen deaths during anti-election rigging protests in 1977 had been used by General Zia-ul-Haq as justification for the imposition of martial law. Gen. Zia had subsequently executed the Prime Minister he deposed and went on to rule for 11 years. Mr. Sharif clearly wanted to avoid that fate by allowing Mr. Khan and Qadri to paralyse life in Islamabad without using force and creating martyrs. Mr. Khan and Qadri are hoping to bypass the waiting time until the next elections even as they tap into disenchantment in Punjab's urban middle class. In doing so, they are emulating Nawaz Sharif himself, who became Prime Minister by not allowing Benazir Bhutto to complete her first term after the 1988 elections. Then, the Pakistani constitution — as amended by Gen. Zia — allowed the President to dissolve Parliament and dismiss the Prime Minister on grounds of corruption or incompetence. Now, the Constitution has been restored to its original form and has no such provision.
History of Military Intervention
Given that Mr. Sharif was elected only 15 months ago and still has three-and-a-half years left in his term, how did Mr. Khan and Qadri expect to oust him with protests involving only a few thousand hardcore supporters? Using a cricket metaphor, Imran Khan hinted that he expected Mr. Sharif to be forced out by "the third umpire" — a clear reference to the military.
Pakistan has a long history of direct and indirect military intervention in politics, usually after a round of street violence or a political stalemate. In 1969, General Yahya Khan replaced Pakistan's first coup-maker, Field Marshal Ayub Khan after five months of protests. At the time, veteran commentator Herbert Feldman summed up the Pakistan military doctrine in relation to domestic politics: "Whenever it was felt in General Headquarters that things were not going according to the taste and opinion of senior officer, the armed forces (in effect the army alone) would move in or contrive to do so."
The Army overthrew civilian governments in 1977 and 1999 after disturbances. Between 1988 and 1999, generals, with support from politicians, were able to successively oust civilian governments by presidential fiat. That then is Pakistan's deeper malaise, the belief that the road to power in Islamabad runs through or should run through Army headquarters.
Admittedly, some things have changed in Pakistan. The major political parties are no longer willing to align with the military to topple their rivals and the country's boisterous media does not allow the kind of secret manoeuvres that were the hallmark of palace coups and military takeovers of the past. Moreover, the Army now insists that it has no political agenda. But the generals continue to cast a long shadow.
Imran Khan's close associate and president of his party, Javed Hashmi, has now gone public with accusations that Mr. Khan told his colleagues that he was being backed by senior Army officers.
Some suspect that the recent protests were timed to coincide with the pending retirement of five top generals, including the head of the ubiquitous Inter-Services Intelligence (ISI), Lt. General Zahir-ul-Islam.
Previous civilian governments, too, have faced engineered crises just as they were about to replace chiefs of the ISI. But there can never be anything other than circumstantial evidence of a link between street protests led by politicians and the desire of certain men in uniform for longer service tenures.
National Discourse
The result of the recent destabilisation is that Mr. Sharif's proclaimed agenda of economic reform and peace with India appears wounded, if not dead. The optimism about civilian ascendancy, generated by the first transfer of power in Pakistan's history from one civilian government to another, last year, is also dissipating.
But Pakistan cannot forever remain in crisis mode if it is to make progress as a modern nation. The military's policy tripod that includes emphasis on Islam as a national unifier, hostility towards India as the principal foreign policy objective and an alliance with the United States that helps defray the costs of Pakistan's massive military expenditures cannot endure with its debilitating effects.
Pakistan's disproportionate focus on ideology, military capability and external alliances continues to weaken Pakistan internally. Pakistan's GDP stands at $222 billion in absolute terms and $547 billion in purchasing price parity — the smallest economy of any country that has so far tested nuclear weapons. Disruptions, such as the recent stand-off, are unlikely to enable consistent economic growth.
But macroeconomic issues and problems such as Pakistan's low literacy and poor quality of education barely get any mention in Pakistan's national discourse. The oversimplified Pakistani middle class narrative focuses on Kashmir and India and on opposing the corruption of elected civilian leaders. The world sees Pakistan as an incubator for terrorism but Pakistanis are lost in debates unrelated to this existential threat.
Mr. Sharif's latest troubles, too, are linked to his attempt to change the focus of Pakistan by taking over foreign and national security policies from the military. He spoke of normal trade relations with India, without insisting on resolving the Kashmir dispute first, and argued that Pakistan's interests are better served by staying out of Afghanistan's internal matters.
His governance is poor and his tendency to fly solo diminishes his ability to fulfil his grand promises. He needs to recognise that winning an election does not mean that elected leaders can govern arbitrarily and only with the aid of family members. Mr. Sharif's weaknesses, however, do not justify abuse for being pro-American and pro-Indian heaped on him by Imran Khan and his over-exuberant supporters in the Pakistani media. If he is ousted by an orchestrated crowd, a similar fate will await his elected successors.
The Pakistani military does not realise that its overt or covert meddling makes Pakistan more unstable, not less, as does its insistence on a narrow definition of Pakistan's national interest, which civilians are not allowed to alter. That, and the inability of the country's politicians to be patient with one another, keeps the country in its permanent state of crisis.
Husain Haqqani, director for South and Central Asia at the Hudson Institute, was Pakistan's Ambassador to the United States from 2008 to 2011. His most recent book was Magnificent Delusions: Pakistan, the United States and an Epic History of Misunderstanding.
Source: http://www.thehindu.com/opinion/lead/pakistans-perennial-crisis/article6384033.ece
URL: http://www.newageislam.com/current-affairs/husain-haqqani/pakistan's-perennial-crisis/d/98932