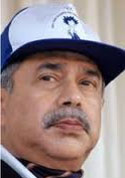 By Hormis Tharakan, Former RAW Chief
November 26, 2013
I arrived in New Delhi on the evening of November 26, 2008, nearly two years after retiring from government service, to attend the first meeting of the reconstituted National Security Advisory Board (NSAB), to which I had just been nominated.
I proceeded to the guest house of BrahMos Aerospace, whom I was advising at that time. There was no TV in my room, and I went to bed after attending to some pending work.
Early next morning, I was woken up by a telephone call from my brother in Kochi. He was surprised that I, a member of the NSAB, was blissfully unaware of what had been going on in Mumbai for the past several hours.
It was he who informed me that several of my former colleagues had been martyred. Sadly, Hemant Karkare was among them. He had worked with me in the Government of India until he returned to Mumbai to become the chief of Maharashtra's Anti-Terrorism Squad (ATS).
Karkare made a tremendous contribution to national security by unravelling the Malegaon blasts mystery, through painstaking, traditional investigative methods based on common sense and human intelligence inputs. He showed that the key to successful counter-terrorism work was and is human intelligence.
Karkare's work forced the intelligence and security agencies to take a second look at every major terrorist event which took place during those years – the Sarojini Nagar blasts of October 2005 in Delhi, the twin blasts at Varanasi in March 2006, the serial blasts in Mumbai's suburban trains in July 2006, the serial blasts in Malegaon in September 2006, the Samjhauta Express blasts in February 2007, and the Mecca Masjid blasts in Hyderabad in May 2007.
There has not been an adequate recognition of the fact that an equally important contribution to the cause of human intelligence was made by assistant sub-inspector of police, Tukaram Gopal Omble, who gave his life to take Kasab alive.
The magnitude and the significance of the intelligence generated as a result of that one act of bravery must put to shame all those who swear by faked encounters, which, to my mind, is the manifestation of the meanest level of cowardice.
Human intelligence is, by and large, generated in two ways – one, by raising and placing human sources in sensitive places and, the other, by interrogating arrested criminals or terrorists. The first is the more difficult way of collecting intelligence.
It is especially difficult to raise human sources in ideologically driven terrorist organisations. Moreover, the reliability of information provided by human sources is always a matter of conjecture. It depends on various factors such as access and previous performance, which need to be constantly reviewed.
On the other hand, terrorists who have been arrested have first-hand access to sensitive information. Intelligence agencies, therefore, tend to place a premium on interrogation reports as a source of reliable intelligence. However, blind reliance on interrogation reports can lead the intelligence and investigative agencies down a slippery slope.
The case of Raziuddin Naser, arrested at Honnali in Davangere district of Karnataka in January 2008, brings out clearly the value of human intelligence generated as a result of interrogation, as well as its limitations.
Information furnished by Naser led to the busting of several of the revived SIMI modules and the arrest of a large number of activists over several states as diverse as Karnataka and Madhya Pradesh.
Looking back, it is amazing how Naser revealed a whole lot of things which turned out to be true. However, the critical roles of Riyaz Bhatkal and Mohammed Sadique Israr Sheikh were never mentioned, either deliberately or because he was not aware of their leadership roles.
The result was that despite the voluminous information provided by Naser, these key leaders remained at large. Ultimately, they carried out a series of devastating blasts across the country later the same year.
The story told by Naser and several others picked up during terror investigations in India over the last few years is that of widespread alienation of Muslim youth in various parts of the country.
Ajay Kumar Singh, a former police chief of Karnataka widely admired for his professionalism, once told me that whenever terrorists are asked why they turned to terror, they invariably give three reasons: the Babri Masjid demolition, the post-Godhra riots, and faked encounters resulting in deaths of innocent persons.
It is beyond the police to correct the first two factors. But they can do a lot to avoid faked encounters and the indiscriminate rounding up of suspects. Very often, investigators are under immense media and political pressure to "show" that some arrests have been made because any delay in finding the perpetrators after terrorist incidents is depicted in the media as incompetence of the police. This leads to arrests being carried out haphazardly.
Our experience over the past few years points to the need for a serious study of the pitfalls that investigation of terrorism cases and their media coverage need to avoid.
Mansfield Cummins, the first chief of MI 6, wrote about the difficulty of raising sources to generate human intelligence abroad. In Britain, he pointed out, every third man one meets would be glad to help his country, "but abroad, the case is entirely different".
Neither the natives of a foreign country nor Englishmen based abroad, he said, would be willing to furnish information, being aware of the risk they will run — to their business, or even to their liberty — if found out.
This is the perennial problem of intelligence agencies, whether they are tasked with collection of external intelligence or terrorism-related intelligence.
However, the daunting nature of the challenge did not deter intelligence operators from developing means to spot talent, cultivate and motivate potential agents, train them diligently in tradecraft, launch them behind enemy lines or infiltrate them into the opposition ranks as required, set up secure communication links with them and look after their welfare as they provide feedback vital to the nation's security.
Old timers in the profession still talk about the exploits of legends such as K Sankaran Nair, considered one of the best ever in the business of running operations. There is no dearth of clever and capable officers in the current lot of intelligence operatives either.
But the advance of technology, which has facilitated generation of what is known as Techint, using surveillance and interception capabilities, seems to have led to a diminution of attention to Humint.
Recent successes, most demonstratively the tracking down of Osama bin Laden, seem to suggest that human intelligence collection will continue to be a critical factor in the war against terrorism. Indian intelligence agencies are traditionally shy of telling their success stories; hence one does not know whether Humint had made a contribution to some of their recent achievements.
There are large numbers of eager young men and women in our country who want to do something to check the menace of terrorism. Unfortunately, several of them come under the influence of fanatical elements who believe in the philosophy of countering terror with terror.
Others slip into activities like vigilantism, to which judicial authorities have taken serious exception. If approached at the right time, screened properly and selected carefully before being motivated and trained professionally in collection of human intelligence, many of them, who have the requisite aptitude and willingness to take risks, could be turned into immensely useful assets for the nation.
Hormis Tharakan is a former chief of R&AW
Source: http://www.hindustantimes.com/india-news/cops-should-avoid-fake-encounters-amp-indiscriminate-rounding-up-of-suspects-former-raw-chief/article1-1155508.aspx
URL: http://www.newageislam.com/current-affairs/hormis-tharakan,-former-raw-chief/cops-should-avoid-fake-encounters-and-indiscriminate-rounding-up-of-suspects--former-raw-chief-hormis-tharakan/d/34597