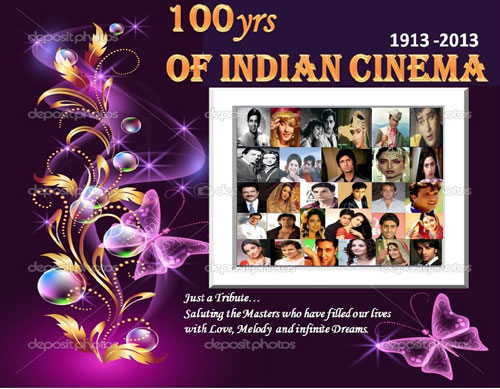 By Hassan Choudary
May 7, 2013
India and Pakistan are two angry nations. Every now and then, there is an unfortunate incident, or two, that makes them mad at each other — really, really mad.
Currently a great deal of tension is mounting on either side of the border.
Although I find myself ineligible to be commenting on the current state of political affairs the two countries are embroiled in, there is this one message I want to send across the border.
On May 3, 1913, Dadasaheb Phalke, an Indian director, producer and screenwriter, released India's first full-length feature film titled Raja Harishchandra. I did some quick math, failed, tried again and in due time figured that this happened 34 years before the partition. For over three decades after its first release, the Indian film industry produced numerous films many of which originated in Lahore, present-day Pakistan.
For a complete list of films and Pakistani film artists who started their careers before partition please direct yourself to the data graciously compiled by the Pakistan Film Magazine.
As the Indian film industry completes 100 years of cinema this year, quite certainly an achievement of mammoth proportions, I as a Pakistani who is also a direct descendent of a citizen of United India and a Bollywood fanatic, have every right to partake in the celebrations.
This is a rare and rather unique event where both nations have the opportunity to be jointly proud of achieving a milestone together, even if the team work to attain this goal comprised 34 per cent of the overall effort.
I have often seen Pakistani and Indian fans fantasising about a cricket team had there been no partition. The thought of a team which has Wasim Akram's genius bowling attack and Sachin Tendulkar's master class batting power makes us quiver.
Does this duet sung by Madam Noor Jehan and Mohammad Rafi have the same effect on you?
It does on me!
What is even more interesting is that this song is from the movie Jugnu starring Madam Noor Jehan alongside probably the greatest actor of Indian cinema Dilip Kumar. That is not it; Jugnu, which is credited as Dilip Kumar's first hit, was produced and directed by Shaukat Hussain Rizvi, Madam Noor Jehan's husband and a Pakistani-to-be.
Now the fact that Yousuf sahib's first major hit was an Indo-Pak collaboration which, ironically, released in 1947, is enough reason for me to take ownership of the Indian cinema. That or the fact that filmmakers B R Chopra, his brother Yash Chopra, Govind Nihalani and lyricist Gulzar have their homes in Pakistan; but no, let me prove to you that my love and association with the Indian cinema does not end on the day Pakistan was born.
The fact is that I have followed Prithivi Raj Kapoor's each step from the first time he took one in Lyallpur in 1901 till the time he was taken to New York by his sons Raj, Shammi and Shashi for treatment and later when he breathed his last in 1972 in Bombay. I have seen his son Raj Kapoor being greeted by hundreds of his Russian fans as he lands in Moscow in the 50s and later when his sons Randhir, Rishi and Rajiv took him to his final resting place in 1988. I have watched Raj's brothers Shammi and Shashi win and rule over the hearts of millions of women. I have seen Madhubala who sill rules over the hearts of millions of men, 44 years after her death.
I have seen Salim take a stand against Akbar for love in Mughal-e-Azam. Love that I have seen in Rajesh Khanna's eyes as he sings "aatay jatay khoobsurat awaron sarkon pay" standing behind a mic, scarf in hand, in the movie 'Anurodh'.
I have followed the journey of Dev Anand the 'guide', and the journey of the several beautiful female superstars he has given to the Indian film industry. I have seen Dharmendra ride horses like a knight that he is, and Amitabh Bachchan ride motorbikes all the way to the halls of fame.
I have watched Sanjay Dutt, I have watched Anil Kapoor, I have watched Sunny Deol, and I have watched them all. I have also watched Pakistanis Mohsin Hassan Khan, Zeba Bakhtiar, Talat Hussain, Abid Ali and Salman Shahid working hard to entertain the audience of the Indian cinema present in all corners of the world.
I have seen Nazia Hassan sing for Feroz Khan the style icon, Nusrat Fateh Ali Khan sing for directors Rahul Rawail and Dharmesh Darshan and more recently Adnan Sami, Rahat Fateh Ali Khan, Atif Aslam and Ali Zafar give huge blockbusters to the Indian cinema.
I have seen Shah Rukh Khan write history from the time he first appeared in Fauji in 1988 and will continue to see him till either of us is breathing.
I know Salman is currently busy shooting for Mental; I know Ranbir was in London last week and I know Aamir is on Time's list of this year's 100 most influential people in the world.
I have a crush on Kareena Kapoor and one on Katrina Kaif, and I've tried emulating Madhuri's dance moves several times and have always been in love with Sridevi. Karishma Kapoor and Juhi Chawla's smiles have brightened my days many a times while Kajol's performance in Gupt gives me goose bumps every time it I watch it on TV.
And last night, as I watched a failed rock star kill himself for the love of the nightingale of India with the lines "sun raha hai na tu ro raha hoon mein" echoing in my ears, I couldn't stop myself from penning the following message:
I am watching you, India, and I love watching you, the same way you love watching Pakistan destroy that middle stump with a fierce Yorker.
Let's try and control our anger.
Happy 100 years of cinema to us!
Source: http://blogs.tribune.com.pk/story/17179/i-am-from-pakistan-and-i-will-be-celebrating-100-years-of-indian-cinema/
URL: http://www.newageislam.com/current-affairs/hassan-choudary/i-am-from-pakistan-and-i-will-be-celebrating-100-years-of-indian-cinema/d/11481