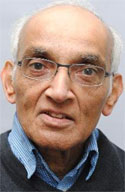 By Hasan Suroor
Dec 20, 2014
Narendra Modi's prime ministership may still be a work-in-progress, but for the wider Sangh Parivar it looks like mission accomplished and it might just as well go and hang out the buntings. For, in barely six months, it has succeeded in undoing years of hard work by the Muslim community to defang its own fanatical fringe.
Just when it seemed that the Muslim Right had started to come under pressure, it has been given a new lease of life by groups such as VHP and Bajrang Dal with their relentless hate campaign. Suddenly, the mullahs are crawling out of the woodwork full of sound and fury.
There is talk of "retaliatory measures'' to "protect'' Islam. The discredited and long- dormant Babri Masjid Action Committee (BMAC) has even threatened to raise an armed Muslim militia to deal with the so-called Ghar Vapsi programme. Other groups have weighed in with plans to launch an "Islam Ghar Ghar'' campaign, and push more aggressively the practice of Da'wah-proselytising and preaching Islam.
After the Agra "conversions" stunt by RSS-linked organisations, BMAC president Salim Ahmad reportedly threatened the Prime Minister and UP chief minister with "dire consequences" if they didn't intervene to stop such actions. In a speech in Moradabad, reported by Mail Today (Dec 14) and reproduced by several Urdu newspapers, he said Muslims were prepared to "take up arms'' to protect their faith.
"We (Muslims) are not scared of anyone; we will not hesitate in picking up arms for our safety. We will be forced to unite and form an army to attack the Vidhan Sabha and the Parliament House to teach these MLAs and MPs a lesson. We can arrange for all kinds of arms and ammunition; we have the guts to change the face of the country. Do not force us to take up arms; it will not be good for the chief minister or the prime minister as no one will remain in a single piece," he was reported as saying.
BMAC, which suffered a huge setback after the Ayodhya fiasco, had been struggling to make itself relevant again ever since; and it has seized with both hands the opportunity offered by Bajrang Dal & Co. It is not the only one. Darul-ul-Uloom, Deoband-one of South Asia's most respected seminaries-- is considering what one senior cleric cryptically described as "steps'' to defend Islam from attacks.
According to a report in The Hindustan Times, quoting its rector Abul Qasim Nomani , these could include reviving its "conversion prevention" wing, called Fitna-e-Irtehad, and using its nationwide network of affiliated clerics to bolster Islam.
"I don't want to discuss in the media what steps we should take, as these are religious matters. You know Islamic institutions have services such as Fitna-e-Irtehad to deal with this problem. We are examining all this," he told the newspaper.
Also roaring again is the disgraced Shahi Imam of Delhi's Jama Masjid who had been forced to lie low after the controversy over his infamous invite to Nawaz Sharif to attend his son's Dastarbandi (coronation) while snubbing Modi. In a fiery Friday sermon last week, he announced a not-so-veiled proselytising mission called "Ghar Ghar Islam'' (Islam in every home) to "renew'' the faith -a move backed by other Muslim groups such as Jamaat-e-Islami.
"Muslims have sacrificed their lives for the unity of this country. Now be prepared to sacrifice your lives to save secularism… Therefore, we will launch a plan to take Islam to every home through a mission called Ghar Ghar Islam", he told a large gathering of worshippers.
In recent days, there has been a flurry of "fact-finding'' visits to Agra by self-styled Muslim leaders desperately trying to exploit the situation. Some were quick to declare the Agra "converts" as outcasts even as the latter claimed that they still regarded themselves as Muslims. They were warned that "Allah would never forgive you'' as they had brought "shame'' to Islam.
"Do the Nikah again, make your children go through the Quran again and keep your women in Purdah. Only then will you be granted mercy. You have committed a crime... You will have to re-marry, re-revise the Quran and have to re-follow all important aspects of Islam to become Muslim again,'' Islam Mudassir Khan, a local Muslim leader told them.
The Urdu media is buzzing with reports of meetings and consultations to draw up "strategies'' ostensibly to respond to the "threat'' from Hindu groups. The idea, really, is to vitiate the atmosphere further. Moderate Muslims are deeply concerned at this communal polarisation which is certain to feed into Hindu extremism.
Call it a conspiracy theory, but there is basis for speculation-- as NewAgeIslam website pointed out-- that groups like BMAC have been "instigated by RSS-affiliated organisations themselves to help further their divisive agenda of polarisation to help BJP win the UP state Assembly election''.
In all this, Modi's studied reluctance to rein in his party's not-so-fringe elements has inevitably raised questions about his own strategy. Nothing is more disingenuous than the claim that he has no control over them. Some are his own MPs and ministers. Does a famously "strong'' leader like him really expect people to believe that he is so helpless?
Some of their remarks such as the BJP MP Yogi Adityanath's Mala Ke Saath Bhala (pray and fight) statement, exhorting Hindus to make their presence aggressively felt in Muslim and Christian villages, cannot be dismissed simply as a casual off-the cuff comment, or a matter of free speech as some party spokespersons claim. They amount to inciting hatred which is a criminal offence in many countries.
It is not enough for the prime minister to say he doesn't approve of them. He should be seen to be doing something if he doesn't want the suspicion to linger that there is more to his silence than meets the eye.
Source: http://www.firstpost.com/india/mission-accomplished-rss-hindutva-antics-give-lease-of-life-to-muslim-right-1915463.html
URL: http://www.newageislam.com/current-affairs/hasan-suroor/rss-hindutva-antics-give-lease-of-life-to-muslim-right/d/100610