By G Vinod
February 26, 2014
The Indian Muslim community in Malaysia has contributed immensely not only to nation-building, but also enriched the nation with its unique cultural heritage.
The history of Indian Muslims can be traced back to the Malaccan Empire, with Bendahara (prime minister) Tun Ali being an Indian Muslim.
Despite its rich history pre- and post-independent Malaya, the Indian Muslim community in Malaysia is currently facing an identity crisis, with the risk of being just a footnote in the nation's history.
"The Tamil Muslims, in particular, are hard pressed to identify themselves with the majority Malays or to maintain their heritage as Tamils, said Jihad for Justice chairman Thasleem Mohamed Ibrahim.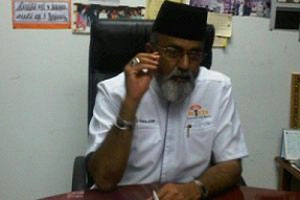 Speaking from his office at Petaling Jaya, Thasleem, 64, said such a dilemma was not faced by other Muslims in other countries, which have a Muslim majority population.
The confusion, claimed Thasleem, comes from Article 160 of the Federal Constitution which gives a definition of the Malay race.
The article reads, "Malay means a person who professes the religion of Islam, habitually speaks the Malay language, and conforms to Malay custom."
Touching on the constitutional provision, Thasleem said that the Tamil Muslims in Malaysia could be segregated into two groups.
The first one, he said, were immigrant Tamil Muslims who came to Malaya without their families, married locals and conformed to local customs.
"The children born from the local wife are the ones who usually speak Malay habitually and conform to Malay customs. Naturally, they identify themselves with the Malays.
"These people are common in states such as Kedah and Penang," he said.
The second type, Thasleem said, are immigrant Tamil Muslims, who brought their families along to stay in Malaysia.
"These types of families usually go back to Indian once or twice a year. But unlike the first type, the children of these families adhere strictly to their Tamil Muslim roots and speak Tamil," he said.
Thasleem himself comes from the second category, saying that his father arrived in Penang from Alagankulam, Tamil Nadu, in November 1954.
'Tamil Muslims became more Malay'
Several of Thasleem's ancestors were already in Penang since the 1850s. He even produced a business document signed by his forefathers in the former British Crown Colony, dating back to Oct 9, 1881.
Much to Thasleem's dismay, the businessman cum philanthropist said that many Tamil Muslims prefer to identify themselves with the Malay race to enjoy privileges under the New Economic Policy (NEP).
He read out a passage from a book written by former DAP leader, Tunku Abdul Aziz, titled 'Someone Has to Say It', on how Indian Muslims became Malays using the constitutional loophole.
The book says thousands of Tamil Muslims became more Malay than the Malays themselves, using the legal loophole in the constitution to fit their own agenda.
Thasleem, who admits feeling hurt by the statement, however, said that Tunku Aziz made some valid points in his argument.
He, however, stopped short of criticising his community and attributed the problem to the abuse of the NEP.
When the NEP was first mooted, Thasleem said that programmes were initiated to eradicate poverty in Malaysia, irrespective of race or religion.
"The then prime minister Tun Abdul Razak Hussein had noble intentions to eradicate poverty but after his passing, the NEP somehow was skewed to the help the Malays alone," he said.
A community ridiculed
Thasleem also said that the Tamil Muslim community also faced another problem in their attempts to stay true to their roots, public ridicule and peer pressure.
He added that this problem is very much prevalent among the present generation, as many ridicule the Tamil Muslim community out of ignorance.
Citing an example, Thasleem said he had a relative who studied in Mara Junior Science College (MRSM), who went through some ridicule from her peers.
"My relative's roommate, who is Malay, asked her when she converted into Islam. Coming from a family that practices Islam for generations, she was very offended by it.
"And she replied that she was a Muslim from birth. On top of that, she also reminded the girl that Malays only became Muslims in the 15th century," said Thasleem.
He also cited another case of an Indian Muslim girl studying at the International Islamic University (IIU) who told her mother not to wear a Saree when coming to meet her, due to peer pressure.
"The Tamil Muslim girl said that her friends ridiculed her on why her mother was wearing a Hindu dress while being a Muslim. When I got to know about it, I told the girl to read about her history.
"But I want to ask this question. Many non-Malays wear Baju Kurung these days but does that make them a Malay? Saree is a cultural dress.
"The older generation of Malays knows the difference but the present ones misunderstand things due to distortion in our nation's history," said Thasleem.
Source: http://www.freemalaysiatoday.com/category/nation/2014/02/26/tamil-muslims-facing-an-identity-crisis/
URL: http://www.newageislam.com/current-affairs/g-vinod/tamil-muslims-facing-identity-crisis-in-malaysia/d/45943