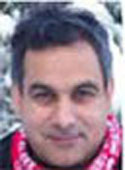 By Farooq Sulehria
December 04, 2013
Post-modernists have aggressively peddled a myth in recent decades that globalisation has delivered the end of media imperialism. Until the 1980s, media imperialism was an important debate. It referred to western domination of the media in post-colonial countries besides media dependency on the west. For instance, not only were countries in the periphery importing content from the centre, they were also dependent on the centre for training and hardware.
However, post-modernists – and lately post-colonialists – have been busy coining fantastic theories to show that even if imperialism persists, in the realm of media, globalisation has levelled the field.
It is pointed out that most countries have their own TV channels, which not only air locally-produced content but are also available in many countries of the west via satellite. India is a case study ritualistically flaunted every time end-of-imperialism theoreticians publish a new work. In the first place, the definition of imperialism these 'scholars' use is flawed. Media imperialism is not just about content domination. It is also about dependency and political economy of the television system. What is also ignored in post-modernist/post-colonialist analysis is the place India occupies in the global political economy as a sub-imperialist country. In any case, despite 900 'Bollywood' productions a year and TV system consisting of over 800 channels, India hardly poses a challenge to global (imperial) media players.
The entire media and entertainment sector in India is worth $15 billion. "Today, at $15 billion as an industry, we are about half the size of Google – a 10-year-old company ($26 billion revenues)", says Star India's CEO, Uday Shankar.
However, what should draw special attention is the domination of the Indian TV market by western media players. Except the news genre, western players dominate general entertainment channels (GECs), sports, children's networks, business, movies, and music genres.
The most lucrative – and costly – segment in the TV medium is general entertainment. Costly because producing entertainment content is expensive, and lucrative because GECs draw the biggest share of audiences – hence, advertising. GECs (Hindi as well as regional) account for 50 percent of the total viewership, while 65-75 percent of Hindi and regional audiences. Among the top four GEC channels, one finds Zee TV as the only Indian player. Even Zee network was initially launched in collaboration with Rupert Murdoch's News Corporation. The other three are Star Plus (News Corporation), Sony and Colours (Viacom).
A report issued earlier this year describes the absolute domination of the US-based trio – Star, Sony, and Colours (Viacom) – in the GEC sphere. Among the top 10 popular fiction programmes in 2012, nine were run by the trio while only one by Zee. Among the top 10 non-fiction top-rated programmes in 2012, seven were aired by the trio, two by Zee TV and one by MTV (Viacom).
Likewise, one finds the same pattern in the top 10 fiction and non-fiction launches in 2012. Also, most of the top-rated content is copy-righted western format – such as Big Brother.
News Corporation and Viacom also dominate the movie channels. They have, in fact, collaborated. Viacom syndicated its library of 500 films to Star India in 2012. And in 2012, Star Network invested INR3 billion on movie acquisition.
The children's TV genre is the third largest with an eight percent share in viewership. Again, Zee Q is the only Indian player vying with global players. Disney and Nickelodeon dominate this market. In 2012, Disney Junior and Nick Junior were launched to target pre-school kids.
The sports genre remains attractive for broadcasters. Sony and News Corporation dominate here. Sony has now launched Sony Six as an exclusive sports channel (and secured IPL rights till 2017). Rupert Murdoch's News Corporation strengthened its presence in the genre after acquiring ESPN's 50 percent stakes. ESPN-Star – in a bitterly contested bidding process – secured media rights over BCCI (for INR38.5 billion). ESPN-Star also spent another INR3 billion to retain rights to broadcast the English Premier League for an additional three years.
While the same is true for English entertainment (one percent viewership share but five percent ad share) and music (3.1 percent share in viewership), news is the only genre without western domination. This is so because of the 26 percent cap on foreign investment in the news genre as well as a conscious government decision to stop the Murdochisation of Indian politics.
One may also point out 'regional' channels where global players are not dominating yet. It is, however, too early to give a verdict on western domination of India's regional TV.
The new Indian TV may sound Hindi and appear Indian in form but its popular content and ownership are increasingly western. Instead of coming to an end, media imperialism is taking new and aggressive forms.
Farooq Sulehria is a freelance contributor.
Source: http://www.thenews.com.pk/Todays-News-9-217989-The-un-Indian-TV
URL: http://www.newageislam.com/current-affairs/farooq-sulehria/the-un-indian-tv/d/34720