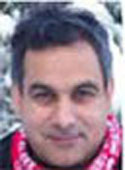 By Farooq Sulehria
November 15, 2014
As one of the most complex Shakespearean tragedy, Hamlet can be invoked to deepen our understanding of complexities facing us as individuals as well as collectives. It is this universal appeal, transcending spatio-temporal boundaries, that lends iconic status to world classics. Recent Bollywood production, Haider (directed by Vishal Bhardwaj), an adaption of Hamlet, is just another glorious tribute to Shakespeare's genius.
Having adapted Macbeth (Maqbool) and Othello (Omkara), Vishal completes his intended Desi Shakespearean trilogy with the production of Haider. The movie is a masterstroke – and so, it has been bitterly criticised and eulogised at the same time. Those upset with its political message refuse to acknowledge its artistic brilliance. Those carried away by its cinematic luminosity and creative lustre have ignored the complexity woven into subtly conveyed political message.
To fully appreciate Haider we must approach it from a political angle on the one hand, and judge it on artistic/cinematic standards, on the other. True, a neat separation is not possible here. However, this bifurcation will provide ease of systematic review.
Haider begins in 1995 when both the armed resistance and Indian state-oppression in the valley were at their peak. In a Srinagar suburb, during a raid and search operation the Indian army arrests a doctor who has offered refuge to militants. Arrested on the spot, the physician goes missing. His fate is revealed later on as the film proceeds. He was tortured for months, perhaps years, before he was killed and his dead body dumped in River Jhelum.
In the meanwhile, his son Haider (Shahid Kapoor) returns form Aligarh University where he was sent by his mother Ghazala (Tabu) when she realised that Haider was harbouring sympathies for armed militants and was convinced to go 'par' (a term implying the other side of the LoC, frequently employed on both sides of the ceasefire line). On his return home, Haider is devastated when he finds out about Ghazala's budding affair with his uncle (Kay Kay Menon).
As Haider sets out to trace his missing father, Dr Sahib (Narendra Jha), he comes across Rohdar (Irfan Khan). Rohdar reveals that Haider's uncle was a collaborator who schemed to have Dr Sahib killed to marry Ghazala. Rohdar spent time with Dr Sahib in Indian dungeons and torture cells. He conveys Dr Sahib's message to Haider: "Take my revenge by firing bullets into your uncle's eyes, which he used to seduce her". Ghazala does not want Haider to do any of that. Sacrificing her own life, in a suicide mission, she manages to convince Haider about the blindness entailed by a cycle of revenge.
Haider walking away without exacting revenge is a wild departure from Shakespearian text (and politically debatable). However, the creative genius lies in depicting the tragedy of Kashmir while perceptively sticking by Hamlet's original premise. For instance, Ghazala represents the plight and dilemma of Kashmir's 'half-widows': women whose husbands went missing and never returned.
Hamlet's most famous epigram, 'To be or not to be…' in the movie becomes a slogan for the relatives of missing persons. Agitating to know the fate of their missing beloved ones, these relatives chant during the demonstrations: 'Hum Hain Kay Nahi Hain'. Likewise with the iconic image of Hamlet holding the skull; Haider beautifully incorporates it as a sound track – Bollywood-style. Inserting song sequences in a Hamlet adaption is contentious. However, Faiz's 'Gullon Mey Rang Bharay Baad-E-Naubahar Chalay' has been skilfully rendered, offering both depth to the story and nudging it forward.
What however deserves special mention is the movie's cinematography. Kashmir's legendary beauty, natural as well as cultural, is skilfully captured in minute details. One, in fact, may criticise the exotification of the valley. However, the bleak events unfolding in a mesmerisingly attractive backdrop compound the gravity of the Kashmiri tragedy.
Memorable performances, by Tabu in particular, add further flavour to the joy of watching a contemporary cinematic masterpiece.
Certain subtle details, such as Maqbool Butt's poster in a scene, can only be appreciated if one is intimately aware of Kashmiri politics. Likewise, the Hizb-ul-Mukhbareen in the movie reminds one of a JKLF faction. This brings us to the other, bitterly contested, aspect of Haider – its political content. While certain critics in India have reprimanded Haider for being soft on 'Pakistani-sponsored terrorists', others – those who are more progressive – have been upset over acknowledgement of the Indian army's relief work during the recent floods in the valley.
Another critic reprimands Haider's production team for judging 'normalcy' in the valley by the number of tourists visiting it. In Pakistan, a critic writing for a Karachi-based English-language daily, points out that the concluding message, which insists on shunning militant means of resistance, is in sync with official Indian policy on Kashmir.
To a certain extent, all these objections are valid. However, to his credit, Vishal has bucked the mainstream Bollywood discourse on Kashmir. From the mid-1990s onwards, Bollywood productions broaching the subject of Kashmir would present the Kashmiri youth as a vengeful angry young man, bitter over personal injustice. Typically, he is misguided by Pakistan. However, finally he sees the reality of the 'scheming Pakistani ISI' and returns to the Indian fold (Mission Kashmir comes to mind).
Fana (starring Amir Khan) for the first time breached the consensus. In Fana, finally the Kashmiris' right to self-determination is acknowledged. However, it was neither a serious exploration of the Kashmir question nor a serious movie. Also, most blame is largely laid on the Pakistani door. Vishal not only squarely poses the problem but unhesitantly exposes the Indian atrocities.
In Bollywood productions, even when Gulzar Sahib produced Dil Se (though it was not categorically on Kashmir) or Machis (on militancy in East Punjab), state oppression was highlighted but the concluding message was: separation-is-no-solution. Haider puts forward the Kashmiri demand of the 'third option'.
The renunciation of violent means, advocated in the concluding scene, may be in resonance with official Indian line. But the point is that, to the dismay of many Pakistanis, people in the valley have also largely left violence. Instead, an Intifada-style resistance has become more popular. Such nuances in the film can be credited to the involvement of Kashmiris in the project.
While Basharat Peer's excellent book Curfewed Nights forms the basis of the script, a few Kashmiris have also performed in the film. In a way, for the first time since the 1980s, certain genuine Kashmiri sentiments and predicaments have gone mainstream. Since Kashmiri voices are generally stifled, by breaking the silence, Haider has understandably upset audiences in both countries. However, instead of merely fretting over Haider's hits and misses, let us engage with the central question Vishal and Peer have highlighted. Restricting Haider to the character of Hamlet enacted by Shahid Kapoor will be tantamount to misreading the text. Haider's Hamlet is Kashmir. And not an insane Kashmir – because Hamlet is not (merely) about insanity. Hamlet depicts dilemma. All of us, as individuals and collectives, have a Hamlet inside us. Kashmir is the Subcontinent's Hamlet. We need to resolve it.
Farooq Sulehria is a freelance contributor.
Source: http://www.thenews.com.pk/Todays-News-9-284391-Our-very-own-Hamlet
URL: http://www.newageislam.com/current-affairs/farooq-sulehria/our-very-own-hamlet/d/100015