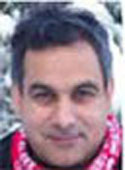 By Farooq Sulehria
December 16, 2013
Remember Bacha Khan, the 'Frontier Gandhi'? Intermittently, he spent almost as many years in jails as Nelson Mandela did. Like Mandela, he was also a practitioner of non-violence and a disciple of Mahatma Gandhi.
But the country that came into being with Muhammad bin Qasim's invasion of Sindh, despite its formal birth in 1947, had no place for non-violent politicians even if they were as devout Muslims as Bacha Khan because: a) they were secular and b) they were anti-colonial.
We were desperate to win Uncle Sam's favours and were busy imagining a pure community of Muslims. Secularism and anti-imperialism spoiled these grand plans. Consequently, when Bacha Khan along with his fellow non-violent activists, such as G M Syed and Abdus Smad Achackzai, formed the Pakistan People's Party espousing a secular and socialist programme, he was arrested and jailed.
Ever heard about the Bhabra massacre? As a warning shot, a PPP meeting at Bhabra (in Charsadda) was fired upon, leaving scores dead. This is how the non-violent PPP was violently nipped in the bud.
But Bacha Khan was too big to be shot dead by tiny bullets. Hence, apartheid decided to break his spirit through rigorous jail terms. For the next ten or so years he was mostly behind bars. When released on health reasons in 1964, he went to Afghanistan in exile. He did not return until the National Awami Party (NAP), a party he co-founded, formed the Frontier government in 1972.
On his return, he was welcomed by a 'million-man rally', according to current standards. The mass mobilisation scared Bhutto who saw a rival in Bacha Khan's charisma. A year later, Bacha Khan had landed in Bhutto's jail.
When it comes to domestic Mandelas, rulers – whether khaki or civilian – have behaved in a similar fashion. When Bacha Khan died in 1987, he was under house arrest because he was campaigning against water apartheid in the name of the Kalabagh dam.
What about Mirza Ibrahim? When he died in 1999, at the age of 94, Mirza Ibrahim had spent almost a quarter of his life either in British colonial jails or puritan Pakistani dungeons. His crime was fighting against the class apartheid.
A committed communist and a revered trade unionist, Mirza Ibrahim was mobilised by the Khilafat Movement and landed in jail for the first time at the age of 16. Considered the father of trade unionism in Pakistan, Mirza was elected as president of the Pakistan Trade Union Federation (PTUF) when Faiz Ahmed Faiz was elected as the federation's vice president.
In 1950, he contested elections to the Punjab Assembly from a Lahore constituency. He won but the government's candidate was fraudulently declared victorious. It was election rigging in his constituency that assigned currency to the term jhurloo (rigging) in Punjab. In 1951, he was implicated in the Rawalpindi Conspiracy Case and was tortured at the notorious Lahore Fort. From then on, he was jailed a number of times until Ziaul Haq's dictatorship came to its end in 1988.
Abdus Samad Achackzai ('Baloch Gandhi'), Sain G M Sayyed, Ghus Bux Bizenjo, Mian Iftikhar-ud-Din, Haider Bux Jatoi and many others – all non-violent – did exactly what Nelson Mandela was doing in South Africa. They all organised the wretched of the earth against apartheid of one form or the other.
And what did we do to them? When they were alive we jailed them, vilified them, and when possible tortured them to death – Hasan Nasir and Fazal Rahu, for instance. Lest they should posthumously spoil our youth, we have discreetly hidden them in closet. We want Mandelas only for others.
Farooq Sulehria is a freelance contributor.
Source: http://www.thenews.com.pk/Todays-News-9-220510-Mandelas-in-our-closet
URL: http://newageislam.com/current-affairs/farooq-sulehria/mandelas-in-our-closet/d/34869