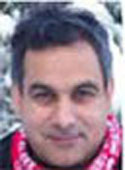 Gender Roles
By Farooq Sulehria
July 20, 2013
Unfortunately, the macho men in command of the celluloid world on both sides of Wagah take cinematic depictions for real. For instance, the Pakistan Film Censor Board (PFCB) has banned the Bollywood production, Raanjhanaa, in Pakistan. The film, according to our Ghairatmand friends at the PFCB, shows a Muslim girl (in India) falling in love with a Hindu boy.
A 'clash of civilisations' begins to unfold not merely when it comes to inter-faith love affairs depicted in Indian and Pakistani films, such gender sensitivities are taken care of even when Bollywood-Lollywood productions present a love story involving the two countries.
In recent years, Pinjar (2003) and Firaq (2009) have been exceptions. But then Pinjar was based on a novel by Punjab's leading progressive writer Amrita Pritam. Pinjar is the story of a Hindu girl Puro (played by Urmila Mantondkar) abducted months ahead of the Partition by a Muslim family in revenge and forced into marriage with Rashid (Manoj Vajpayee).
Similarly, depicting the Gujarat riots in 2002, Firaq was directed by Nandita Das, who is known for her progressive views. Perhaps there are other such cinematic productions where a Hindu girl falls in love with a Muslim/Sikh. But these are the exceptions, not the norm. 'Normally', the boy should be a Hindu when it comes to cross-communal Bollywood love stories.
Based on this writer's personal recollections, let us begin with the critically-acclaimed Bombay (1995) centred on the unfortunate demolition of the Babri Mosque and Hindu-Muslim riots. In Bombay, a secularist Shekhar (Arvind Swami) courts Burqa-clad Shaila Bano (impressively played by Manisha Koirala). Dahek-A Burning Passion (1999) also portrays a charming Hindu 'prince' (Akshay Khanna) flirting with Neeima Bakshi, an orthodox Muslim girl (Sonali Bendre) and finally winning her over.
In 'Jab We Met' (2007), Aditya (played by Shahid Kapoor) falls in love with Geet (Kareena Kapoor), a Sikh girl from Bhatinda, Punjab.
While Bollywood productions showing inter-communal love stories usually refrain from fomenting inter-communal disharmony, the Hindutva mindset is unleashed when it comes to the depiction of cross-border romance. The following films, without exception, showed an Indian Hindu or Sikh boy falling in love with a Muslim Pakistani girl: Henna (1991), Train to Pakistan based on Khushwant Singh's novel (1999), Gadar: Ek Prem Katha (2001), Veer-Zaara (2004), and Lahore (2010).
One wonders if Shaheed-e-Mohabbat (1999) should also be included in this list. Based on a true story, this film depicts the immortal love of Boota Singh and Zainab. This tragic love story was sensitively reported by The Pakistan Times as well, as it unfolded. Researcher Ahmed Salim has painstakingly documented it in a book as well. In any case, the girl (in real life as well as cinematic depiction) in Shaheed-e-Mohabbat was Muslim.
On this side of the Wagah border, filmmakers just reverse the roles when they feature across-border love story. The girl is Hindu or Sikh while the 'hero' is, of course, Muslim: Lakhon Mein Aik (1967), Tere Pyaar Main (2000), and Larki Punjaban (2003) come to mind. Unfortunately, in Pakistan we perhaps do not even have any exceptions to cite.
Even a progressive filmmaker like Saif-ud-din Saif in his Kartar Singh (1959), arguably the best film on the Partition, did not dare reverse these romantic gender roles.
Facts have largely been cited from an essay titled, 'Girl from across the border' by Riaz ul Hasan.
Farooq Sulehria is a freelance contributor.
Source: http://www.thenews.com.pk/Todays-News-9-191131-Gender-roles
URL: http://www.newageislam.com/current-affairs/farooq-sulehria/a-'clash-of-civilisations'-begins-to-unfold-when-bollywood-lollywood-productions-present-a-love-story-involving-the-two-countries/d/12682