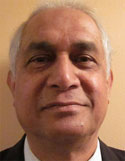 By Fakhruddin Ahmed
May 05, 2014
Bangladesh is an oddity. Roughly the size of Nepal and the US state of Iowa (56,980 square miles), Bangladesh packs over 160 million people. Nepal's population is 26.5 million, Iowa's only 3 million. The population densities of adjacent India and Myanmar are a fraction of Bangladesh's.
From Pakistan westward to North Africa, the whole region is Muslim. Bangladesh, Malaysia and Indonesia are Muslim majority nations embedded within non-Muslim neighbours.
During his negotiations with Lord Mountbatten, leading to the partition of India in 1947, Mr. Mohammad Ali Jinnah had famously warned against a "moth-eaten Pakistan." His demand was partially granted. The boundary of "West Pakistan" (today's Pakistan) does not look that moth-eaten; but, the moths seem to have feasted on the border of "East Pakistan" (today's Bangladesh), resulting in its diminutive size.
Size matters. One could argue that one of the myriads of reasons why the "West Pakistanis" looked down upon the "East Pakistanis" was the latter's petit size, notwithstanding its larger population. Pakistan is 6 times bigger than Bangladesh. Myanmar is 4.5 times and India 22 times larger.
People are partially judged by where they come from. The stature of a person from a small country is somewhat diminished in our mind. No one is afraid of someone from Liechtenstein or Luxembourg! Singapore may be an economic powerhouse, but its puny size does not strike fear in anyone. Israel is an exception only because for all practical purposes it is America.
So what is a small, and consequently weak, nation to do? April 23 was Shakespeare's 450th birthday, but the "secular prophet" has no advice for small nations. To be fair, nation states did not exist in Shakespeare's time. But, our own Shakespeare, Rabindranath Tagore, does offer some encouragement. Addressing the oppressor (the British), in the Rabindra Sangeet Bidhir Bidhan, the poet extraordinaire reassures the weak: "Ache Bol Durbolero" (the weak, too, has strength). However, in the next line he solicits the protection of the deity: "Haw-o na Jotoi Boro Aachen Bhagoban" (however powerful you may be, there is God.) Tagore was probably referring to the moral power of the poor!
It was nice of President Obama to emphasise last week in Malaysia that all nations, large and small, are equal. Really? Isn't being smaller a curse? Just ask the Ukrainians! Apart from maintaining patriotic and powerful armed forces, or enjoying the absolute protection of a superpower like Israel does, there is not much a small nation can do to deter aggression from a bigger nation.
Bulging population does not make up for the lack of size. Bangladesh has 20 million more people than Russia, the world's largest nation. 116-times bigger than Bangladesh (not counting Crimea), Russia is the world's second most powerful nation. A large developing nation has a brighter future than a smaller one.
Since Bangladesh cannot increase its size, it is stuck with its burgeoning population. What Bangladesh does not need are more people. If Mr. Narendra Modi follows through with his threat and expels all the Bangladeshi immigrants in India back to Bangladesh, it will be a demographic catastrophe for Bangladesh!
What can Bangladesh do with its excess population? The answer lies in our past. Boats brought many of our ancestors to these shores; boats carried some of them away.
Historically, people of southern Bangladesh, especially Noakhali, Feni and Chittagong, were adventurous. They plied the seas as cooks on ships. Seafaring is reflected in our literature, such as Sareng Bou by Shahidullah Kaiser, who, along with his equally talented filmmaker-novelist younger brother, Zahir Raihan, was born near Feni.
Our ancestors were equally adventurous on land. There is a reason why Noakhali is nicknamed the "Royal District." During British rule every school was required to hire a Muslim religious/Arabic teacher. Invariably, he turned out to be from Noakhali, making the district omnipresent and kingly, thus "Royal!"
Last year, MIT Professor Vivek Bald, whose mother is Indian, published a revelatory book, Bengali Harlem and Lost Histories of South Asian American, documenting the earliest Indian immigrants to America.
Bald recounts the story of Fatima Shaik, an African American woman aged 61, whose grandfather, Shaik Mohamed Musa of Hooghly "immigrated" to the US in the 1890s. Those earliest Indian immigrants were peddlers who sold embroidered silk, cottons and exotic wares from the East.
The second wave, mostly seamen and merchant marines, arrived in the 1920s and 30s. Most were Muslim men from the British Indian province of Bengal. Since South Asian immigration to the US was illegal then, they all jumped ship. Mostly illiterate, they worked as cooks, dishwashers, street vendors and subway labourers. With no Muslim women around, they married African American and Latino women, and became a part of those segregated communities. They never forgot their roots; always preferring fish curry over anything else.
Bald profiles Habib Ullah, a 14-year old boy from Noakhali, who went to Calcutta in the 1920s and found a job on a ship bound for America. In New York he married a Puerto Rican woman and became a part of that community. His son, Aladdin Ullah, a stand-up comedian, calls himself a "Banglarican." (Bangali+Puerto Rican.)
Student activist Ibrahim Chowdhury of Sylhet also left his homeland in the 1920s to evade the British CID, became a go to person for Bengalis in New York, and sired many children with his Puerto Rican wife.
Bangladeshis should emulate Shaik Musa, Habib Ullah and Ibrahim Chowdhury and turn Bangladesh's overpopulation from a liability into an asset by emigrating worldwide.
Adventures and emigration are in a Bangladeshi's DNA. These days Bangladeshis are everywhere. Jackson Heights and Hillside Avenue in New York City are Bangladeshi enclaves. A Bangladeshi cabbie drove a cousin of ours from the Anchorage airport in Alaska to her hotel. I will not be surprised if there are Bangladeshis living in Greenland! All of Bangladesh has now turned into a "Royal District!"
If ten million Bangladeshis were to emigrate, it will hardly make a dent in Bangladesh's population. But, those ten million people will not only send millions of foreign exchange back home, they will also form a formidable lobby for their motherland against any foreign invasion or exploitation.
Fakhruddin Ahmed is a Rhodes Scholar
Source: http://www.thedailystar.net/op-ed/what-undersize-bangladesh-can-do-with-excess-population-22690
URL: http://www.newageislam.com/current-affairs/fakhruddin-ahmed/what-undersize-bangladesh-can-do-with-excess-population/d/76873