By Fahmim Ferdous
December 18, 2013
Burst of energy lights up the Dhaka sky. Photo: Ridwan Adid Rupon
On the glorious Victory Day of Bangladesh, Suhrawardy Udyan, fittingly, was the epicentre of celebrations on Monday. While people gathered in from the morning to enjoy the music and recitation, it was during the choral singing of the national anthem that the arena turned into a human sea of red and green, with the numbers soaring up to hundreds of thousands. As the evening sets in, a dazzling display of fireworks — rated as many in the crowd to be the best they have seen — lit up the Dhaka sky, almost like a symbolic preview to the burst of energy that was awaiting the audience on stage.
Although the "Concert for Freedom" organised as part of the Bijoy 2013 programmes were scheduled to have one part of it held early in the afternoon, timing crunches meant they would all take place in the evening.
Thrash metal band Mechanix were first on stage, performing the title track of their only album "Oporajeyo". Powerful, fast drumming, aggressive guitar riffs and a cut-through solo tightly wound around the typically dark, metaphoric lyrics of the band, speaking of an invincible protagonist who battles on against the odds.
In a drastic change of tempo, band Shohortoli, who classify themselves as 'theatrical rock', took the stage next with a touching piece titled "Desh Mata'r Kachhe Chitthi" — a dialogue-and-song composition with a strong, satirical outlook on how patriotism is being pushed to the sidelines by corporate culture and globalization, while Freedom Fighters continue to struggle.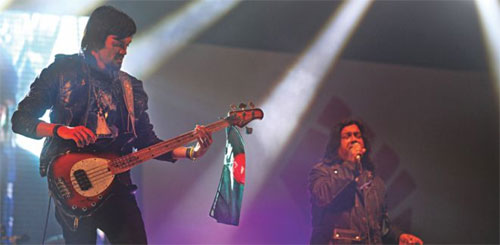 Maqsood O Dhaka was the next act on stage. A veteran of the Bangladeshi rock scene, Maqsood is known for his strongly-versed lyrics. The band performed their iconic song "Bangladesh" that moved the massive crowd, followed by "Parwardigar", a hard-hitting song written this year against the backdrop of violence in the name of religion.

Cryptic Fate took the stage next, opening with the melodic "Protibad", before bringing the crowd alive with "Cholo Bangladesh", arguably the most inspirational song about Bangladesh by a rock band. Written a long time ago during the Bangladesh Cricket Team's first World Cup venture, it has become an anthem of sorts for cricket lovers of the country, and the response from the audience was massive.

Dreek, a young, energetic rock band was up next, opening with a just-revealed song "Aamrai Bangladesh", featuring a fantastic chorus that echoes that there's a bit of Bangladesh in all of us, and if we all do our part, it will take the country forward. They also performed "Jhorna'r Moto Chonchol", their popular tribute to Kazi Nazrul Islam and a masterpiece narrating the force of the youth.

Pentagon, one of the longest-running bands currently active, were next on stage, with their song "Jaago", another inspiring, upbeat song urging the people of the country to wake up against all evil and darkness.

Although security concerns cut the concert short by a fair bit (because of the open nature of the arena, law enforcers cited their limitations in eliminating all security threats), the large audience that walked out of the park kept humming the tunes as the lyrics played in their heads; lyrics that spoke of the power of the youth and the people, and the power of love for your country.

Source: http://www.thedailystar.net/beta2/news/the-exuberance-of-patriotism/

URL: http://www.newageislam.com/current-affairs/fahmim-ferdous/the-exuberance-of-patriotism-in-bangladesh/d/34905