By Elaine Smith
March 2, 2014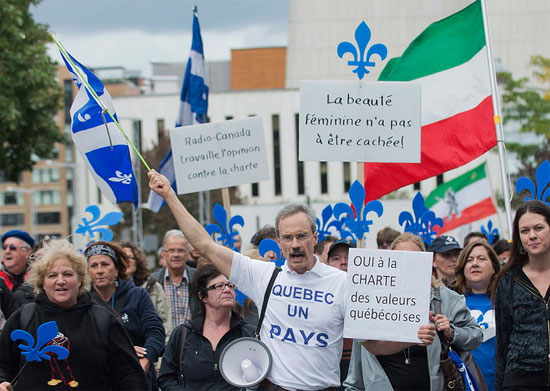 A protest over Quebec's proposed Charter of Values, which would ban public university staff members from wearing head scarves. Credit Graham Hughes/The Canadian Press, via Associated Press
As Canadian universities adjust to the country's increasingly multicultural population, one area that has been especially difficult has been accommodating religious differences and needs.
At York University in Toronto, a furore erupted in January over a request by a student taking an online sociology course to forgo an on-campus session, because he said his religious beliefs did not permit casual contact with women.
In Quebec, meanwhile, debate has begun on a proposed Secular Charter of Rights that would make it illegal for all public employees — including university staff and faculty members — to wear or display religious symbols, such as Muslim head scarves or Jewish skullcaps.
None of this is surprising, said Mira Sucharov, an assistant dean of public affairs and an associate professor of political science at Carleton University in Ottawa, Ontario.
In Canada, home to immigrants from hundreds of countries, religious accommodation is part of the give and take of everyday life.
"Multiculturalism is partly about accommodation and institutions' stretching to meet people where they are," Professor Sucharov said in an interview. "The belief is that by promoting a varied landscape, the country itself will be enriched."
At York, the professor refused to grant the student's request, believing that it would be a dangerous precedent, labelling women as second-class citizens. The university overruled him, noting that students who lived overseas and took online courses were not required to attend on-campus sessions. The student ultimately backed down and agreed to attend the class. Still, emotions ran high. The case brought public outrage and a sharp exchange between the professor, J. Paul Grayson, and the York administration.
"The grounds for my denying the accommodation were my beliefs that the rights of female students should not be compromised and that they should be treated with respect by male students," Professor Grayson wrote in a 12-page paper responding to the university's ruling.
The university, for its part, insisted that its ruling did not condone gender discrimination but was a response to the circumstances of the specific case.
"For any accommodation request, a decision is made in consideration of the Ontario Human Rights Code, the individual circumstances, the requirements of the law, any competing rights and the academic requirements of the course," wrote Prof. Rhonda Lenton, the York provost, in a public statement.
"York is a secular institution," she added: "We are committed to gender equity, inclusivity and diversity and proud of our tradition of debating complicated issues of societal interest in a country which encourages public debate and upholds democratic and pluralistic values."
In Quebec, the provincial government is consulting on the proposed charter amid a continuing debate. An anticipated spring election may become a de facto referendum on the charter and similar initiatives billed as efforts to preserve Quebec's culture.
Prof. Lydia White, associate provost of McGill University in Montreal, one of the province's public universities, said the charter was "still hypothetical." She refused to speculate about how it might affect faculty and staff members, who may be considered government employees.
"We have a long-established commitment to equity and diversity," she said.
The university has prepared a submission to the government opposing the charter's ban on wearing religious symbols, she said. The submission, seconded by the board of governors and the university senate, states that "the proposal to introduce a broad and uniform ban on the wearing of conspicuous religious symbols by employees of public agencies appears to us to be unjustified and would contradict Quebec's image as a welcoming and open society."
Daniel Weinstock, a McGill law professor who specializes in religious accommodation, said the proposed charter would certainly be a source of conflict, if passed.
"The bill is supposed to make things clearer, but it is just going to be a dog's breakfast in terms of interpretation," he said. "By and large, governments get in the way when they try to step in with blanket coverage of all eventualities."
The York incident and the proposed Quebec charter are both extreme examples of the challenges of meeting the needs of a multicultural university population. Most of the time, religious accommodation happens regularly with few ripples.
At a minimum, most Canadian universities are sensitive to the religious observances of many faiths when scheduling exams and they provide alternatives for students affected by a conflict. Some universities, such as the University of Toronto and the University of British Columbia, in Vancouver, go further, making an attempt to ensure that all faiths feel welcome on campus.
"It all goes back to the fundamental values the university has put in place that shape the culture — equity, diversity and inclusion — and tying them back to excellence," said Sandra Carnegie-Douglas, the University of Toronto's anti-racism and cultural diversity officer. "We look at what we need to do as a university to give students access so they can perform with excellence.
Ms. Carnegie-Douglas works closely with other university departments and divisions to offer programming that highlights diversity and "creates space for students to engage." Staff members in the university's residential halls receive diversity training, as do student leaders, and awareness classes are available for university employees and faculty members. The campus is home to a multi-faith centre that, she says, "offers an inviting space for conversations and dialogues across religious faiths."
The university's food service also tries to make students feel at home.
Campus cafeterias have Kosher offerings and have introduced a new Halal program. The campus map indicates the dining halls and cafeterias that feature Halal and kosher foods, as well as vegan and vegetarian dishes.
"We have a philosophy of making everyone comfortable," said Anne Macdonald, the director of ancillary services.
Across the country in Vancouver, the approach at the University of British Columbia is similar.
"UBC is a city, and many students live, work and learn here," said Janet Mee, the university's director of access and diversity. "We try to meet all the needs they would have in their home communities." There is a designated prayer space and both Halal and Kosher foods are available at many dining facilities. The university student union supports many faith-based clubs and students have access to chaplains representing a number of faiths.
Still, increased diversity brings new challenges.
"Religious accommodation issues are coming up more and more, since so much of the way we used to teach has changed," Ms. Mee said. "There is much more group work and hands-on learning, and that is not the best practice for everyone, given how students interact."
For example, students must show identification when they enter an exam space, but Muslim women wearing a Niqab, a veil that covers the hair and face except for the eyes, may not be prepared to show their faces to a male exam proctor. The university therefore ensures that a woman is present to check their identities in a private space.
"We take a problem-solving approach," Ms. Mee said, "that ensures the students are treated with dignity and respect while not compromising our academic standards."
Source: http://www.nytimes.com/2014/03/03/world/americas/canada-grapples-with-adapting-to-minority-needs.html?emc=eta1&_r=0
URL: http://www.newageislam.com/current-affairs/elaine-smith/canada-grapples-with-adapting-to-minority-needs/d/55972