By Dr. Ramesh Vankwani
Sep 20, 2016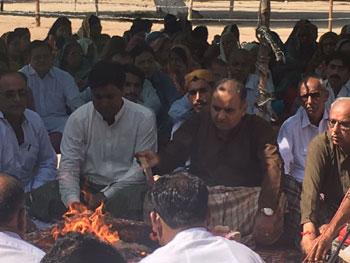 IslamKot (Sep 20, 2016): Patron-in-chief of Pakistan Hindu Council, Dr. Ramesh Kumar Vankwani MNA inaugurating the 3-day Mela of Hindu Saint Sant Nenu Ram.
Patron-in-chief of Pakistan Hindu Council and Member National Assembly Dr. Ramesh Kumar Vankwani has said that Sufi, Saadhu, Jogi, and Saint are the unforgettable assets of our country who are not among us today, but still the impact of their preaching of peace, love for all, and serve humanity, could be observed in the forms of their shrines.
He made these remarks on the inauguration of Mela by Hawan Yagey at IslamKot to mark the 43rd death anniversary of renowned Hindu Saint, Sant Nenu Ram. He said that Sant Nenu Ram is a respected, and honorable name among the peace loving people belonging to both Hindus, and Muslims. The three-way festival was started on Tuesday. Not only for human-beings but also for animals, and birds, provision of food is ensured all the time in the premises of the Holy Shrine.
Numerous attempts have been made across the globe to bring interfaith harmony but despite these wonderful efforts the religious extremism continue to rage on, Dr. Ramesh regretted. He was of the view that promotion of peace is mandatory for a prosperous and flourishing society, and in this regard, all segments of the society must have to play their due role.
Hundreds of Hindu and Muslim devotees are attending the three-day festival organised at his shrine, which is considered to be the country's biggest sanctuary.
URL: http://www.newageislam.com/current-affairs/dr-ramesh-vankwani/sufi,-sadhu,-saints-unforgettable-assets-of-our-country,-pakistan;-dr-ramesh-vankwani-pays-tribute-to-sant-nenu-ram/d/108621