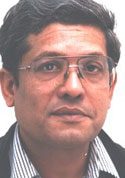 By Dileep Padgaonkar
03 May 2013
On the very day that Najam Sethi, an influential newspaper editor and presently the caretaker chief minister of Pakistan's Punjab province, ordered a judicial inquiry into the murder of Sarabjit Singh, an official in Islamabad pre-empted its conclusions by attributing the death to a 'scuffle' in Lahore's Kot Lakhpat jail. Such lack of coherence in Pakistan's conduct vis-a-vis the outside world is as patent as its record of flip-flops. This is essentially due to the role that the powerful army continues to play in strategic and foreign policy matters.
In June last year, for example, Pakistani media carried a report to the effect that President Asif Ali Zardari had commuted Sarabjit's death sentence to a life sentence. That was a signal that he would soon be allowed to return home for, under Pakistani law, a life-sentence is equivalent to 14 years spent in jail whereas Sarabjit had languished behind bars for 22 years. But the relief and joy that followed the report proved to be short-lived.
Barely five hours later, Pakistan announced that the media had got it all wrong: Zardari had signed a release order for Surjeet Singh, another Indian prisoner who had been pardoned in 1989? No one in India bought this version. The president, it was widely believed, had succumbed to pressure from the ISI, the intelligence wing of the army.
This is doubtless why successive governments in Pakistan refused to heed the pleas of successive governments in India to release Sarabjit on humanitarian grounds. Nor did they pay the slightest attention to Indian requests that Sarabjit's security should be enhanced after he received death threats from some of his fellow in-mates.
This became all the more necessary after the hanging of Ajmal Kasab and Afzal Guru, since militant outfits had announced that they were determined to avenge the hangings in one form or the other. To add to this pile of criminal cussedness, the Pakistani establishment flatly turned down the plea of his family, endorsed by the Indian government, that Sarabjit, who was battling for his life, should be moved to India, or even a third country, for sounder medical treatment.
It is for this very reason that the judicial probe ordered by Najam Sethi has elicited a huge amount of scepticism in India. As it is, he has just a few more days left in office. The newly elected government, no matter which party heads it, cannot be trusted either to rub the army the wrong way or to alienate militant groups that seem to call the shots, particularly in Punjab province.
To pick holes in the 'scuffle' theory propounded by officialdom in Islamabad is no big deal. The facts speak for themselves. Sarabjit Singh's assailants came armed with bricks, iron rods, spoons sharpened to serve as knives and pieces of a tin of ghee. Were the warders unaware of this? And what accounts for the blatant flouting of jail manual laws? The issue therefore is whether Sarabjit was murdered not because of negligence but because the jail authorities deliberately chose to look the other way.
At whose behest? The question arises because Islamic radicalism has percolated in just about every institution in the country. A number of 'terrorist' attacks on Pakistani soil would not have succeeded had sections of officialdom not connived with the attackers.
The response to all this from New Delhi therefore needs to be firm but measured. It has to tell Pakistan in no uncertain terms that if the judicial probe fails to nail the assassins of Sarabjit Singh and their accomplices, India will be within its rights to hold back progress on all contentious issues between the two countries. Furthermore, India needs cast-iron guarantees that the 235 Indians in Pakistani jails will not meet Sarabjit's fate. The urgency of this move becomes obvious after the attack on a Pakistani prisoner lodged in a Jammu jail.
A joint India-Pakistan commission on both counts should go some way to calm Indian fears and suspicions. So would a reciprocal release of prisoners held in the two countries. A consensus on these modes of action between the government and the opposition parties deserves priority attention once the legitimate cries of grief and outrage begin to turn into whispers – and once the high-decibel drum-beats of jingoists begin to get muffled.
Source: http://blogs.timesofindia.indiatimes.com/talking-terms/entry/dealing-with-a-cussed-pakistan
URL: http://www.newageislam.com/current-affairs/dileep-padgaonkar/dealing-with-a-cussed-pakistan/d/11411