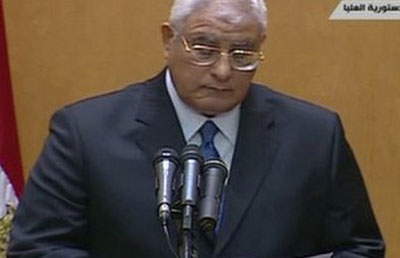 Egypt: Chief justice Adly Mansour sworn in as interim president
AP | Jul 4, 2013
CAIRO: The chief justice of Egypt's Supreme Constitutional Court was sworn in on Thursday as the nation's interim president, taking over hours after the military ousted the Islamist President Mohammed Morsi.
Adly Mansour took the oath of office at the Nile-side Constitutional Court in a ceremony broadcast live on state television. According to military decree, Mansour will serve as Egypt's interim leader until a new president is elected. A date for that vote has yet to be set.
In his first remarks, Mansour praised the massive street demonstrations that led to Morsi's ouster. He also hailed the youth behind the protests that began on June 30, saying they embodied "the nation's conscience, its ambitions and hopes."
"The most glorious thing about June 30 is that it brought together everyone without discrimination or division," he said. "I offer my greetings to the revolutionary people of Egypt."
Mansour replaces Morsi, who was Egypt's first democratically elected president but was overthrown by the military on Wednesday after just one year in office. Morsi is under house arrest at an undisclosed location.
The military, in a statement read by army chief Gen. Abdel-Fattah el-Sissi on Wednesday evening, also suspended the Islamist-drafted constitution and called for new elections. Morsi has denounced the action as a "full coup" by the generals.
Millions of anti-Morsi protesters around the country erupted in celebrations after the televised announcement by the army chief on Wednesday evening. Fireworks burst over crowds in Cairo's Tahrir Square, where men and women danced, shouting, "God is great" and "Long live Egypt."
http://timesofindia.indiatimes.com/world/middle-east/Egypt-Chief-justice-Adly-Mansour-sworn-in-as-interim-president/articleshow/20910502.cms
---------
More top Brotherhood members arrested by Egypt prosecutors
4 Jul 2013
Egyptian prosecutors ordered on Thursday the arrest of a number of senior members of the Muslim Brotherhood hours after the army ousted elected president Mohamed Morsi.
These include the Brotherhood Supreme Guide Mohamed Badie and his deputy Khairat El-Shater.
Security authorities are continuing their efforts to arrest Brotherhood members on charges of inciting violence and disturbing general security and peace, state news agency MENA reported.
Late on Wednesday, Saad El-Katatni, leader of the Muslim Brotherhood's Freedom and Justice Party (FJP), along with Rashad Bayoumi, the deputy head of the Islamist movement were detained, security officials said.
They are being held in Tora Prison, located on the outskirts of Cairo, the same prison where ousted president Hosni Mubarak and his sons are detained, MENA reported.
Members of the Brotherhood are accused of murdering protesters outside the group's headquarters in the Cairo suburb of Moqattam on 30 June, when millions of Egyptians flooded the streets to call for Morsi's ouster.
The group allegedly hired and armed some 250 members and snipers at its head office to kill protesters outside, a judicial source said.
At least eight were killed when those inside fired at youth hurling petrol bombs and stones at the building.
Mohamed Morsi, whom the group presented as its second choice candidate in last years' presidential elections, was ousted on Wednesday by the Egyptian army. The head of Egypt's top court was sworn in as the caretaker head of state on Thursday.
The toppled president himself was also being held by the military-led authorities, a Brotherhood spokesman told Reuters on Wednesday night. A security official said he was being held at a military intelligence facility.
http://english.ahram.org.eg/NewsContent/1/64/75681/Egypt/Politics-/More-top-Brotherhood-members-arrested-by-Egypt-pro.aspx
---------
Egypt's Brotherhood TV, other Islamist channels taken off air
4 July 2013
The television station of Egypt's Muslim Brotherhood and three other channels linked to Islamist groups backing ousted President Mohammad Mursi was taken off air immediately after a military decision to remove Mursi from power.
The managers of the Brotherhood's channel 25 were arrested hours after Islamist, state news agency MENA reported. Salafist channels al-Nass, al-Hifaz, al-Amjaad were also shut down.
The Egypt25 channel had been broadcasting live coverage of rallies by tens of thousands of pro-Mursi demonstrators in Cairo and around the country, with speeches by leading Brotherhood politicians denouncing the military intervention to oust the elected president.
http://english.alarabiya.net/en/media/2013/07/04/Egypt-s-Muslim-Brotherhood-TV-taken-off-air.html
------------
Egypt shows the failure of 'political Islam': Assad
July 4, 2013
Syrian President Bashar al-Assad yesterday said the massive protests against his Islamist Egyptian counterpart brought the fall of "political Islam," in statements posted on his official Facebook page.
The Egyptian army toppled Islamist President Mohamed Morsi yesterday after a week of bloodshed that killed nearly 50 people as millions took to the streets to demand an end to his turbulent single year of rule.
The announcement, made on state television by Morsi's own defence minister, armed forces chief General Abdel Fattah al-Sisi, drew a rapturous welcome from the protesters who have camped out on the streets of Cairo for days.
Sisi also announced a freezing of the Islamist-drafted constitution and early presidential elections.
"What is happening in Egypt is the fall of what is known as political Islam," Assad said in an interview with Syrian state newspaper Ath-Thawra, excerpts of which were posted on the Internet.
"Anywhere in the world, whoever uses religion for political aims, or to benefit some and not others, will fall," Assad said.
"You can't fool all the people all the time, let alone the Egyptian people who have a civilisation that is thousands of years old, and who espouse clear, Arab nationalist thought," he added.
"After a whole year, reality has become clear to the Egyptian people. The Muslim Brotherhood's performance has helped them see the lies the (movement) used at the start of the popular revolution in Egypt."
The full, pre-recorded interview is due to be published today, a day after massive street protests in Egypt ended with the ouster of the Brotherhood's Mohamed Morsi.
There is long-standing animosity between the Damascus regime and the Muslim Brotherhood, and membership in the group has been punishable by death in Syria since the 1980s.
The Syrian branch of the Brotherhood today plays a key role in the exiled opposition National Coalition, which is recognised by more than 100 states and organisations as legitimate representative of the Syrian people.
Syria's conflict broke out after Assad's regime unleashed a brutal crackdown on a popular movement for regime change that broke out in March 2011.
http://www.thedailystar.net/beta2/news/egypt-shows-the-failure-of-political-islam-assad/
----------
Egypt political upheaval to deepen economic crisis
AP
Cairo, July 04, 2013
Egypt's descent into even deeper political turmoil will almost certainly put a multi-billion dollar international bailout on hold and lead to an even more painful economic crisis with worsening fuel shortages and higher prices on basic goods.
After protracted negotiations that have stretched for more than a year, Egypt had been inching closer to securing a critical $4.8 billion International Monetary Fund loan.
The military's overthrow Wednesday of Islamist President Mohammed Morsi will likely put the implementation of austerity measures needed to secure that loan into a dangerous limbo.
The military moved in after four days of huge demonstrations against Morsi. Much of the anger grew from the country's dismal economic situation and the ever-growing burden it projects on already strapped Egyptians.
Analysts said Egypt could be moving toward a worst-case scenario economically - from increasing fuel shortages and blackouts, a sudden and sharp depreciation of the currency that will make everything more expensive, and a depletion of foreign currency reserves so severe it could make importing critical oil and food items difficult.
"I think they are sort of entering uncharted territory," said Caroline Freund, an analyst at the Peterson Institute for International Economics in Washington.
"Without political stability and policy predictability, investors and tourists are not going to come back," Freund said.
Since the 2011 uprising that ousted longtime authoritarian leader Hosni Mubarak, Egypt has sunken deeper and deeper into economic malaise.
The uprising against Mubarak was driven by hatred of the heavy-handed police state, but also by deep-seated social and economic discontent in a country where nearly half the population of 90 million live below or near the international poverty line of $2 a day per person.
That discontent is still evident today on the streets of Egypt, where ordinary citizens lament the hardships.
Gihan Ibrahim, a 40-year-old mother of four filling up her shopping cart in a Cairo supermarket, said her impression was that prices had surged over the past year.
"There is no longer a middle class. They all became poor," she said. "I think this period of instability is going to be long."
Protracted fuel shortages are another source of anger and frustration. A common sight in the capital in the days before Morsi was overthrown was long lines of cars snaking around gas stations and blocking main roads in the city of about 20 million which already suffers from horrendous traffic jams.
A shortage of diesel, used by trucks and imported, is attributed to Egypt's dwindling foreign currency reserves. Other fuel shortages have been linked to corruption and sabotage. The shortages contributed to anger against Morsi.
Government officials have blamed nervous hoarding and black market diversions for the shortages. Ahead of the latest wave of protests, Egyptians stocked up on staples, including fuel. And heavy government subsidies on fuel distort the economy, encouraging some to make quick profits by illegally reselling gasoline and diesel.
To secure the IMF loan, Egypt is under pressure to phase out $14.5 billion a year in fuel subsidies that are a heavy drag on the budget. The government spends an additional $4 billion to subsidize food, most of it going to bread.
The IMF sees fuel subsidies in general as wasteful and highly inefficient because they disproportionately benefit those wealthy enough to afford cars and fuel.
Still, Morsi's government has repeatedly delayed implementation of politically unpalatable austerity measures, such as cutting those subsidies, likely out of fear of adding to unrest and losing votes in upcoming parliamentary elections.
Ahmed el-Sayyed el-Naggar, an economic expert at the Ahram Center for Political and Strategic Studies in Cairo, said there have been virtually no developments to improve economic conditions, and there will not be any until the political conflict is resolved.
"Morsi and his government have failed bitterly throughout this year to achieve any of the revolution aims of social justice and economic growth. It is essential to regain the political stability for the economy to move on," he said.
"Fighting unemployment and poverty is one of the essential aims of the new wave of revolution."
In the absence of an international rescue package, Egypt has relied on tens of billions of dollars of loans from wealthy Gulf countries such as Qatar and even oil-rich neighbor Libya to shore up fast-depleting foreign currency reserves, used to pay for imports and to prop up the value of the local currency.
An Associated Press compilation in April found that Egypt had sought or was in talks for more than $30 billion in cash injections from other countries since the fall of Mubarak - the vast majority since Morsi was inaugurated in June 2012.
Freund said those cash injections may have bought Egypt some time. But in the end, they probably did the country more harm than good, because the money came with no strings attached, and Egypt did not use the time it bought to fundamentally fix the broken elements of its economy.
Samer Atallah, an economics professor at the American University in Cairo, said there is no potential for talks on loans unless Egypt clarifies its economic plan.
"Delaying the political consensus sends the economic cost to very high levels for the Egyptian family," he said.
"The fear that the Egyptians are feeling has its effect on the economy. People reduce consumption, production decreases, there is no foreign currency income and every day the risk factor is increasing that Egypt will not be able to fulfill its obligations, especially wheat and fuel."
http://www.hindustantimes.com/world-news/africa/Egypt-political-upheaval-to-deepen-economic-crisis/Article1-1086752.aspx
------------
Violent clashes across Egypt; 14 killed
Jul 04 2013
At least 14 people were killed in clashes in several Egyptian cities between opponents and supporters of the deposed president, Mohammad Morsy, Al Jazeera television reported on Thursday, citing state media and local officials.
Eight people, including members of the security forces, were reported to have died in clashes in the northern city of Marsa Matrouh. Casualties were also reported in the port city of Alexandria, Minya in southern Egypt and Fayoum, south of Cairo.
The violence came after the army announced on Wednesday that Mr. Morsy was no longer president. Mr. Morsy was in custody in the Defence Ministry, a spokesman for his Muslim Brotherhood group said on Thursday.
Mr. Morsy's ouster came after days of massive anti-government protests in the capital Cairo and other major Egyptian cities.
http://www.thehindu.com/news/international/world/violent-clashes-across-egypt-14-killed/article4880159.ece
-----------
Mohamed Morsi's fall a blow to Islamists
AP | Jul 4, 2013
CAIRO: Egypt was the centerpiece of the Islamist movement's vault to power in the Arab world's sweeping wave of uprisings. Winning election after election here, the Islamists vowed to prove they could govern effectively and implement their vision of political Islam, all while embracing the rules of democracy.
Mohammed Morsi was their pillar: the veteran of the Muslim Brotherhood, the region's oldest and most prestigious political Islamist group, who became Egypt's first freely elected president.
That is what makes his ouster after barely a year in office, with a gigantic cross-section of Egypt's population demanding he go, such a devastating blow to Islamists on multiple levels, not only in Egypt but across a tumultuous region.
Morsi, his Brotherhood and their harder-line allies say they played by the rules of democracy, only to be forced out by opponents who could not play it as well as them at the ballot box and so turned to the military for help. The lesson that the Islamists' extreme fringe may draw: Democracy, which many of them viewed as "kufr" or heresy to begin with, is rigged and violence is the only way to bring their dream of an Islamic state.
But to the millions of Egyptians who marched in the street against Morsi, the Islamists failed at democracy: They overreached.
The protesters became convinced the Islamists were using wins at the polls to centralize power in the hands of the Muslim Brotherhood far beyond their mandate and treat the country as if it accepted the "Islamist project." Even worse, for many of the protesters, the Islamists simply were not fixing Egypt's multiple and worsening woes.
That is a serious setback for their dreams, calling into doubt the argument by Islamists across the region that political Islam is the remedy to their society's ills. The damage to their prestige echoes widely, from Gaza where the Hamas rulers who saw in Morsi a strong ally, to Tunisia where a Brotherhood branch holds power, to Libya and Syria where Islamists push for power.
"The Brotherhood in Egypt is now a cautionary tale," said Michael W. Hanna of the Century Foundation in New York. "Morsi's abysmal performance during their short tenure is a tale of how not to guide and rule."
The irony is, the Brotherhood knew the risks going in. After the 2011 fall of autocrat Hosni Mubarak, the group vowed not to try to dominate parliament and not to run a candidate for president, knowing the backlash if it seemed to be grabbing power or if it led a government that failed to fix a broken Egypt. It went back on each of those promises, every time saying its hand was forced into doing so.
Morsi himself recognized the power of the street as he vowed to be a president for all the people. The day before his formal inauguration on June 30, 2012, he first delivered a symbolic oath of office in Cairo's Tahrir Square, the epicenter of the revolt that overthrew his autocratic predecessor.
"You are the source of power and legitimacy," he told the crowd. Nothing stands above "the will of the people. The nation is the source of all power. It grants and withdraws power."
In the broad range of the political Islam movement - from moderates to militants - the Brotherhood eventually emerged as the central force arguing that Islamists can be democrats. Their influence drew in harder-line groups to participate at the ballot box. Ultraconservatives who once refused elections that could potentially bring any law but God's law took their chance at the polls.
In an impassioned Facebook post just before the army pushed Morsi out Wednesday, one of his top advisers Essam el-Haddad argued that what was happening was irrevocably damaging democracy itself, saying the Brotherhood had been unfairly treated. He insisted history would show the Brotherhood tried to include others in its administration but was shunned.
"Increasingly, the so-called liberals of Egypt escalated a rhetoric inviting the military to become the custodians of government in Egypt," he wrote. "The opposition has steadfastly declined every option that entails a return to the ballot box."
But amid multiple complaints, opponents point to a key factor that turned many against the Brotherhood: the post-Mubarak constitution. Morsi had vowed a consensus on the landmark document, but Islamists dominated the panel writing it. Liberals, leftists, secular politicians and Christians steadily dropped out, complaining Morsi's allies were forcing their vision. In the end, Morsi unilaterally decreed himself and the assembly untouchable by the courts to ensure judges did not dissolve the panel, while Islamists hastily finished writing the charter in an all-night marathon session.
It was rushed to a referendum, where it passed with a hearty 63 percent of the vote - but only just over 32 percent of the electorate casting ballots.
Meanwhile, Brotherhood members and other Islamists were steadily were given more posts across the government, fueling a perception that they were taking over institutions - though they constantly faced resistance on many fronts from the entrenched bureaucracy. Islamist rhetoric from officials and clerics on TV rang in the ears of many as divisive and harsh.
Morsi's ouster could now send the Brotherhood into disarray for years to come, just as a major crackdown on the group did in 1954. Morsi and many of his advisers have been put under house arrest, and he could face trial for escaping prison during the 2011 uprising. Two top leaders of the group, including the head of its political party Saad el-Katatni, were arrested and at least 30 more were expected to meet the same fate.
The danger now could be that a heavy crackdown will turn into forcibly excluding them from politics once more. The Brotherhood was banned for much of its 83-year existence. But it still maintains a powerful, organized and disciplined network of members nationwide.
"The forceful removal of the nation's first democratically-elected civilian president risks sending a message to Islamists that they have no place in the political order; sowing fears among them that they will suffer yet another bloody crackdown; and thus potentially prompting violent, even desperate resistance by Morsi's followers," the Brussels based International Crisis group warned in a statement.
http://timesofindia.indiatimes.com/world/middle-east/Mohamed-Morsis-fall-a-blow-to-Islamists/articleshow/20906749.cms
------------
Morsi supporters: Political Islam will survive in Egypt
4 July 2013
Supporters of the ousted Egyptian President Mohammed Morsi have been taking to the streets to resist what they call a coup against democracy, raising fears of violent clashes between the two sides.
The powerful Egyptian military announced on Wednesday that the country's first democratically elected president was no longer in office.
Some of Mr Morsi's supporters told the BBC World Service that the army's action did not mean the end of political Islam in Egypt.
http://www.bbc.co.uk/news/world-middle-east-23181754
----------
ElBaradei tops list to head Egypt government: sources
July 04, 2013
Former U.N. nuclear agency chief Mohamed ElBaradei is a favourite to head a transitional government in Egypt after the military overthrew Islamist President Mohammed Morsi, military, political and diplomatic sources said on Thursday.
ElBaradei, 71, was mandated by the main alliance of liberal and left-wing parties, the National Salvation Front, and youth groups that led anti-Morsi protests as negotiator with the armed forces and was present when armed forces commander General Abdel Fattah al-Sisi announced the military takeover on Wednesday.
"ElBaradei is our first choice," a source close to the military high command said, speaking on condition of anonymity because of the sensitivity of the situation.
"He's an international figure, popular with young people and believes in a democracy that would include all political forces. He is also popular among some Islamist groups," the source said.
Political sources said ElBaradei, who won the Nobel peace prize for his work as head of the International Atomic Energy Agency (IAEA), would also be acceptable to Western governments that have bent over backwards to avoid calling the removal of Mursi and his Muslim Brotherhood a military coup.
Political sources said other figures under consideration were veteran ex-prime minister Kamal al-Ganzouri, who headed a transitional government in 2011-12 after the uprising that ousted Hosni Mubarak, and Farouk El-Okdah, a respected former central bank governor.
A decision was likely later on Thursday, the sources said after constitutional court chief Adli Mansour was sworn in earlier in the day as interim head of state.
ElBaradei has long pressed for Egypt to sign a $4.8 billion loan deal with the International Monetary Fund, which Morsi's government initialled last November but never ratified or implemented.
The deal would help kick-start an economy severely battered by the collapse of tourism and foreign investment due to political uncertainty since the 2011 revolution. But it would also mean implementing potentially unpopular cuts in fuel and food subsidies, and tax increases.
http://www.hindustantimes.com/world-news/africa/ElBaradei-tops-list-to-head-Egypt-government-sources/Article1-1087032.aspx
---------
Arab countries call on Morsi to step down, issue travel warnings
3 Jul 2013
As Egypt braces for different political scenarios, Arab and global responses to the current deadlock varied.
A fierce opponent to the Muslim Brotherhood, Syria's Information Minister Omran Al-Zohbi cited Morsi's departure as the only exit for a president spoken against by the "vast majority" of his people.
"Those who are loyal to the (Egyptian) nation should side by the people and against the terrorism of the Muslim Brotherhood" movement from which Morsi hails, he said, according to Reuters.
Zohbi's comments reflect longstanding animosity between the Shia Syrian regime and the Sunni Brotherhood.
Remaining largely silent until Wednesday, Saudi Arabia's Grand Mufti, Sheikh Abdulaziz Al-Sheikh, called on intellectuals and the Egyptian population "to resolve the problems with wisdom and reflection, to suppress bloodshed," Reuters quoted him as saying.
He also urged both sides of the conflict to reach a compromise on the crisis.
Kuwait issued warnings against travelling to Egypt while asking its citizens to leave the country as soon as possible, becoming the first Arab country to do so.
Britain also advised against travelling to Egypt, with the exception of a few holiday reports, but is still deliberating on calling back its citizens.
Millions flooded Egypt's streets since 30 June, prompting the army to issue a 48-hour ultimatum amid escalating nationwide protests.
The army's intervention set off alarm bells regarding Morsi's inability to appoint a power-sharing government.
http://english.ahram.org.eg/NewsContent/2/8/75610/World/Region/Arab-countries-call-on-Morsi-to-step-down,-issue-t.aspx
------------
URL: http://www.newageislam.com/current-affairs/different-news-reports-from-various-news-papers/egypt--chief-justice-adly-mansour-sworn-in-as-interim-president/d/12435