DAWN.COM and Zahir Shah Sherazi
November 2, 2013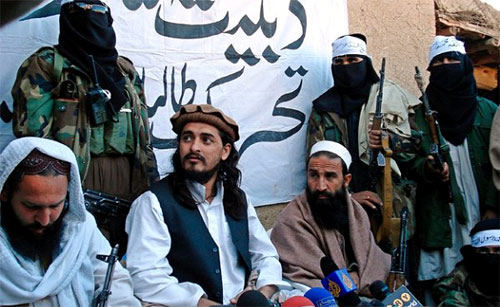 A 2008 photo showed Hakimullah Mehsud, center, the leader of the Pakistani Taliban, who was said to have been killed. European Pressphoto Agency
PESHAWAR/KARACHI: Hakimullah Mehsud, chief of the Tehrik-i-Taliban Pakistan (TTP), was killed in a US drone strike in the North Waziristan tribal region on Friday, intelligence officials and the Pakistani Taliban said.
Intelligence officials said the Pakistani Taliban supremo was leaving a meeting at a mosque in Dande Darpakhel area of North Waziristan when the drone targeted the vehicle he was travelling in.
Pakistani Taliban militants said funerals for the TTP chief and other militants killed in the drone strike were held on Saturday in various parts of North Waziristan.
Five militants, including Abdullah Bahar Mehsud and Tariq Mehsud, both key commanders and close aides of the TTP chief, were also killed with two others injured in the drone strike, multiple sources confirmed.
Some of the sources said that a paternal uncle of the proscribed organisation's chief was among those killed in the drone strike.
Taliban sources told Dawn.com that Hakimullah was shifted to a hospital in the wake of the drone attack but succumbed to his injuries on the way. Locals said the drones had been carrying out low flights in various parts of North Waziristan since Friday morning.
The area of Dande Darpakhel is located five kilometres (three miles) north of Miramshah, the main town in the North Waziristan tribal region, and is said to be a stronghold of the Pakistani Taliban.
Friday's strike came nearly a day after three insurgents were killed in another drone attack that also targeted a militant compound near Miramshah. The US unmanned plane was still flying in the area after the attack.
Hakimullah Mehsud: A brief profile
Mehsud has been reported dead several times before. But late on Friday, his death in the drone strike in the North Waziristan region bordering Afghanistan was confirmed by several intelligence, army and militant sources across the country. Moreover, the Associated Press also quoted a senior US intelligence official as confirming the strike, saying the US received positive confirmation Friday morning that Mehsud had been killed.
Who will succeed Hakimullah
The South Waziristan Taliban chief, Khan Said Sajna alias Khalid, is likely to succeed Hakimullah Mehsud as TTP chief.
Chief of Mohmand Taliban Umar Khalid Khurasani is also a strong contender for the slot as he is the only surviving senior Taliban commander who had directly commanded operations under Hakimullah.
Mullah Fazlullah, chief of the Swat Taliban, is another senior commander but unlikely to replace the assassinated TTP chief for not belonging to the Mehsud clan.
The Latif Mehsud arrest
Hakimullah's death in the drone attack came weeks after the arrest of TTP No. 2, Latif Mehsud by American forces in Afghanistan last month was made public.
Latif was arrested as he was driving along a main highway sparking a row between Afghan and American officials.
Some quarters dubbed the arrest as an attempt by Afghanistan to gain leverage over Pakistan by cultivating an alliance with the Pakistani Taliban.
Government's reaction
Strongly condemning Friday's US drone attack in North Waziristan, the Pakistani government reiterated that these strikes are a violation of the country's sovereignty and territorial integrity.
Foreign Office Spokesman Aizaz Ahmed Chaudhry in a statement said there was an across the board consensus in Pakistan that these drone strikes must end.
He said the government has consistently maintained that drone strikes are counter-productive, entail loss of innocent civilian lives and have human rights and humanitarian implications. Such strikes also set dangerous precedents in bilateral relations, he added.
The spokesman said these strikes have a negative impact on the mutual desire of both US and Pakistan to forge a cordial and cooperative relationship and to ensure peace and stability in the region.
Condemning the drone strikes, Interior Minister Chaudhry Nisar said these were aimed at sabotaging efforts to establish peace in the country.
"A delegation was about to be sent for talks to the Taliban tomorrow (Saturday)," the minister said hinting that a "senior militant commander" may have been killed in Friday's strike. Nisar's statement came before public confirmation that the senior militant commander was Hakimullah.
Earlier on Friday, Pakistani Taliban spokesman Shahidullah Shahid had said the Taliban had had "no contact" with the government, a day after Prime Minister Nawaz Sharif said a process to initiate peace talks had begun.
Moreover, speaking in a rare interview with the BBC last month, the TTP chief had said that the Taliban were ready for serious talks with the government and would welcome such an effort.
Reaction from the US
The CIA and the White House declined to comment on the reported death.
Speaking to Dawn, Jen Psaki, spokeswoman for the US State Department said: "We have seen those reports but we don't have anything for you on that. The reports just came out. We have a close cooperative relationship with Pakistan on various issues, including counter-terrorism but I do not have anything specific for you on Pakistan on this report."
Imran demands govt to block NATO supplies
Reacting to the incident, Pakistan Tehrik-i-Insaf (PTI) chief Imran Khan – strong opponents of US drone strikes – demanded the government to immediately block the NATO supplies going through the country. His party is set to table resolutions in the KP Assembly and the National Assembly on Monday in this regard.
Khan, on Thursday, had said his party had the capability to stop the NATO supplies and warned that his words must not be taken lightly. Khyber Pakhtunkhwa is one of two routes through which NATO supplies move in and out of Afghanistan.
The incident comes a week after Sharif urged US President Barack Obama to stop drone strikes during a meeting in Washington.
On Wednesday, the defence ministry said 317 US drone strikes in the country's tribal areas had killed 67 civilians and 2,160 militants in Pakistan since 2008.
US drone attacks are deeply unpopular in Pakistan, but Washington sees them as a vital tool in the fight against militants in the tribal areas along the border with Afghanistan.
The Pakistani government has repeatedly protested against drone strikes as a violation of its sovereignty. But privately officials have been reported as saying the attacks can be useful.
Source: http://www.dawn.com/news/1053410/pakistani-taliban-chief-hakimullah-mehsud-killed-in-drone-attack/print
--------
Drone Strikes Are Said to Kill Pakistan Taliban Chief
By Declan Walsh, Ihsanullah Tipu Mehsud and Ismail Khan
November 1, 2013
American drones on Friday killed the leader of the Pakistani Taliban, dealing a major blow to a militant group that has terrorized Pakistan and that tried to set off a car bomb in New York City in 2010, according to Pakistani intelligence officials and militant commanders in the tribal belt.
The death of the leader, Hakimullah Mehsud, is a signal achievement for the covert C.I.A. program at a time when drones themselves have come under criticism from human rights groups and other critics in Pakistan and the United States over the issue of civilian casualties.
While prior reports of Mr. Mehsud's death have proved false — ultimately serving only to burnish his credentials as an untouchable renegade — within hours there was a strong sense from multiple sources, including two American defense officials, that this time he had not escaped.
"Hakimullah has been martyred," said a local Taliban commander, speaking by phone from the tribal belt on the condition of anonymity. Pakistani officials backed up that assessment.
The death offered relief to many Pakistanis. In recent years the Pakistani Taliban — who are related to, but operate independently of, the Afghan Taliban — have killed thousands of people, mostly through suicide bombings. The group has drawn the Pakistani Army into a grinding conflict in the tribal belt, and it has destabilized the rest of the country through a relentless campaign of violence.
To the C.I.A., the demise of Mr. Mehsud, a showy man in his mid-30s with a flair for publicity as well as bloodshed, represents a payback of sorts.
He orchestrated a suicide attack on a spy base in eastern Afghanistan in 2009 that killed seven American C.I.A. employees, and later trained Faisal Shahzad, a Pakistani-American who tried to attack Times Square in May 2010.
Mr. Mehsud had a $5 million United States government bounty on his head. But Mr. Mehsud's death also comes at a delicate time. Just last week Prime Minister Nawaz Sharif of Pakistan, who strenuously opposes drone strikes, met with President Obama at the White House to express that opposition.
Mr. Sharif's plans to engage in peace talks with the Pakistani Taliban have also been thrown into disarray — and possibly rendered unnecessary — by Friday's attack. Instead, enraged Taliban commanders have vowed to repay Mr. Mehsud's killing in bloodshed. "Our revenge will be unprecedented," Abu Omar, a Taliban commander in North Waziristan, said by phone on Friday.
Mr. Omar said he considered the Pakistani government "fully complicit" in the drone strike. "We know our enemy very well," he said.
Friday's strike occurred in Danday Darpa Khel, a small village and well-known militant stronghold in the North Waziristan tribal agency, near the Afghan border.
Pakistani officials said C.I.A.-operated drones had fired at least four missiles at a compound that had been built for Mr. Mehsud about a year ago and that he had used intermittently since then.
One Pakistani official, citing intelligence reports, said that besides Mr. Mehsud, three other people were killed in Friday's attack, including Mr. Mehsud's uncle and a bodyguard. Two other people were wounded. The Pakistani official said Abdullah Behar, Mr. Mehsud's deputy, also had died in the strike. Mr. Behar had just taken over from Latif Mehsud, a militant commander who was detained by American forces in Afghanistan last month.
Caitlin M. Hayden, a White House spokeswoman, said in a written statement that the Obama administration was not in a position to confirm reports of Mr. Mehsud's death. But if true "this would be serious loss for the Tehrik-i-Taliban Pakistan (TTP)," the statement said, using the official title of the Pakistani Taliban.
And while the C.I.A. declined to comment, an American defense official with knowledge of the strike said the United States was confident that Mr. Mehsud was dead.
The Americans tracking Mr. Mehsud were "nearly certain" of his location ahead of the strike, the American official said, and collected intelligence afterward that led them to conclude he was dead.
Tribesmen said they planned to bury Mr. Mehsud on Saturday, when Mr. Sharif is scheduled to return to Pakistan from London, where he has been holding talks with British officials and the Afghan president, Hamid Karzai.
Elsewhere in Pakistan, reports of Mr. Mehsud's death met an uneasy welcome.
Some celebrated the demise of a ruthless militant who was responsible for much suffering and had evaded longstanding Pakistani efforts to capture or kill him.
"All peace-loving Pakistanis should be satisfied that a monster who had unleashed terror in Pakistan and elsewhere is dead," said Pervez Musharraf, the former military leader, who is under house arrest.
But the interior minister, Chaudhry Nisar Ali Khan, described the American action as a calculated blow against the fledgling peace process.
A delegation of three clerics from Punjab Province whom Mr. Sharif handpicked had been scheduled to travel to the tribal belt on Saturday to begin talks with the Pakistani Taliban and two other militant groups. The group has now been stopped from proceeding, a senior security official said.
And on the heated television talk shows, where public opinion is shaped, conservative politicians vigorously condemned the strike.
Imran Khan, the former cricket player whose party rules Khyber-Pakhtunkhwa Province, said he would seek to block NATO supply lines in retaliation; one of his deputies called for the Pakistani military to attack American drones. "Now, one thing is proven," Mr. Khan said in a television interview. "Whenever Pakistan has attempted talks, drone attacks have sabotaged them."
On Twitter, Bilawal Bhutto, a leader of the opposition Pakistan People's Party, mocked Mr. Khan's stance, telling him he was "so sorry for your loss."
Many ordinary Pakistanis, however, voiced fears of a violent backlash led by militants carrying out suicide attacks across the country. Seth Jones, a militancy expert at the RAND Corporation in Washington, said such a reaction was likely.
He noted that just after the C.I.A. killed the Pakistani Taliban's previous leader, Baitullah Mehsud, in August 2009, the group then put together the plot to explode a bomb in Times Square.
While Mr. Mehsud's death is a serious blow to the Pakistani Taliban, Mr. Jones said, this time it is more than able to replace him. "This won't be lethal for the TTP," he said.
Although the Pakistani leadership regularly condemns drone attacks, a growing body of evidence suggests that it has quietly cooperated with at least some strikes over the years.
Still, after the strike on Friday, Pakistan's Foreign Ministry issued a pro forma condemnation, employing the usual language about the American action's being a violation of Pakistan's "sovereignty and territorial integrity."
Hours before the strike, three American congressmen and the American ambassador to Pakistan, Richard G. Olson, met with Sartaj Aziz, the prime minister's adviser on national security and foreign affairs, in Islamabad. In a statement, the Foreign Ministry said Mr. Aziz had "expressed satisfaction at the upward trajectory in bilateral relations between Pakistan and the United States."
The leader of the American congressional delegation, Representative Adam Kinzinger, an Illinois Republican, would not explicitly confirm Mr. Mehsud's death, but in a statement after the strike, he said, "I congratulate the hard work of those protecting us and mourn the loss of those killed in past attacks by this man."
Declan Walsh reported from London; Ihsanullah Tipu Mehsud from Islamabad, Pakistan; and Ismail Khan from Peshawar, Pakistan. Mark Mazzetti contributed reporting from Washington; Matthew Rosenberg from Kabul, Afghanistan; and Salman Masood from Islamabad.
Source: http://www.nytimes.com/2013/11/02/world/asia/drone-strike-hits-compound-used-by-pakistani-taliban-leader.html?ref=world&_r=0
--------------
Pak Taliban Confirm Hakimullah Mehsud's Death, Say His Body 'Damaged But Recognisable'
Reuters | Nov 2, 2013
PESHAWAR, Pakistan: A Pakistani Taliban fighter said on Saturday that leader Hakimullah Mehsud's body was "damaged but recognisable" after a US drone strike hit his vehicle, in the first eyewitness account of his death.
Security officials have said Mehsud and three others were killed on Friday in the Taliban stronghold of Miranshah.
Mehsud, who had a $5 million bounty on his head, has been reported killed by drones before. He took over as leader of the Pakistani Taliban in 2009 after its two previous leaders were killed in drone strikes.
Taliban commanders said Mehsud's funeral would be held on Saturday and commanders were debating his replacement.
In Washington, two US officials confirmed Mehsud's death in a CIA drone strike. They spoke on condition of anonymity.
At the White House, a spokeswoman said officials had seen the reports Mehsud may have been killed in Pakistan. "We are not in a position to confirm those reports, but if true, this would be a serious loss" for the Pakistan Taliban, Caitlin Hayden, spokeswoman for the National Security Council, said in a statement.
She noted that the Pakistan Taliban had claimed responsibility for the failed bomb plot at New York's Times Square in 2010, and that Mehsud was wanted in connection with the killing of seven CIA employees in Afghanistan in 2009.
The killing of Mehsud was the latest setback for the Pakistani Taliban, a group aligned with its Afghan namesakes and which has staged attacks against Pakistani armed forces and civilians in its fight to topple the government.
His death is almost certain to scuttle the prospect of peace talks between the Taliban and the government of Prime Minister Nawaz Sharif, who won a landslide election victory in May by promising to bring peace to the country.
Pakistan had informed the United States and Britain that peace talks with the Pakistani Taliban were imminent, said Bruce Riedel, a former CIA and White House official with extensive experience in the region.
"So the drone strike is very awkward and difficult for Sharif. Conspiracy theories in Pakistan will assume he agrees to the strike even as he proposed peace talks with Mehsud," Riedel said via email. "Another setback for US-Pakistan relations ironically." Funeral
The government never clarified which factions of the Taliban it was willing to talk to or whether it would comply with the Taliban's demands to release its prisoners and withdraw the army from Taliban strongholds in Pakistan's tribal areas.
The government, which officially condemns US drone strikes, issued its usual statement denouncing the attack, but did not comment on reports of Mehsud's death.
Mehsud's funeral will be held on Saturday at 3pm (1000 GMT) in Miranshah, the main regional city, the Taliban commander said, an event likely to stir tension in a region already suffering from an escalating insurgency.
Pakistan, a nation of 180 million people, has been plagued by violence, including the homegrown Taliban insurgency that has cost tens of thousands of lives.
But the Taliban has been weakened by a series of counter-attacks. In May, a US drone strike killed Mehsud's second-in-command, and one of his most trusted lieutenants was captured in Afghanistan last month.
A senior Pakistani Taliban source said it held an emergency meeting after Mehsud's death and approved two commanders, Maulvi Omar Khalid and Maulana Fazlullah, to replace him.
"Among these men, one will replace our slain Ameer (leader). Maulvi Omar Khalid ... is most likely to replace Hakimullah Mehsud," said a senior Pakistani Taliban official.
He said the Taliban would hold a tribal meeting early on Saturday to decide on further actions. "You will see our reaction," he said.
Young commander
The Pakistani Taliban acts as an umbrella for various jihadist groups operating in Pakistan's lawless tribal belt, which are separate, but allied to the Afghan Taliban.
Several intelligence, army and Taliban sources across Pakistan confirmed Mehsud, believed to be in his mid-30s, had been killed in the drone strike in North Waziristan.
His bodyguard and driver were also killed, they said.
The drones fired four missiles at a compound in Danda Darpa Khel, a village about 5 km (3 miles) from the regional capital of Miranshah, sources said. Mehsud had been attending a gathering of 25 Taliban leaders to discuss the government's offer of talks, they said.
The information could not be independently verified because journalists have no access to the affected areas.
Mehsud was brought into the insurgency by his cousin Qari Hussain, who was the Taliban's top trainer for suicide bombers until he was killed in a drone strike.
He lacked formal education or religious training, but Mehsud was a popular figure known for his jokes and interest in modern technology, said Reuters journalists who had met him.
He was the driver for the former head of the Pakistani Taliban, and then rose through the ranks to become the movement's spokesman, although he was known for his emotional outbursts during conversations.
Mehsud took over the Pakistani Taliban in August 2009 after a drone strike killed the previous leader, his mentor.
Mehsud had two wives and moved frequently because of his fear of US drone strikes.
In recent months, analysts say rivalries with other Taliban commanders over revenues from extortion and kidnapping had sharpened, rising tension within the fragmented movement.
The United States offered $5 million for Mehsud's capture after he appeared in a farewell video with the Jordanian suicide bomber who killed seven CIA employees at a base in Afghanistan in 2009.
US prosecutors have charged him with involvement in the attack. The Taliban is also accused of plotting to bomb Times Square in 2010.
Although Mehsud's death will bring calls for revenge, it may make negotiations with the militants easier in the long run, said Saifullah Mahsud, director of the Pakistani think tank FATA Research Center.
"Hakimullah Mehsud was a very controversial figure and he had very tough demands," he said.
But the strike did not signal the end of the Pakistani Taliban, he said.
"It's a very decentralised organisation. They've lost leaders to drone strikes before."
Source: http://timesofindia.indiatimes.com/world/pakistan/Pak-Taliban-confirm-Hakimullah-Mehsuds-death-say-his-body-damaged-but-recognisable/articleshow/25107836.cms
------------------
Profile: Hakimullah Mehsud
2013-11-01
Hakimullah Mehsud, the chief of the banned Tehrik-i-Taliban Pakistan (TTP), was reportedly killed in a US drone strike in the tribal areas of Pakistan on Friday evening.
Mehsud first came into public prominence after orchestrating audacious raids against the Pakistan Army.
According to reports, Hakimullah is a nom de guerre he later adopted (his birth name is Zulfiqar). He was initially a bodyguard to Baitullah Mehsud, his predecessor and founder of the umbrella Tehrik-i-Taliban Pakistan, and later became his close aide.
He was also appointed as a spokesman for Baitullah and succeeded him as leader after the latter was killed in a drone strike in August 2009.
In his early life, Hakimullah received basic education at a madrasa in a village in Hangu district.
It was only in 2007 after the capture of 300 Pakistani soldiers that his name and prestige among the Taliban rose dramatically.
He was made the Taliban commander in Khyber, Orakzai and Khurram and was regarded as the mastermind behind the attacks on NATO supply lines in the tribal region.
In 2010 Hakimullah appeared alongside a Jordanian militant in a farewell video in which the latter claimed responsibility for a suicide attack in Afghanistan in which seven CIA agents were killed.
Under Hakimullah, the Taliban formed complex alliances with other extremist militant groups spread across Pakistan.
Regarded by several Taliban militants as being their best leader to date, Hakimullah was known to be a fierce and ruthless leader who inspired respect amongst other militants.
His unknown whereabouts and numerous reports of his killing only added to his prestige among Taliban militants.
In 2009, he was reported to have been killed after a drone strike – one of at least two reports that later turned out to be false.
The United States had also offered a reward of $5 million for information leading to the capture of Hakimullah Mehsud.
Source: http://www.dawn.com/news/1053416/profile-hakimullah-mehsud
--------------------
How the Pakistani Taliban Became a Deadly Force
By Carlotta Gall and Declan Walsh
Q. Who are the Pakistani Taliban?
A. The Pakistani Taliban Movement, or Tehrik-i-Taliban Pakistan, is an umbrella organization loosely uniting up to 30 groups of Pakistani militants along the tribal areas bordering Afghanistan. Its headquarters, though, is in North and South Waziristan, the jihadist hub at the western end of the tribal belt, where it was formally founded in 2007 by a prominent Pashtun commander, Baitullah Meshud.
Many Pakistani Taliban commanders had fought in Afghanistan as part of the movement that swept to power in Kabul. When American forces ousted that movement in 2001, many of its leaders fled across the border into Pakistan. The Pakistanis among them played host to their Afghan counterparts — as well as hundreds of fighters from Al Qaeda — providing them with shelter, logistical support and recruits.
The Afghan Taliban and Qaeda fighters steadily radicalized the tribal regions, encouraging the Pakistani Taliban to spread their influence across the mountainous region and beyond into Pakistan's settled areas and main cities.
The militant groups resisted the Pakistani military's efforts to impose control. They sometimes cooperated in cease-fire agreements with the Pakistani military and then reneged months later. After Mr. Mehsud created Tehrik-i-Taliban, he led the group in attacks against the Pakistani state, striking military and civilian targets in various cities. The group accused the Pakistani government of siding with the United States in its war against terror, and vowed revenge for the killing of Pakistani civilians in the 2006 bombing of a madrasa in North-West Frontier Province, which was renamed Khyber-Pakhtunkhwa in 2010, and in the Red Mosque siege in Islamabad in 2007.
The United States designated the Pakistani Taliban a terrorist organization in September 2010 and placed a $5 million reward for information leading to the arrest of their leader, Hakimullah Mehsud.
Q. Who is Hakimullah Mehsud, and what does his death mean for the Pakistani Taliban?
A. Mr. Mehsud became the leader of the Pakistani Taliban after an American drone strike killed Baitullah Mehsud in August 2009. A onetime driver for the Taliban who had risen to prominence through a series of daring attacks, he played a major role in the humiliating kidnapping of 250 Pakistani soldiers in 2007. He later stole American jeeps as they were being transported to Afghanistan and was filmed driving around in one.
Mr. Mehsud proved a wayward, vicious leader. He appeared at the execution of a former Pakistani intelligence officer, Sultan Amir, known as Colonel Imam, in 2011. Colonel Imam had long been a trainer and mentor to the Taliban in Afghanistan and Pakistan, yet Mr. Mehsud ignored efforts to intercede on his behalf by senior Taliban figures, including Mullah Mohammad Omar, the Afghan Taliban leader, and Sirajuddin Haqqani, the leader of the powerful Haqqani network.
Hunted by American drones, Mr. Mehsud adopted a low profile in recent months and was rarely seen in the news media. But in a BBC interview that was broadcast in October, he vowed to continue his campaign of violence. He was aware that the C.I.A. was seeking to kill him, he said, adding: "Don't be afraid. We all have to die someday."
Mr. Mehsud's deputy, Abdullah Behar, was among the four people who were killed with him, according to a Pakistani official, and it was not clear who might succeed him. Mr. Behar had just assumed the deputy post from Latif Mehsud, a militant commander whom American forces in Afghanistan detained last month.
Q. What are the most significant attacks claimed by the Pakistani Taliban?
A. Under Baitullah Mehsud, the Pakistani Taliban and affiliated militant groups unleashed a series of devastating bomb blasts in Pakistan's cities. They attacked Pakistani military and intelligence targets, including a suicide bombing in the canteen of Pakistan's elite special forces commandos, the Special Services Groups, and a hostage-taking inside the army's General Staff Headquarters in Rawalpindi. The Pakistani Taliban were also behind fatal bomb blasts on softer targets like the Marriott Hotel in Islamabad in September 2008 and the Pearl Continental Hotel in Peshawar in 2009.
Baitullah Mehsud is also thought to have been behind the suicide bombing that killed former Prime Minister Benazir Bhutto in December 2007.
Under Hakimullah Mehsud, the group demonstrated a close alliance with Al Qaeda. He claimed a role in the suicide bombing by a Jordanian double agent that killed seven C.I.A. officials and a Jordanian intelligence official at Camp Chapman in eastern Afghanistan in December 2009, mounted in revenge for the killing of Beitullah Mehsud.
The bomber, Humam Khalil Abu Mulal al-Balawi, had been recruited by Jordanian intelligence and was being used to try to undermine Al Qaeda's leadership based in Pakistan's tribal areas. The Taliban disseminated video footage showing Mr. Mehsud beside the Jordanian before the bomber traveled from North Waziristan to Afghanistan to carry out the attack.
Mr. Mehsud later trained Faisal Shahzad, a Pakistani-American who tried to set off a car bomb in Times Square in New York City in 2010.
This year, the Pakistani Taliban shot Malala Yousafzai, a Pakistani schoolgirl in the Swat Valley, in the head for advocating the education of girls. Ms. Yousafzai went on to become a worldwide symbol of the group's indiscriminate violence and subjugation of women and girls, traveling to New York to give a speech at the United Nations. She and her family have moved to England, in part because the Pakistani Taliban have vowed to attack her again.
Q. What relationship do the Pakistani Taliban have now to the Afghan Taliban?
A. The group owes nominal allegiance to the Afghan Taliban leader, Mullah Mohammed Omar, but in practice the Pakistani Taliban operate independently and at times have spurned orders from its Afghan counterparts.
Source: http://www.nytimes.com/2013/11/02/world/asia/how-the-pakistani-taliban-became-a-deadly-force.html
URL: http://www.newageislam.com/current-affairs/dawncom,-zahir-shah-sherazi-and-others/pakistani-taliban-chief-hakimullah-mehsud-killed-in-drone-attack/d/14250