By Dana Liebelson
Nov. 16, 2012
Two other related news:
Cyber Security Bill Dead After Second U.S. Senate Rebuff
US To Face Tough Debate On UN Internet Rules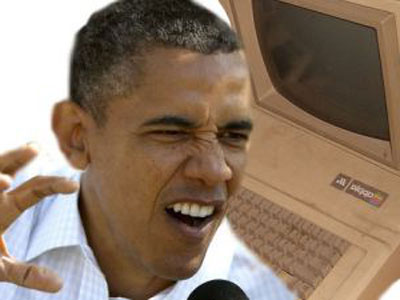 Win McNamee/Getty Images North America
Imagine if someone like Lisbeth Salander, the computer hacker in the Girl with the Dragon Tattoo, decided to poison New York's water supply or tried to turn off Washington's power grid. Would America be able to defend itself? The Obama administration isn't sure, so it's moving to beef up cyber-security measures and to require companies to explain how they plan to defend against cyber-attacks. But some conservatives are accusing Obama of trying to take over the internet.
"If you let the government take over some part of the internet, it's going to take over more and more," says Julie Borowski, a policy analyst at the tea party group Freedom Works. "The Founding Fathers wouldn't support it."
Congressional Republicans are worried, too. "We cannot afford a hasty, unilateral action that will only serve to bolster the efforts of less democratic nations to stifle the very free exchange of ideas and expression that has allowed the Internet to flourish," a group of House and Senate Republicans warned in an October letter to the president.
Some internet policy groups have also expressed concerns. "Frankly, we don't know" what sort of information the government might eventually request from companies, says Mark Jaycox, a policy analyst at the Electronic Frontier Foundation (EFF). "Information sharing is a slippery slope."
At issue is an executive order on cyber-terrorism that the White House is widely expected to issue at some point in the coming weeks. (Lawfare posted a September 28 draft of the order earlier this month.)
Some of the opposition to the planned order stems from the memory of the Stop Online Piracy Act (SOPA). That bill, which the Obama administration didn't support, sparked widespread opposition and drew protests from internet giants Google and Wikipedia, which said that the bill included a free speech "kill switch." But the administration insists its cybersecurity plans have nothing to do with that controversial bill. "The administration is focused on improving the cyber-security of US critical infrastructure, not regulating the internet," Caitlin Hayden, a White House spokeswoman, told Mother Jones.
Angela Canterbury, the director of public policy at the Project on Government Oversight (where I used to work), agrees with the White House that the reaction to the order is hyperbolic. "I think that it would be terrific to have more reporting on cybersecurity incidents."
And experts say the problem the White House is trying to address is real. Utility operators are increasingly connecting their control systems to the internet, explains Richard Bejtlich, the chief security officer at Mandiant, a company that offers cybersecurity services for Fortune 100 companies. These systems, which run things like temperature, grids, and valves, are then left open for hackers to exploit them by say, injecting malicious code and messing up the water supply.
"In some cases, operators don't even know they're connected until something bad happens," Bejtlich says. "And it's not getting any better; these operators are 10 years behind everyone else."
The September draft executive order asks that owners and operators of critical infrastructure participate in a "voluntary program" of adopting cybersecurity standards. It doesn't include many incentives for companies to participate…yet. But that could change. The draft order gives the secretary of defense and the administrator of general services 90 days to decide whether the government has the power to award companies that participate in more federal contracts. If that happens, companies will have a big incentive to meet cybersecurity standards.
"Many large vendors have or strive to have federal business," writes Paul Rosenzweig, a visiting fellow at the Heritage Foundation who served as deputy assistant secretary for policy in the Department of Homeland Security under George W. Bush. "Voluntary compliance would become effectively compulsory."
But according to Bejtlich, the government is already asking companies to share information on cyber security incidents, without catastrophe. Last year, the Securities and Exchange Commission issued guidance requesting that publicly traded companies report significant instances of cyberattack. After companies still weren't telling investors when they got hacked, the guidance essentially became a requirement for big companies like Amazon and Google, bringing new incidents to light.
"I'm a big fan of that approach," Bejtlich says, although he would prefer legislation over an executive order. "As an investor, I want to know about these things."
The Obama administration has tried the legislative route, but the latest cybersecurity bill the president backed failed in the Senate on Wednesday, making the White House even more likely to go ahead with the executive order. "The current prospects for a comprehensive bill are limited, and the risk is too great for the administration not to act," Hayden says.
Even Jaycox, the EFF policy analyst who had worries about the order, notes that the government already regulates chemical plants, electric grids, and railroads. Obama's executive order would simply put those practices in place in the virtual landscape.
"It will not destroy the internet," he says.
Dana Liebelson is a writing fellow in Mother Jones' Washington bureau. Her work has also appeared in The Week, TIME's Battleland, Truthout, OtherWordsand Yahoo! News. RSS | TWITTER
Source: http://www.motherjones.com/politics/2012/11/obama-about-take-over-internet
Cyber Security Bill Dead After Second U.S. Senate Rebuff
November 14, 2012|Reuters
WASHINGTON (Reuters) - Senate Majority Leader Harry Reid declared a U.S. cybersecurity bill, opposed by business and privacy groups, dead on Wednesday after it failed a test vote for the second time.
The bill would have increased information-sharing between intelligence agencies and private companies. It also would have set voluntary standards for businesses that control electric grids or water treatment plants.
Business groups opposed the bill as overregulation and privacy groups worried it might open the door to Internet eavesdropping.
"Everyone should understand cybersecurity is dead for this Congress," said Reid, a Democrat, adding, "Whatever we do on this bill, it's not enough for the Chamber of Commerce."
Reid invited President Barack Obama to issue an executive order "to fully protect our nation from the cybersecurity threat."
The measure fell nine votes short of the 60 needed to limit debate on the bill and open the way to a final vote.
A trade group, the Software Alliance, said Congress should give top priority next year to bolstering security.
Backers had hoped to move the bill during the post-election session. Homeland Security Secretary Janet Napolitano said recently that attacks on U.S. financial institutions and stock exchanges showed the need for more cyber safeguards.
Defense Secretary Leon Panetta said last month that unnamed foreign elements had been targeting computer control systems that operate chemical, electricity and water plants and those that guide transportation.
Senator Susan Collins, the senior Republican on the Senate Homeland Security Committee, said the risk from a cyber attack was huge.
"In all my years on the Homeland Security Committee, I cannot think of another issue where the vulnerability is greater and we've done less," Collins said.
(Reporting By Charles Abbott; Editing by Peter Cooney)
http://articles.chicagotribune.com/2012-11-14/news/sns-rt-us-usa-cyber-legislationbre8ae047-20121114_1_cybersecurity-bill-cyber-attack-test-vote
---------------
US To Face Tough Debate On UN Internet Rules
WASHINGTON, NOV 16:
The US faces a tough debate with emerging nations such as India and Brazil at an upcoming UN conference discussing global rules for the Internet, the US delegation chief has said.
Terry Kramer, who heads the US delegation for the December gathering of the UN's International Telecommunications Union, said he has seen a number of "surprising" and "worrisome" proposals.
The discussions are being held ahead of the ITU's World Conference on International Communications opening next month in Dubai where global telecom rules are to be updated for the first time since 1988.
US officials and lawmakers, along with a number of Internet activists, have expressed concern that proposals from China, Russia and other nations could threaten the open model of the Internet by giving the UN agency a greater role.
Other proposals being floated have drawn fire in the United States because they would impose a "transfer" payment model, requiring companies such as Facebook and Google to pay data charges, upsetting the existing Internet model.
Kramer, speaking at a Washington forum sponsored by George Mason University, said the US stance has received considerable support in Europe and "in parts of Asia" but that debate in other areas was ongoing.
"In Africa there have been a variety of proposals that are very worrisome," he said. "In India, there are some proposals we found candidly surprising ... in Brazil, the same situation."
Kramer said that some of the proposals "sound innocuous, they sound friendly" but could undermine the basic tenets of an Internet of free-flowing information without government interference.
He said charging a Web site for data could have a negative impact, not just on big US firms like Google, but on educational and non-profit organisations.
Gary Fowlie, head of the ITU liaison office to the UN, said the agency is not attempting to dictate the outcome but that updated telecom rules may help extend the benefits of the Internet to those lacking access.
Fowlie told the same forum that the telecom rules can be a "valuable tool to strengthen sustainable development."
He also said that "it could be argued that the Internet would not exist today it we had not agreed to (revised telecom rules) in 1988."
But Milton Mueller, a Syracuse University professor who studies Internet governance, said it's not clear that any new telecom rules will achieve their stated goals.
"We should probably get rid of them altogether," Mueller said.
http://www.thehindubusinessline.com/industry-and-economy/info-tech/us-to-face-tough-debate-on-un-internet-rules/article4101228.ece
-------------
URL: http://www.newageislam.com/current-affairs/dana-liebelson/is-obama-about-to-take-over-the-internet?/d/9321